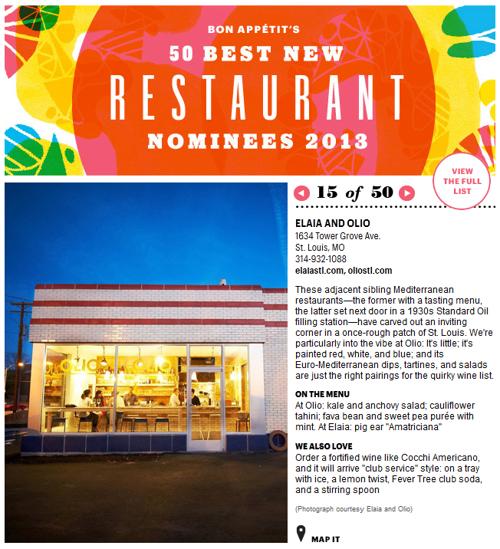 Bon Appetit Magazine released its nominees for the 50 Best New Restaurants in America this morning, and three St. Louis spots have landed on the 2013 list: Niche and Elaia and Olio.
BA Foodist Andrew Knowlton traveled cross country in search of the best places to dine, and his picks span from New York's Alder (No. 1) to Charleston's Xiao Bao Biscuit (No. 50).
Get the full list here. Scroll to No. 15 to read more on Elaia and Olio and No. 28 for more on Niche.
See Also: Chef Gerard Craft reveals his inspirations behind Niche and his other three well-loved St. Louis eateries, Pastaria, Brasserie by Niche and Taste, in our August episode of Feast TV!
Check out our dish picks at Elaia and Olio in Where We're Dining.
On Wed., Aug. 14, Bon Appetit will announce the second annual Hot 10 and Knowlton's pick for America's best new restaurant.
Congrats to all!
Elaia and Olio, 1634 Tower Grove Ave., Botanical Heights, 314.932.1088; elaiastl.com, oliostl.com
Niche, 7734 Forsyth Blvd., Clayton, nichestlouis.com
---
MORE FEAST!
Hungry for more St. Louis food-scene news? Follow us on:
Subscribe to our weekly ENEWSLETTER here!