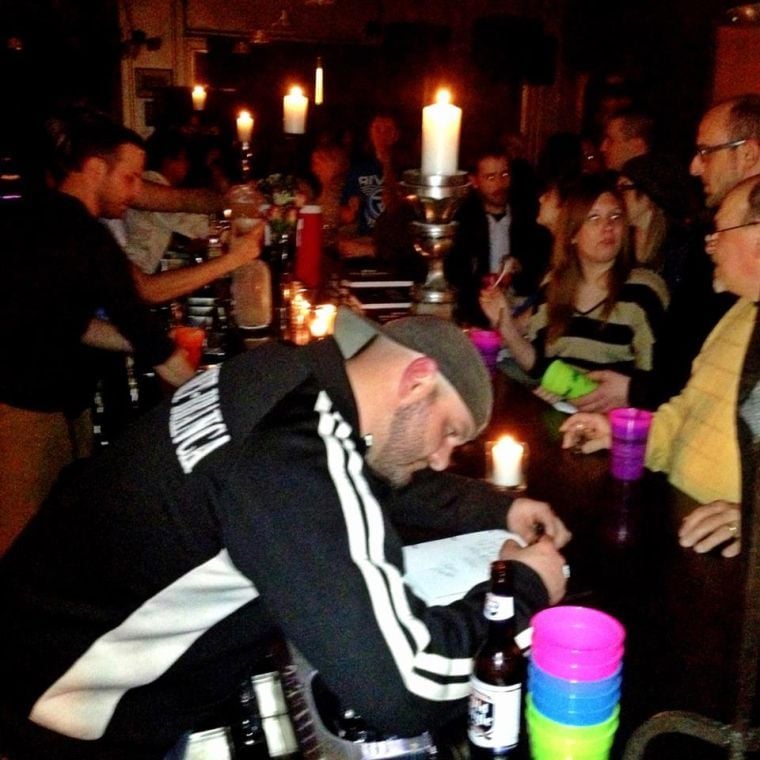 After four years as Sanctuaria's bar manager, Matt Seiter has decided to leave his post and focus his energy on fatherhood.
His last day will be Sun., Aug. 11. The last happy hour for the Sanctuaria Cocktail Club, which Seiter founded, is set for Wed., Aug. 7.
Seiter, who pens our monthly The Mix column, and his fiance, Brooksey Cardwell, also a St. Louis-area bartender, are expecting a baby girl in mid-October and plan to marry in spring of 2014, though no exact date is set.
"I want to focus my efforts on being a dad and a husband, and my future wife, Brooksey, and I want to eventually open our own place," he told FEAST Thursday morning.
Seiter and Cardwell haven't hammered out the details about where and how their restaurant will take shape, but Matt knows he wants to cook.
"I want to get back into the kitchen and out from behind the bar," he says. "Not a lot of people know that I have a lot more experience in the kitchen than in the bar." His specialty is seafood.
Seiter says he's also going to focus on further developing his writing career. His first book, a "tell-all" cocktail guide titled The Dive Bar of Cocktail Bars, published in December 2011. In May, the book landed a nomination in the Best New Book category of Tales of the Cocktail's prestigious Spirited Awards.
In a news release issued last night, Seiter announced the his successor at Sanctuaria – Joe Duepner – and his team of bartenders, Mandi Kowalski, Chris Kappel and Harrison Massie.
"It's kind of a bittersweet thing," Seiter says about leaving. "It's not like August 11 comes and I'm, 'so long -- see ya.' I have an excellent relationship with Doc (owners, Gurpreet Padda) and Ami (Grimes), so I'm doing what I can to help them continue to succeed."
Sanctuaria, 4198 Manchester Ave., The Grove, 314.535.9700, sanctuariastl.com
---
MORE FEAST!
Hungry for more St. Louis food-scene news? Follow us on:
Subscribe to our weekly ENEWSLETTER here!