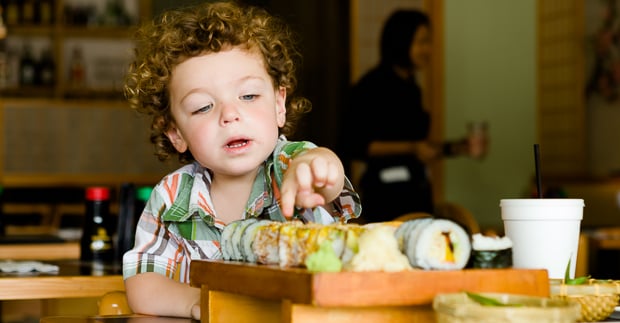 Last week, St. Louis-based food blogger, Stefani Pollack of Cupcake Project, shared what works – and what doesn't – in dining out with her 3-year-old son Myles. (Get her seven tips for taking a toddler out to eat here.)
This week, she shares some of her favorite places to take him in St. Louis:
1. The lunch buffet at House of India
Buffets are always a winner for kids, and House of India's is particularly kid-friendly. Before setting down a high chair, a staffer covers the floor with a piece of white butcher paper. You don't need to feel so bad after the meal when the floor resembles a tandoori chicken and palak paneer piece of modern art. Some of the buffet food was too spicy for Myles at first (he now enjoys spicier foods), but many of the curries and the chicken tikka masala weren't. Even if the new flavors don't go over well, there's always naan (Indian bread), cantaloupe and kheer (rice pudding) to fall back on.
House of India, 8501 Delmar Blvd., 314.567.6850, hoistl.com
2. The Tavern Kitchen & Bar
The Tavern is one of the more upscale restaurants that we take Myles to, and they are only open for dinner. When you walk in, you'll see people dressed up from work or ready for a night out. However, The Tavern is extremely kid-friendly. As soon as you sit down, they give your child a special kid's plate: carrot and celery sticks with ranch dressing. The first couple of times Myles was there he enjoyed the carrot sticks, but now he just uses them as a ranch delivery mechanism (he's getting older and wiser). There's a special kid's menu – we don't order from it, as I explained above. But, our friends do, and I can tell you that the portions are huge. You might consider just ordering one kid's meal even if you have multiple small children. Myles loves sharing the Tavern burger and fries with us. But, he's also enjoyed it when I've ordered from The Tavern's fish market menu. Kids get a free bowl of ice cream at the Tavern whether or not they order from the kid's menu.
The Tavern Kitchen & Bar, 2961 Dougherty Ferry Road, Suite 101, Valley Park, tavernstl.com
3. Wasabi Sushi Bar
Sushi is one of Myles' favorite foods. It's a perfect hand-held food, it has visual appeal, and you can dip it (kids love to dip). Myles has always adored caterpillar rolls – they even sometimes have sprout antennae! I suggest going out for sushi with a group. That way, it can become like a buffet. Order a variety of rolls and see which ones your child is interested in. If rolls aren't their thing, you can make a meal out of an edamame appetizer (healthy and fun to crack open) and veggie tempura (it's fried, but it beats out chicken nuggets any day). The staff at Wasabi have always welcomed Myles, and while it might seem like nothing noteworthy to adults, the fish tanks by the entrance can provide a much-needed distraction while waiting to pay the bill.
Wasabi Sushi Bar, multiple locations, wasabistl.com
4. Places with outdoor seating: Big Sky Cafe, Frazer's Restaurant & Lounge and Farmhaus
We love to dine at places with patios while the weather is still nice. Big Sky Cafe, Frazer's and Farmhaus are all locations that might be intimidating to bring a child to, but the rules are different when you are out on the patio. Noise is whisked away with the wind and birds and squirrels gladly pick up dropped foods.
Big Sky Cafe, 47 S. Old Orchard, Webster Groves, 314.962.5757 bigskycafe.net
Farmhaus, 3527 Ivanhoe, Lindenwood, 314.647.3800, farmhausrestaurant.com
Frazer's Restaurant & Lounge, 1811 Pestalozzi, 314.773.8646, frazergoodeats.com
JOIN THE CONVERSATION!
Do you have little ones? How do you approach food, and where do you take them to eat?
Let us know in our comments section below or via Facebook at facebook.com/feastSTL and Twitter at @feastmag!
---
With a stronger-than-ever national focus on what kids are eating, we're looking at how local culinary instructors, educators, chefs and food-savvy parents are getting children excited about cooking and making smart food choices. Every week, we bring you weekly tips, recipes, dining-out ideas, hands-on activities and more.