A new single-malt whiskey from St. Louis' Switchgrass Spirits will benefit both the Gateway Resilience Fund and your favorite breweries. The only catch? You'll have to wait a year to drink it. 
The distillery is teaming up with eight local breweries to sell its new Common Bond Single Malt whiskey. Based on the concept of old-school war bonds, people can buy a bottle of the whiskey now with the anticipation of receiving it a year from now. Instead, those who purchase the whiskey will get a certificate that can be redeemed for the spirit just in time for Father's Day of 2021. 
Switchgrass Spirits co-founder and operations manager Nick Colombo says that the four-person company wanted to be able to do something quickly, and whiskey unfortunately can't be aged overnight. By selling the spirit now, Switchgrass Spirits is able to support the industry immediately in two ways: For each $45 bottle sold now, $15 goes to the brewery that sells the bond and $15 goes directly to the Gateway Resilience Fund; the other $15 covers the costs for Switchgrass to make the whiskey.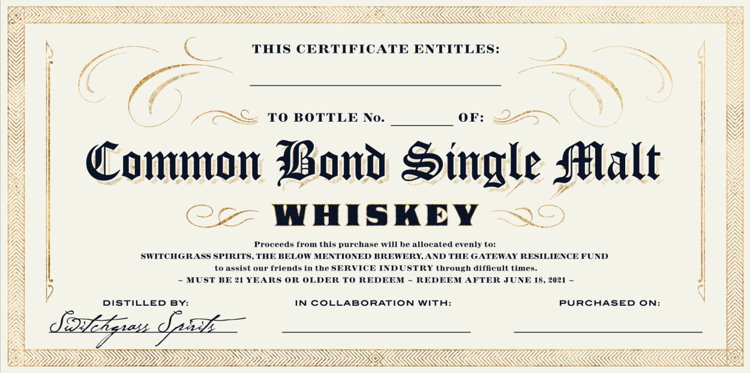 "We just wanted to get money into the hands of people who are hurting now," Colombo says.
The single-malt spirit will be made with the kind of malt that is typically used in the beer-brewing process, a nod to the eight involved breweries: Urban Chestnut Brewing Co., Civil Life Brewing Co., Earthbound Beer, Heavy Riff Brewing, Center Ice Brewery, Wellspent Brewing Co., Ferguson Brewing Co. and Perennial Artisan Ales. Many single-malt whiskeys are aged for several years, but this one will be "young," having only aged for one year in new, American oak barrels. However, Switchgrass Spirits is using ingredients with the goal of giving the whiskey a mild flavor and the smoothness one would expect from a single malt. 
"We're gonna try to get it to have as much flavor as we can while keeping it as smooth as possible," Colombo says. 
The limited release whiskey will be made available in 3,000 750ml bottles. If it sells out, that would mean $45,000 for the Gateway Resilience Fund and $45,000 split between the participating local breweries.
The company will also offer rye whiskey, bourbon whiskey and apple brandy.
"It's just wild to be part of a four-person business that can do this kind of work," Colombo says. "We don't have to stop working, and we just see that as a responsibility to our community."
Common Bond Single Malt whiskey can be preordered at any of the eight participating breweries via their online or phone ordering systems beginning Friday, May 1. 
Switchgrass Spirits, 6100 Idadale Ave, Wellston, Missouri, switchgrassspirits.com