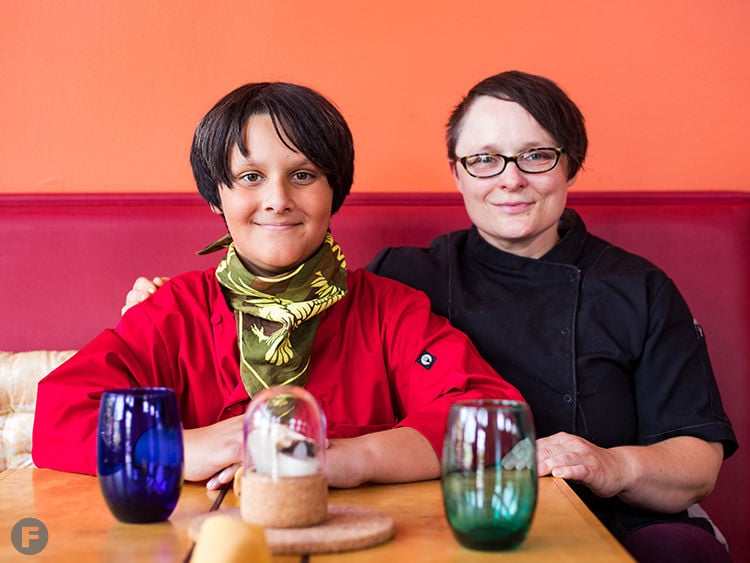 While honoring stay-at-home orders, home cooks everywhere are honing their skills in the kitchen. Feast consulted with some of St. Louis' finest chefs for their best advice on how to make easy, wholesome meals using simple pantry staples. Find out how to make the most of your groceries in this Q&A series, which outlines some pro tips for creating nutritious and comforting from-scratch meals, baked goods and more.
Colleen Clawson is the chef-owner of Milque Toast Bar as well as pop-up restaurant Baba Xavi. Milque Toast Bar is closed temporarily, but patrons can support it via a GoFundMe COVID-19 Small Business Relief fundraiser set up to help the restaurant's staff. Gift cards are also available via Square.
What are some of the biggest challenges of cooking at home? While some may think my job would make cooking at home a breeze, it really is its own special challenge. What I've had a really hard time with is cooking for just a few people. My son is also the toughest critic I've ever had, and he isn't afraid to share his opinion. The adventurous streak in my style of fare serves me well at work but doesn't always translate to a satisfied customer at home. I've had to pull in the reins at times, learn to modify my approach and accept that every meal doesn't need to be a unique masterpiece. 
What are some essential items in your kitchen? Since we are all home a lot more for the time being, I'd like to share some of the tricks I use to keep things simple without being boring. First of all, get The Flavor Bible. It's a cross-reference index of ingredients and is invaluable. Next, keep a stocked pantry with basic, cheap ingredients: rice, beans, pastas, noodles, flours, sugars, oils, vinegars and cans of things. Canned tomatoes and tomato paste are essential. They do wonders for soups, stews, curries, and more. 
Frozen fruit and veggies are much better than canned fruit and veggies. You will not see my freezer without frozen peas. Baking mixes are also versatile and helpful, and international convenience items are also tops for quick and easy meal bases, adding your own twist with ingredients on hand. Make sure you have a varied assortment of herbs and spices and season everything! Then, add some more salt.
How do you like to dress up your favorite go-to convenience item? One of my favorite convenience items is Upma – think spiced, savory cream of wheat with lentils. Upma makes a great breakfast for those of us preferring something not sweet first thing in the morning, and a pat of butter really makes it sing. I like to form what's leftover into medallions and pan sear them like polenta cakes, then dry fry a veggie curry (almost always with cucumbers) with sambar masala powder and have that for lunch or dinner.
What advice can you offer home cooks for making wholesome meals on toast? I truly believe in the adage "the right tool for the right job," and it definitely applies here. There's a loaf to suit every need. I was visiting France before this hit and had the pleasure of enjoying lunches prepared by my friend's dad on our daily excursions. He would take the baguette leftover from the night before, toasted crispy outside and soft inside, and spread copious amounts of beurre sel on it with ham and thin slices of sharp cheese. We ate a bunch of classic Croque Monsieur as well – softer bread, like brioche, covered with Béchamel, topped with ham, cheese and an egg. I also enjoy this other, more Alsatian-inspired toast meal: rye toasted crisp, buttered and topped with sauerkraut and apples dressed in mustard, oil and vinegar, and honey (or Bavarian mustard if you have it), finished with celery leaves.
Toast can make a great entree too. Bread that's getting on can be cut up and folded into a custard with any manner of other players (veggies, meat, cheese) to make a nice strata. As the spring garlic comes in, a nice lunch while it's still cool is sopa de ajo, or garlic bread soup. I also simply love a good piece of toast piled with dressed leaves and cut up veggies, topped with a runny egg. 
There's this Brazilian dish, pudim de coco, I always pine for when I want something on the sweeter side and have a bunch of leftover bread. I grind it up and toast the breadcrumbs, soak it in a coconut-milk custard and bake it in a water bath. It's sublime. Really, I think of toast as a carrier to put things into my mouth I want to taste together. It's peachy for when you've got bits and pieces of stuff around and don't have anything particular to do with them. Layer them on and get fancy!
What kinds of dishes make the best family meals? One-pot braises will make you a cooking champion. Or embrace your inner Midwesterner and try out a casserole, a bake or a layered salad. Comfort goes a long way, and I know we've needed it. I've been doing a lot of one-pot/pan meals at home recently. One of our household favorites is braised chicken legs, made while working in layers. 
In a Dutch oven, sear a few seasoned chicken leg quarters. Let those stay on the bottom and add a can of stewed tomatoes. Then, add either a can of beans or a few cut-up potatoes and season that layer. Next, add a cut-up onion, some garlic and about a cup each of celery, carrot and whatever vegetables you have on hand (if using frozen, don't add yet – they will be too cooked), and season that layer too. Add some liquid like wine or stock or even coconut milk. After that, put a lid on it and bake at 450°F for about 30 minutes. Take the lid off (this is when you're going to add the frozen veggies if using) and bake until the legs are done, about another half hour. 
A quick note on seasoning: Using several spices and herbs in combination will help develop a nice profile or theme. For example, cumin, chili powder, oregano or ginger, curry and cilantro. This way, the same basic meal can be repeated but won't get old. Happy cooking!