A new condiment is coming in hot from Belleville. 
Don't Touch the Baby, the first hot sauce from Belleville, Illinois, resident Joel Anderson's Anderson and Son Pepper Co., officially launches Tue., Sept. 22. 
Anderson's background is in advertising and marketing, but he's had an affinity for spicy foods since a misadventure when he was nine years old. His grandmother used to use habaneros to spice up her soups, and one day, when she wasn't looking, Anderson ate one of the peppers whole. After stuffing his face with ice for an hour to recover, he says that the thrill of the experience is what set off a lifelong interest in spicy foods. 
When Anderson and his wife, Shelbe, bought a house with ample room for a garden, he started growing everything that he could in the Midwestern climate. The next year, he decided to add more peppers to his bounty until they became exclusively what he grew. That garden is what supplies all of the heat for Don't Touch the Baby, especially the habaneros that give the sauce its signature kick. 
"I've got eight different raised garden beds with more than 100 different plants of all sorts of species of peppers; some primarily I'm using for the hot sauce and others that I just sort of grow for fun," Anderson says.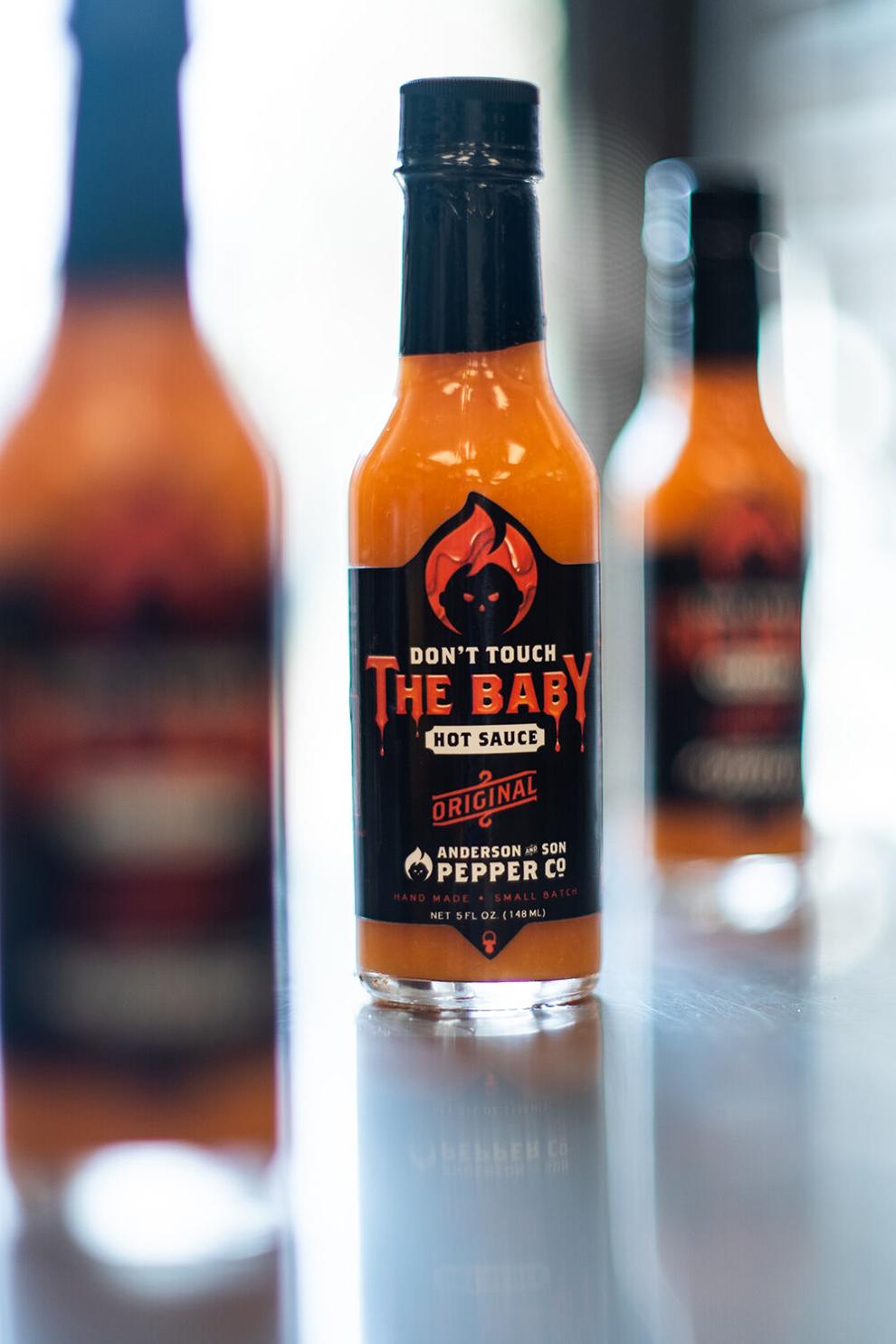 And working with those hot peppers is what lent the name to the company's first hot sauce. With capsaicin, the compound that makes peppers spicy, still lingering on his hands, "don't touch the baby" became a common phrase in the Anderson household as he developed a recipe.
The sauce, which Anderson makes in a commercial kitchen at STL Foodworks, is vinegar-based, as many hot sauces are, and spiced with both the habaneros and with scotch bonnet peppers. When mixed with onion, garlic and agave nectar, it has a slight sweetness with notes of citrus.
For Anderson, the sauce isn't just a hobby or a side business, which you might be able to tell from the Anderson and Son Pepper Co. moniker. When his son was born, he wanted to start building something that the two of them could do together.
"This whole thing really is just about my son and trying to do something that we can do together and I can involve him with," he says. "It's about trying to invest as much time as I can into making this thing successful, but if I'm gonna do that, I want to have him be part of it."
Don't Touch the Baby can be purchased from the Anderson and Son Pepper Co. online shop.
Anderson and Son Pepper Co., andersonpepperco.com