If a local, family-owned restaurant is very lucky, it may catch the attention of national media one time, or once every few years. But in a seven-month timespan, Drake's Place in Ferguson, Missouri, has appeared on two episodes of Food Network's Restaurant: Impossible – and owners Bridgett and Deundrake Lewis say it's helped save their small business.
After appearing on the show on Feb. 13, Drake's Place saw a surge of revenue, with diners driving from as far away as Imperial, Missouri, to try its fare. Yet within a month, the pandemic upended the restaurant industry, including Drake's Place. A few months later, civil unrest and peaceful protests over police brutality flooded the streets of Ferguson, including outside of Drake's Place. The restaurant was in financial trouble again, but thankfully, Restaurant: Impossible was ready to return.
Bridgett and Deundrake, who goes by Sonny, opened Drake's Place in 2014, just a few months before the police killing of unarmed teenager Michael Brown in Ferguson. The pair have always wanted the restaurant to be a community hub, and in good times and bad, the Lewises have leaned on that mission to keep going. That had become harder than ever near the end of 2019: Drake's Place was headed for closure, Sonny says in the Feb. 13 episode of Restaurant: Impossible, before host Robert Irvine's visit.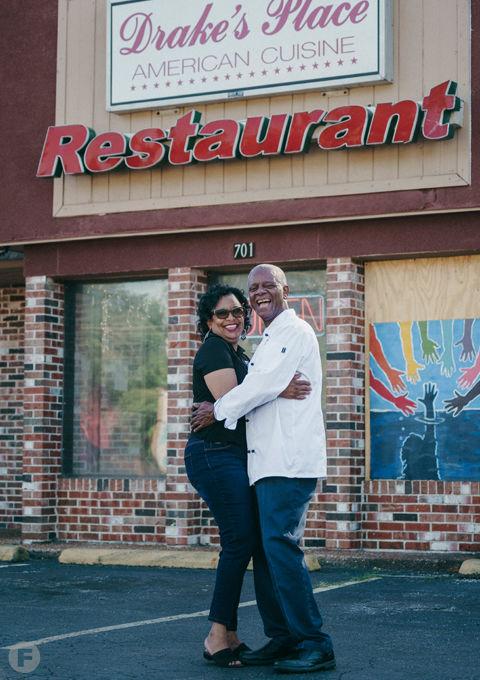 In that same episode, Irvine says that he could see that running the restaurant "had gotten the best of Sonny and Bridgett." In talking to the couple about the challenges the restaurant was facing, Irvine says he understood that the couple was most concerned about letting down their community. Sonny is the executive chef, while Bridgett manages the front of house, and Irvine provided constructive professional feedback for them both.
Irvine helped Sonny and Bridgett create more organization in the front of house and food prep in the kitchen to ensure faster and more efficient service. A celebrity chef who hails from the U.K., Irvine helped Sonny refine the menu at Drake's Place, which has always drawn from international influences as well as hometown favorites.
At Irvine's instruction, Drake's Place added three new dishes: chicken fried steak with sauce beurre rouge, mashed potatoes and asparagus; jerk-seasoned fried catfish and shrimp with Cajun aïoli; and an open-faced reuben with beef brisket, sauerkraut, Swiss cheese and Thousand Island dressing on rye bread. Bridgett says Irvine's goal was to introduce new menu items that still captured the experience of Drake's Place.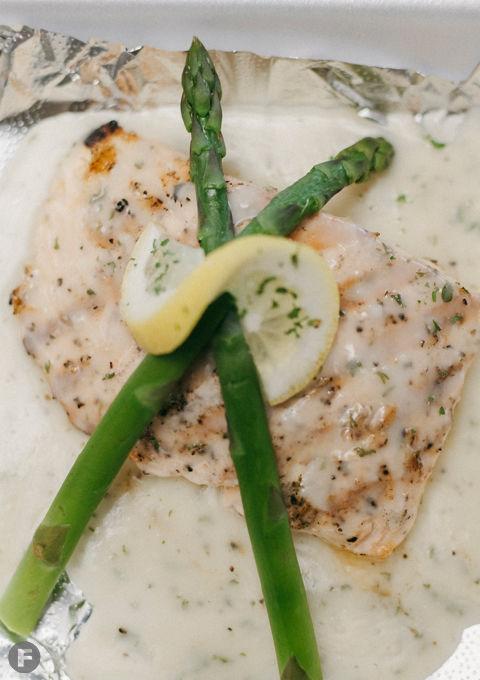 "He tried some of our cuisine and critiqued it," Bridgett says. "One of the things that chef Robert Irvine did give us credit for was our fried shrimp. And now we can fry shrimp, we can scampi, we can grill it for you, so you don't have to get it fried, but he tasted the fried shrimp and said, 'Now these shrimp are a 10.' And let me tell you, since he said that, people have been buying the shrimp like crazy."
Restaurant: Impossible also footed the bill for a splashy renovation of the dining room, including new tables and booths. "They transformed our restaurant," Lewis told Feast earlier this summer. "They renovated it really from the ceiling to the floor. We got new tables, our booths reupholstered and they refreshed our bar. They built a nice bench and some wonderful woodwork up high on the walls. It was really nice."
When Irvine returned to Drake's Place this summer to film the follow-up episode, the Lewises had new worries about how to keep the business afloat. In the return episode, which first aired on Food Network on Thu., Aug. 20, Irvine tells Bridgett and Sonny that he's there to "put you back on that climb" that Restaurant: Impossible made happen before the pandemic. In the episode, Irvine helps Sonny and Bridgett expand operations to bring in additional revenue (to find out all the details, tune in on a future air date or buy the episode on Amazon Prime).
For the Lewises, it was especially meaningful that Irvine chose Drake's Place for a revisit. "We kind of built a bond with Robert [Irvine]; we really did," Bridgett says. "I'm serious. He's rough on the outside, but he has a heart of gold."
The couple are also grateful for Irvine's feedback. Before opening Drake's Place six years ago, Sonny and Bridgett both worked in corporate America. For years Sonny worked in corporate restaurant kitchens, yet he yearned to share his own cooking style and recipes with diners. He first got that chance in the early 1990s, when the couple opened a small sandwich shop with a drive-thru called Diff'rent Strokes at Natural Bridge and Clara avenues. 
"It looked like a Rally's; you could walk in or go through the drive-thru," Bridgett says. "We offered our Texas burger, which is still on our menu today, and our Drake's sweet and spicy wings, which we still serve. But our number one seller was the tripe sandwich, which is the lining of the cow's stomach. You boil it for a long, long time, and they fry it and put mustard, pickle and onion on it with hot sauce. It's a really good sandwich, and good ones are hard to find."
Diff'rent Strokes only lasted for about a year, Bridgett says; although it was successful, the Lewises dissolved the restaurant due to disagreements with their business partners at the time. The sandwich shop proved to Sonny that there was a demand for his food, though, and he continued to dream of opening a full-service restaurant. "Sonny still had this burning desire to open his own restaurant," Bridgett says. "That was just like a stepping stone, something to get into the industry, but he really wanted his own sit-down restaurant."
Sonny would have to wait almost 20 years for that chance, which happened in 2014 when Drake's Place debuted. In the interim, he worked in the kitchen at The Heart of St. Charles, an event venue in St. Charles near the Ameristar Casino Resort Spa St. Charles.
"He'd always be off on Tuesdays, and I couldn't wait to get home to see what he cooked; he was always cooking something magnificent," Bridgett says. "I would pull my car into the driveway and I could smell the food, and we'd sit down and enjoy these lovely meals. So for all of those years he always still wanted his own restaurant, to the point where I was finally like, 'Let's just do it.'"
Bridgett says that Sonny read books about opening a restaurant and the couple took business classes before taking the leap to open Drake's Place. Six years later, through all the highs and lows, Bridgett says it's all been worth it to watch Sonny realize his dream. Soon Drake's Place will celebrate another milestone, when its house salad dressing – which is currently only sold in the restaurant – expands into retailers across the region.
The salad dressing was first bottled a few years ago, after some students from Washington University spent a stint working at Drake's Place for school credit. Bridgett says the students helped her and Sonny with marketing for the restaurant, including getting operations set up to package the dressing for on-site sales. Schnucks has recently inquired with Sonny and Bridgett about carrying the dressing in its stores, Bridgett says, and she's hopeful the dressing and other items will soon be available in other stores as well.
"We make our own house dressing, and people come by all the time and say, 'I'm out of my house dressing; I need two bottles or three bottles,'" Bridgett says. "People were buying it for people for Christmas presents. When you go to a table and ask, 'What type of dressing would you like?' Most people say, 'Your house dressing, of course.' So we just talked with an attorney, and we're getting ready to get a trademark on it. So that's very exciting for us right now."
Drake's Place house dressing is creamy with a sweet flavor featuring notes of celery and a peppery bite. "It's really good," Bridgett says. "One lady told me she uses it in her coleslaw, and it makes it taste really different and really good. People dip fries in it; they use it for different things. One customer always gets it with her chicken wings."
Bridgett adds that although the past year has been tough, and the past six months even tougher, she and Sonny are determined to focus on the bright spots. They're thankful for the attention and support they've received from Irvine and Restaurant: Impossible and look forward to further expanding their restaurant and retail offerings.
Ultimately, though, it all comes back to what inspired them to open a restaurant in the first place: to create a place where the community can gather and enjoy food cooked with passion and love. Even during this tumultuous year, that's exactly the sort of feedback Bridgett says she's hearing from customers.
"I'm just trying to keep myself positive and keep exploring different avenues during this COVID-19 [pandemic] instead of just giving in to despair," Bridgett says. "We've had a few people recently, which really made my heart feel good, saying things like, 'This is my first time coming out to eat [since March].' And they decided to come to our restaurant. That really says something to me. I could just go on and on about the wonderful things that people in the community have done and are doing. They are showing support and they want us to keep those doors open."
Drake's Place, 701 S. Florissant Road, Ferguson, Missouri, 314.736.1140, drakesplacestl.com