In St. Ann, a local chef cooks up casual fare that he hopes his customers will come back for again and again. Love At First Bite opened on Sept. 9 with a takeout-only menu of sandwiches, loaded fries, smoked meats, vegan-friendly fare and more.
The concept comes from chef-owner Jason Lamont and his niece Monica Hodges. Lamont, a St. Louis native, has cooked professionally for many years in the St. Louis area at restaurants including Three Kings Public House, Sugarfire Smoke House, Basso and most recently, Firefighters Banquet Hall in St. Peters, where he served as kitchen manager and executive chef for the last two years.
"This is the first restaurant we've opened. It's always been a dream of mine," says Lamont. "I've got something for everyone's palate. I've got something for the vegetarians, vegans, pescatarians, carnivores and especially something for french fry-lovers."
The approximately 1,600-square-foot, which previously housed various pizza concepts, is carryout only. Lamont hopes to have an outdoor patio ready by the spring. Inside, a colorful walk-up counter is anchored next to a chalkboard menu and a mural of Busch Stadium.
The menu begins with sandwiches including Lamont's signature BBLT with beef bacon, lettuce, tomato and roasted garlic mayo on sourdough bread. His vegan St. Paul is another popular item with JUST Egg egg substitute, bell pepper, onions, cauliflower, lettuce, tomato, onion, pickle and Veganaise.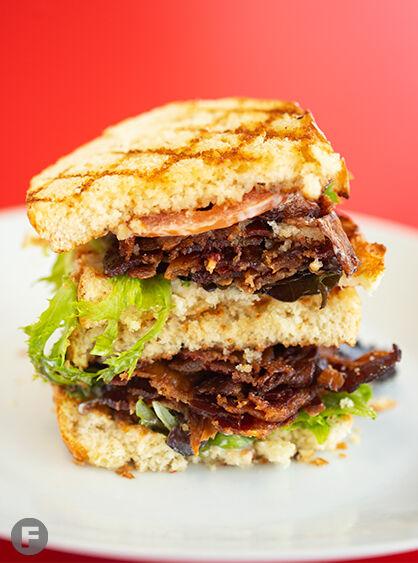 Loaded fries include options such as Lobster On My Spuds made up of fries topped with poached lobster tail, Grand Marnier cheese sauce, beef bacon, shallots and chives. Another highlight is the Sweet Potato Palooza, a sweet treat made up of sweet potato fries topped with maple syrup, candied pecans, Craisins, marshmallow sauce and mascarpone sauce.
To drink, Love At First Bite offers Made With Love teas and lemonades created by young local entrepreneur Mikelle Brown, the youngest sister of the late Michael Brown, Jr. The colorful beverages, which Lamont says are "absolutely delicious," come in fruity flavors such as tropical and strawberry.
The restaurant also offers slow-cooked meats such as brisket smoked for 15 hours. Another house specialty comes from a variation on a dish Lamont created at the banquet hall for a regular: lemon-pepper chicken salad with smoked chicken, mixed greens, red onion, tomato, cucumber, beef bacon and Provel.
"Come check us out. At Love At First Bite, we put our hearts into the food so you can fall in love with it too," Lamont says. "We want to deliver something to St. Louis that hasn't been done before."
Love At First Bite is open for carryout only Tuesday through Saturday from 11am to 8pm (or until sold out).
Love At First Bite, 10479 St. Charles Rock Road, St.  Ann, Missouri, 314.695.5440, loveatfirstbitestl.com