St. Louis has a new line of liqueurs from a couple of familiar faces. 
Gerard Craft's Niche Food Group has launched a new line of amari and liqueurs: La Verita Distilleria. In the future, there are hopes the brand will become a full-blown distillery, but for now, the spirits are made by adding fruits, herbs, spices and more to base liquors. 
While La Verita was Craft's idea, the mind behind the creations is seasoned bartender Meredith Barry, formerly bar manager of Taste and Grand Tavern. Craft approached her with the pitch for La Verita and she was on board; she soon took over Niche's commissary kitchen and turned it into her own little lab of sorts. There, she works with products from STL Herbs and Aromatics in Maplewood, Missouri, to impart big flavors into her bottles. 
To start, La Verita is offering a handful of spirits that are all handcrafted by Barry. Nonna's Meyer Limoncello is made with Meyer lemon rinds using a recipe from Barry's own grandmother (who, by the way, is pretty excited Barry is using her recipe.) Other liqueurs include an Ozark Nocino made with Missouri black walnuts and an Arancello Rosso made with blood orange. The Father's Fernet, named after Craft's father's own love of fernet, adds another personal touch to the lineup. 
"Something that Gerard and I share is that we come from an Italian-American background, and so it's close to our hearts because of that," Barry says.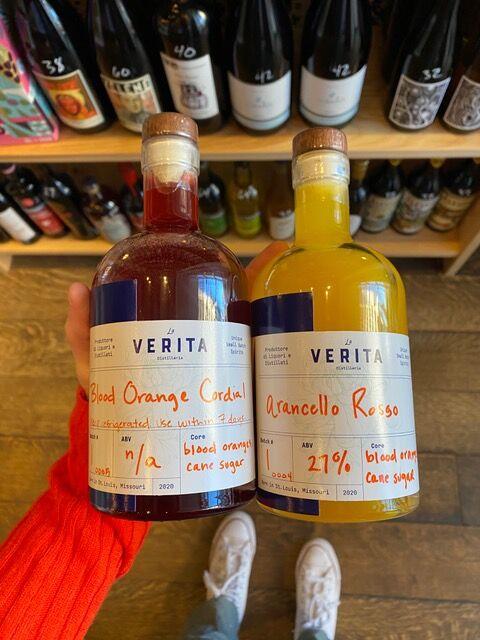 On the nonalcoholic side of things, Barry is also producing Meyer lemon and blood orange cordials that can be used in all sorts of cocktails, NA or otherwise. Given that limoncello and its blood orange counterpart use rinds but not juice, the leftover fruits go into the cordials and are cooked with sugar to make them self-stable and a little more complex in flavor. 
"I love using them in cocktails and adding a citric element to it without using the juice," Barry says, especially because not keeping fresh juice on-hand reduces the potential for waste during a critical time in the restaurant industry. 
Actual distilling from La Verita is a long ways down the road; however, expect more amari and liqueurs from Barry as she continues to experiment with her "witches brews." Currently, she is working with Bethlehem Valley Vineyards in Marthasville, Missouri, to create a house vermouth for Niche using Norton wine. 
"It would be really cool to have our own signature vermouth for cocktails," Barry says. 
And although creating spirits rather than cocktails is a little out of her comfort zone, Barry has taken the task in stride. She approaches the beverages from La Verita in a similar way to how she's always approached composing cocktails. 
"I think I've always taken, with drinks, a chef approach," Barry says. "I've always loved making my own spirits and cordials instead of buying them to create nuance that I prefer, flavors that I want to have, so a little more control. And I'm so happy to be able to take the things that I've done in the past, and [to] a new level with this because I'm just completely focused on making it and, you know, making art in this bottle." 
La Verita Distilleria spirits will be available at Pastaria Deli & Wine in Clayton starting Wednesday, Dec. 9.