Acclaimed St. Louis chef Ben Grupe is finally opening the doors to his own restaurant. 
The highly anticipated Tempus opens Thu., Oct. 29 in The Grove neighborhood of St. Louis. The restaurant, which was originally expected to open in the summer of 2019, will start serving food exclusively for takeout amid the COVID-19 pandemic.
Previously, Grupe has worked as the executive chef of Ben Poremba's Elia and Olio, and he also won three gold medals at the Culinary Olympics while leading Team USA. 
The ethos at Tempus is all about classically composed dishes without pretension. When planning the menu for the restaurant, Grupe and his team considered what would be most comforting during this uncertain time, but they also didn't want to pigeonhole themselves into one type of food or cuisine.
"We really tried to be thoughtful about what we would want to eat," Grupe says.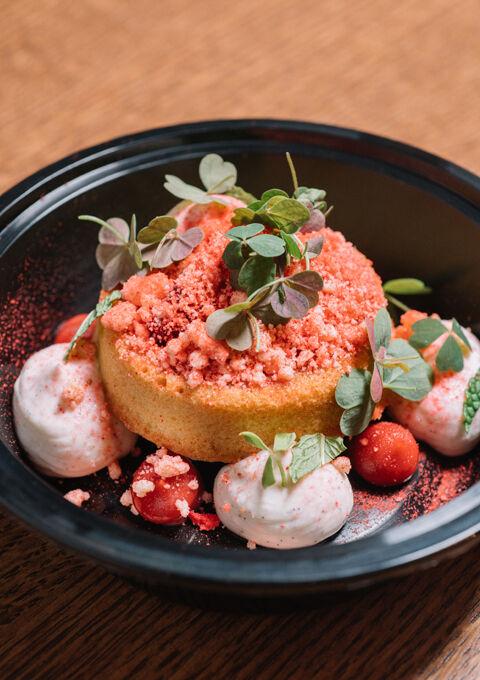 The menu features elevated versions of familiar dishes, such as the beef rib dish with dumplings that is inspired by classic German sauerbraten. Grupe also serves a black cod with kombu clam broth and trout roe, as well as a gnocchi dish with maitake mushrooms and dashi. You'll also find more casual picks like a fried chicken sandwich with bread and butter pickles, an iceberg wedge salad and take on a strawberry shortcake with rhubarb. 
Grupe says that in times of uncertainty, especially when restaurants are often a cornerstone of neighborhoods and communities, food like this brings people together and recalls warm memories. 
"It creates this sense of normalcy," he says. "That's always been at the center, the root of our foundation, is having that craveability and that familiarity with food."
The restaurant is also offering a menu of select to-go cocktails, wines and beers. Cocktails were developed by beverage director Drew Lucido, formerly of Taste, Olio and Juniper, and include creative ingredients such as oleo saccharum (a sugar-oil mixture made by coating fruit rinds in sugar), crema earl grey and quinquina (an apertif wine produced from the same bark that makes quinine). 
Online ordering for Tempus will open 24 hours in advance for each day. Orders are available for pickup from Tempus' window on Newstead Avenue. 
Tempus, 4370 Manchester Ave., The Grove, St. Louis, 314.349.2878, Missouri, tempusstl.com