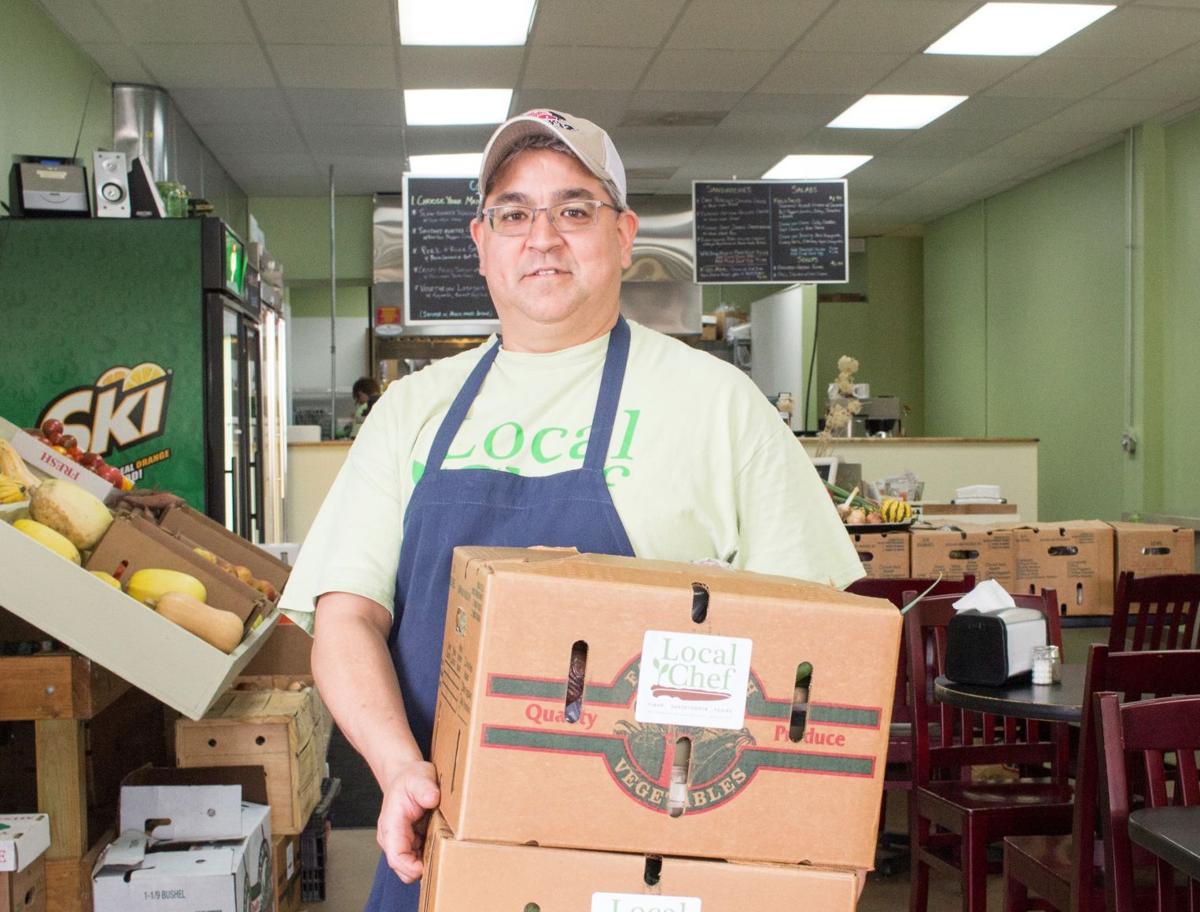 On Thurs., May 4, Mitzi Uyemura announced that Local Chef Kitchen, the restaurant led by her late husband, Rob Uyemura, would close its doors for the last time on June 13. 
Chef Rob Uyemura died Feb. 12 at the age of 51 after a two-year battle with colon cancer. 
Graduating from the Culinary Institute of America in 1993, Rob was a chef for almost three decades. Mitzi says that when he started out, he wasn't looking to open his own restaurant – he saw the distress that being a restaurant owner could cause. Instead, he found a love for not only cooking but showing people how to cook. 
Rob was known for his significant stretches as the executive chef at YaYa's Euro Bistro in Chesterfield, Missouri, both in the late 90s and again starting in 2007. Ron Benne, owner of Benne's Best Meat in St. Charles, Missouri, says that as the executive chef at YaYa's, Rob was committed to sourcing as much meat and produce locally as possible. "He was very sincere, and he was very committed to buying local," says Benne. 
Some time after Rob established a professional relationship with Benne, he expressed his concern about not having enough garden space to grow the fresh produce he wanted. Benne, in turn, said he had two acres available for Rob to use. "He was quite excited when I told him what I had and that it was his if he wanted it," says Benne. 
After working out a deal, you could find Rob on Benne's farm earlier than even Benne himself. Among other ingredients, Rob grew heirloom tomatoes and Japanese long cucumbers, which Benne's wife, Joleen, now makes an effort to maintain and harvest.
In 2005, Rob began teaching at the now-shuttered culinary school L'Ecole Culinaire-St Louis. Tom Balk, now a private chef, worked at the school as an instructor at the same time as Rob and later went on to work with him at Local Chef Kitchen. Balk says that Rob carried that love of fresh, local, sustainable food into his teaching. Rob even started a vegetable garden where there was once parking spots – "all for the students," says Balk.
After teaching at L'Ecole, Rob returned to his previous post at YaYa's for several years before deciding that he wanted to open a restaurant of his own. However, it took quite a long time to make that dream a reality.
Rob and Mitzi looked all over for a suitable spot and finally settled on the current location on Manchester Road in Ballwin, Missouri. Local Chef Kitchen officially opened its doors in 2016. 
Local Chef Kitchen was more than just a restaurant, though. At a few temporary locations starting in 2012 and eventually out of the space on Manchester, Rob and his team also cooked lunches for the Chesterfield Montessori School through the Farm to School lunch program and ran their own CSA under the name Local Chef STL. Mitzi says that the boxes included an assortment of seasonal produce, local meat, eggs and sometimes products Rob created himself, often with themes and recipes cards, somewhat like an early version of a meal kit such as Blue Apron or HelloFresh. For example, the annual BLT box, which CSA participants came to expect around late July or early August, included multiple types of tomatoes, a pound of local bacon and an "incredible" basil aïoli made by Rob.
"It was kind of a challenge for him to come up with something new every week and try to make it interesting while educating people about what is seasonal," says Mitzi. "[But participants] said it was like Christmas every week."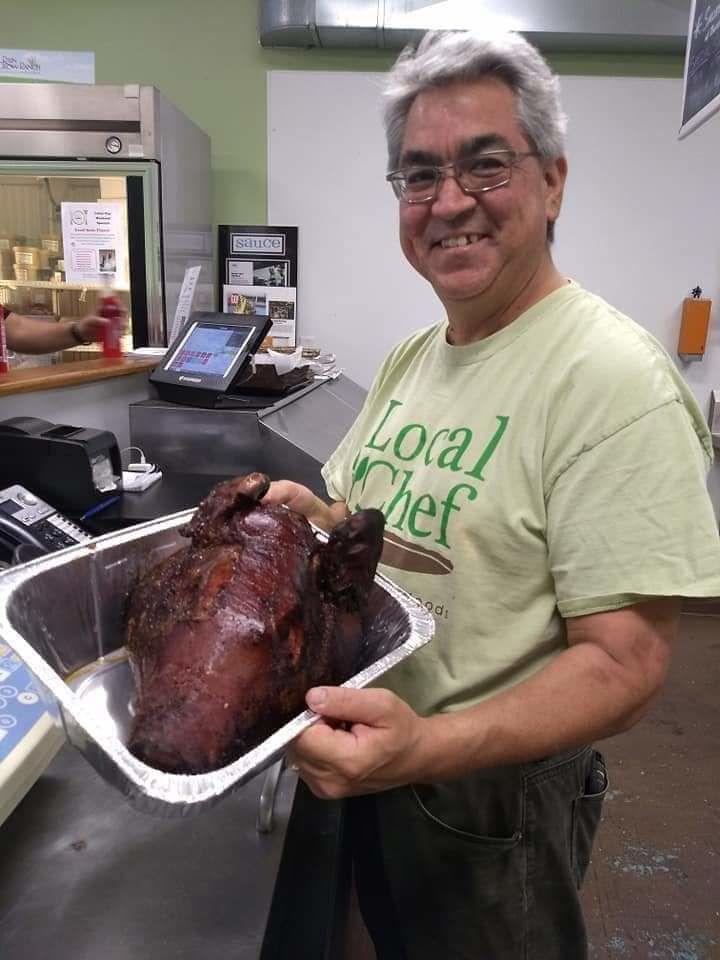 Rob also got Mitzi and their two sons involved; they assembled the boxes and handed them out to people when they came in. "It was a family affair," she says.
Rene Sackett was one of the people who helped Rob source local produce for the boxes. At the time, she managed the Schlafly Farmers Market, and she had established numerous relationships with local producers by opening and managing various markets. Their friendship blossomed quickly – Sackett and her husband even worked the register at Local Chef Kitchen when needed – and after it all, Mitzi compares Rob and Sackett to a brother and sister. 
When Rob's health was declining, Sackett organized a series of fundraising dinners, initially to help fund his treatment. Rob passed away before the dinners, but in total, they raised thousands of dollars to help support Mitzi and her sons. 
With the loss of Rob and, as of Saturday, Local Chef Kitchen, St. Louis has lost a voice in support of local agriculture, but Rob's passion for growing lives on in those he worked with. 
"He definitely changed the way I looked at where our food comes from," says Balk. "I understood that we should get stuff locally ... but to meet the farmers and to sit down and talk with them on a daily basis, it really makes you feel good to take that piece of meat or crack those eggs and know exactly where they came from." 
For those who didn't see the behind the scenes, whether they were friends, colleagues or guests at his restaurant, Rob will be remembered for so much more. "To most people, he was just such a good person and had such a good heart. And he loved food. He loved to eat, he loved to cook, he loved to share his knowledge with other people," says Mitzi. 
Although Local Chef Kitchen is shutting its doors, it had one major impact that cannot be forgotten: Rob was given the chance to live out his dream. "It really made Rob happy," says Mitzi. "I think he discovered in himself the love of being a business owner and being able to call it his. It was very special to him."
Local Chef Kitchen, 15270 Manchester Road #130, Ballwin, Missouri, 636.220.3212, facebook.com/localchefstl