Loaded: Elevated Nachos is now open in St. Charles. 
The fast-casual nacho concept comes from the owners behind Narwhal's Crafted, the frozen-cocktail bar that neighbors the new restaurant space. 
The 1,400-square-foot space is designed to feel fun and light – like a food truck without the wheels – to match the nature of the concept.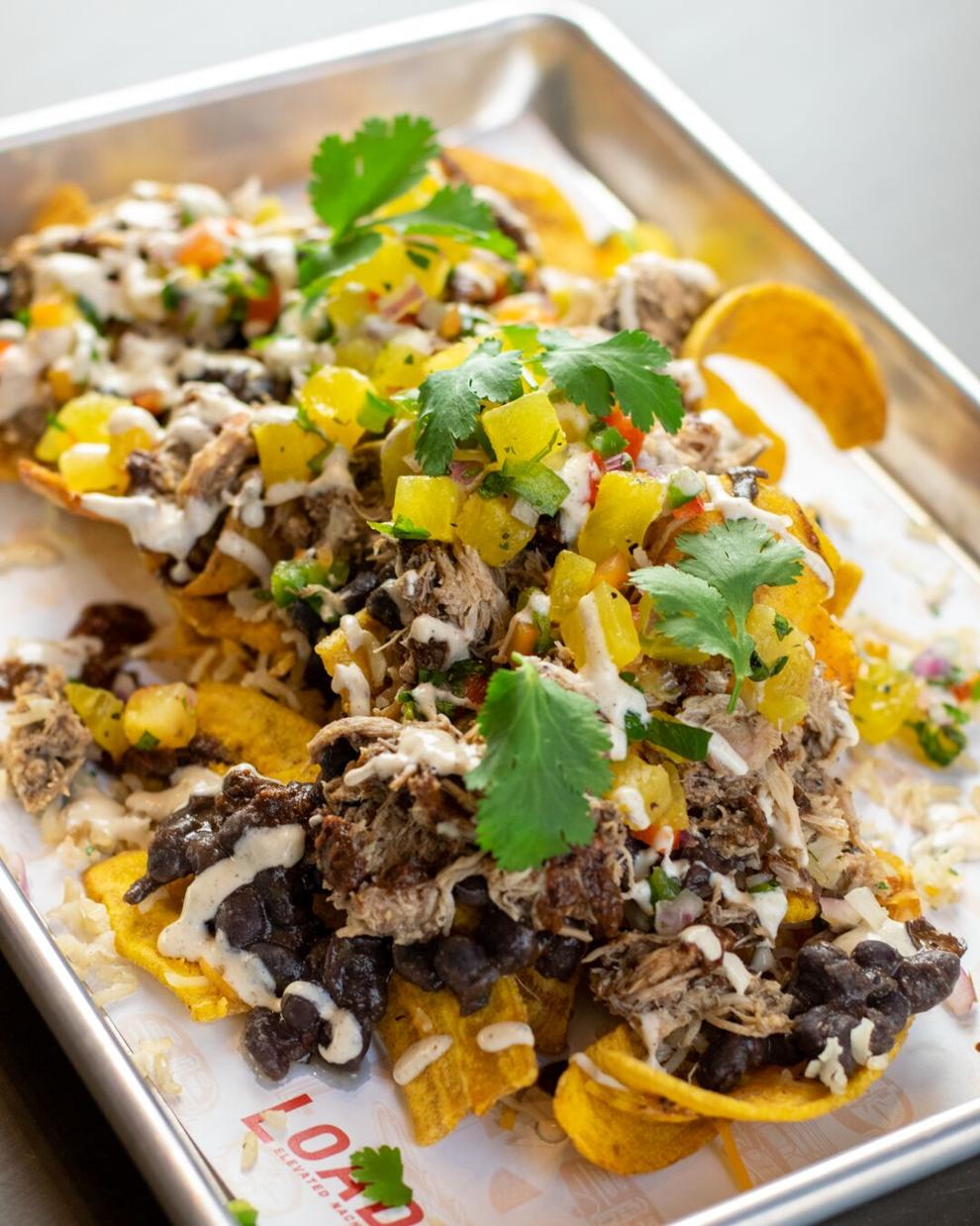 "Loaded has been a long time in the making, and we're beyond excited to finally be opening up at Streets of St. Charles," co-owner Brandon Holzhueter said in a press release. "Having Narwhal's next door, we know this area well and we think the Loaded concept is going to be a perfect fit – adding a fast-casual option to the development while maintaining the level of quality that brings patrons to Streets of St. Charles."
Appetizer nacho plates are reminiscent of classic starters, like the crab rangoon variety (wonton chips, marinated crab meat, sweet cream cheese sauce, chile oil, black sesame seeds, green onions) or the toasted ravioli nachos, made with breaded pasta chips, pork ragù, Asiago, shaved Parmesan and basil chiffonade.
Entrée nachos include Marty's Reuben (seasoned potato chips, corned beef, Swiss cheese sauce, Russian dressing, dill pickles, sauerkraut and rye croutons), Jamaican Jerk (plantain and tortilla chip blend, jerk chicken, Jack Cheddar cheese, compressed pineapple salsa, black beans, cilantro-lime rice and jerk crema) and The Mediterranean (pita and tortilla blend, gyro meat, roasted zucchini, balsamic-compressed red onion, tzatziki sauce, tapenade, Feta, crispy garbanzos and chives.)
And if you're enjoying a drink at Narwhal's Crafted, you don't have to abandon your table to enjoy a plate of nachos from Loaded. The businesses share a pass-through window, so you can get your food brought to you right inside the bar. 
"Loaded is a great 'food partner' to Narwhal's, and the pass-through window is a nice bonus," co-owner Brad Merten said in the release. "Our goal has always been to pleasantly surprise people with Loaded, and now that showtime is finally here, we couldn't be more excited."
Loaded: Elevated Nachos is open Tuesday through Sunday from 11am to 9pm.
Loaded: Elevated Nachos, 1450 Beale St. #130, St. Charles, Missouri, loadednachos.com