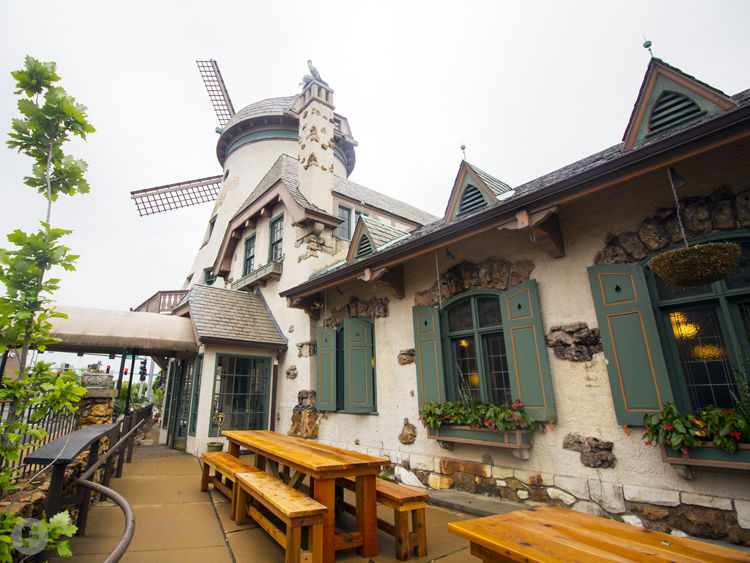 Celebrate Oktoberfest, enjoy a drink while watching hot air balloons or join us for some food and drink on the golf course this weekend.
Friday
"Our 2nd Annual Oktoberfest begins Friday Sept. 21 and continues through the weekend at the big old windmill in the city! This year will feature MORE beer, MORE polka, MORE ridiculousness, and MORE cowbell! Start practicing for the stein holding contests NOW! Prost!" Free admission. Friday through Sunday, starting at 11am each day.
40th Annual Belleville Oktoberfest
"Join us for the 40th Annual Belleville Oktoberfest - Friday Sept 17th from 11 am to 11 pm and Saturday Sept 18th from 11 am to 11 pm - Enjoy LIVE Local Bands on 3 stages ALL WEEKEND LONG + Authentic German Food, and other Food options too, along with lots of Beer options, you don't want to miss. You also don't want to miss your opportunity to catch the Wiener dog Race and Costume Contest, your chance to play Corn hole with us, or visit our Children's area too. There is something for everyone to enjoy at this annual event, located on the public square in Downtown Belleville, IL." Free admission.
Woofing Down Ice Cream For Stray Rescue
"The Pioneer Bakery Cafe & The Scoop Ice Cream Bar is co-hosting a week long event with Stray Rescue to provide financial support for Stray Rescue's continued effort to provide "furever" homes for stay dogs and cats in St. Louis. The Pioneer & The Scoop will donate 50% of all sales between 4pm and close from Tuesday, September 14th and Sunday, September 19th to Stray Rescue. Come join us in the evenings for ice cream, boozy shakes, delicious desserts, and wine for a great cause." Friday, Saturday and Sunday from 4 to 10pm.
Saturday
"Schlafly's HOP in the City is back but looks a Lil' different this year. Still hosted at the Tap Room downtown, this FREE event will celebrate a variety of Schlafly styles ranging from fruited favorites to beloved hop heavies to traditional classics. Attendees can purchase different sizes of 14 festival styles, some brewed exclusively for Lil' HOP. This year, we welcome local food trucks, live music and the same big vibes from our longest annual beer fest – just with a few lil' changes."
"If you're planning on watching the 49th Annual Great Forest Park Balloon Race this weekend, head over to the Angad Arts Hotel to get the best seat in the city for your chance to see nearly 70 balloons race hare-and-hound style. The hotel is hosting a viewing celebration at ART Bar on the rooftop where guests will get to see a beautiful skyline view of the city and be in eyesight to see the balloons take off. A reservation includes one complimentary balloon-inspired specialty cocktail to sip per person and the chance to purchase a featured menu item created for the night — sweet & salty popcorn balloons — alongside ART Bar's full menu. Reservations are extremely limited to this exclusive event." Free admission. Starts at 4pm. 
"The annual tradition of celebrating the halfway mark to St. Patrick's Day returns to The Pat Connolly Tavern! We are limiting capacity with advance ticket sales only, so act fast!" Tickets start at $12.50. From 6 to 10pm. 
Sunday
Feast Magazine and St. Louis Post-Dispatch Go! Magazine Par Tee
Enjoy a beautiful Sunday afternoon of tasting many of the region's best food and beverages at Feast Magazine and St. Louis Post-Dispatch Go! Magazine's joint event, Par Tee. Stroll around Family Golf and Learning Center's par-3 golf course as you enjoy food and beverage samples, outdoor games and live music. Our partner food and beverage vendors will be spread over the course ready to serve you cocktails, entrées and small plate samples throughout the afternoon. The course offers plenty of room to socially distance and stretch your legs, as well as an exploratory format to discover a new plate or drink just across the grass. Tickets $20. Sampling takes place from 1 to 4pm. 
"STAR will have multiple parrots on the patio at Maggie O'Briens in Sunset Hills from 11-3 on September 19, 2021. Grab a pint or lunch and meet some of our birds. Donations welcome."