Appropriately situated on the corner of Festus Main Street, The Corner Cup Micro-Bakery has been serving up sumptuous sweets, coffee and more at its quaint and cozy shop – just hot off its 1-year anniversary.
"And what an exciting and interesting year this has been with COVID-19," says Amanda Boyer, manger and baker of The Corner Cup. "I cannot say enough how our community has stepped up to help small businesses. We have been fortunate enough to continue to grow through it all."
Boyer and her sister, Carolyn Walton, owner and operator of The Corner Cup, opened the bakery last year simply out of a love for baking.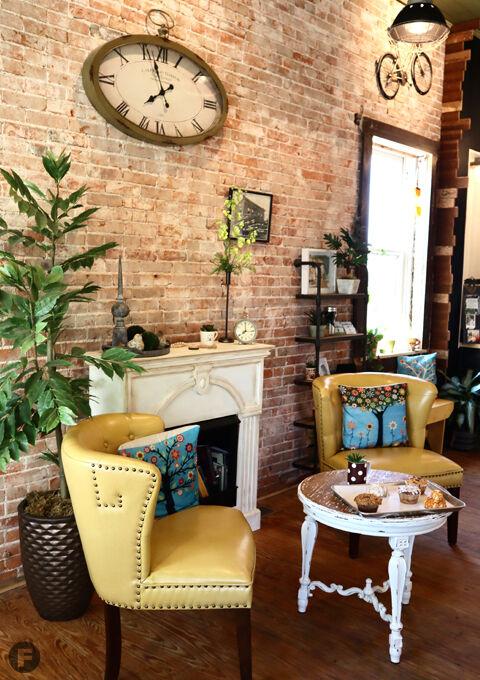 "As sisters, we have always loved to bake together growing up," says Boyer. "We have put our love for baking and creativity together and from that, The Corner Cup Micro-Bakery was born."
The Corner Cup offers scones, muffins, jumbo cinnamon rolls, pecan rolls, huge chocolate chip cookies, pies and more – all baked fresh daily by Boyer herself. "I can't imagine not baking," she says. "Baking makes my heart happy. I feel so blessed to be able to bake for a living."
Although Walton also grew up baking, for her, it was about the heart of the art. "It was about the joy, the tradition, the stories and the love that came from it," she says.
The Corner Cup Micro-Bakery typically features five flavors each of scones and muffins and changes two of those flavors out daily – the rest are kept as its staples.
"I would say our fan favorite scone is either our salted caramel scone or our chocolate chip scone," says Boyer. "As for muffins, while our cinnamon streusel muffin sells out daily, our community also has a love for our blueberry cobbler muffin and our strawberry shortcake muffin. That being said, our jumbo cinnamon rolls also go quick! We have a lot of fan favorites!"
Besides baked goods, The Corner Cup Micro-Bakery also serves up beverages including lattes, mochas, drip coffee and more – all of which can be enjoyed in its over 100-year-old building or taken to-go.
"We have been told many times [The Corner Cup] is straight out of a Hallmark movie," Boyer says. "We love to think that our cozy little corner shop is a place where friends meet to enjoy each other's company, students come to do homework, families gather for treats, others come just to enjoy some alone time and sometimes people will grab and go. We love our customers here at The Corner Cup and enjoy all the relationships we have made along the way. We welcome everyone and hope everyone feels like they are at home in our shop."  
The Corner Cup Micro-Bakery, 2 E. Main St., Festus, Missouri, 636.937.4736, facebook.com/cornercupmicrobakery