Calling all wine-lovers! Schnucks Markets has launched a new wine club that offers discounts on bottles every day of the week.
The family-owned grocery store, which operates locations in Missouri, Illinois, Indiana and Wisconsin, has launched the Schnucks Wine Club, which is available to all members of the grocery store's rewards program for an annual membership fee of $24.99. Wine Club members receive 15 percent off the lowest price on every 750ml bottle of wine purchased at Schnucks stores, as well as special Schnucks Rewards offers and promotions. Members also receive access to a newsletter that highlights trends and insights from industry experts, featuring pairing ideas and other content curated specifically for wine enthusiasts.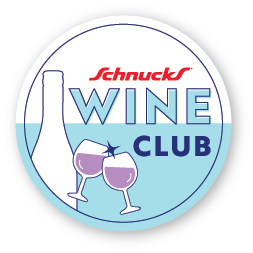 "The Schnucks Wine Club is another way for us to deliver value to our customers," said Julie Dean, Schnucks beverage alcohol category manager and certified specialist of wine, in a press release. "Whether you are a wine expert or just getting started, the Schnucks Wine Club offers ways to save, learn and experience wine in new and fun ways."
Members of the Schnnucks Wine Club can also pre-register for some wine-focused Schnucks Cooking School classes and events and participate in virtual meet-and-greets with sommeliers from around the world. 
Schnucks Wine Club members will earn Rewards points on their initial membership purchase, and also receive an extra $10 in Rewards points if they sign up on or before Sept. 30.