Traditionally, bakeries have run on a "bake and wait" business model. While the rest of us are fast asleep, bakers show up to shops to make breads, donuts and cookies so that customers can enjoy them fresh with a cup of coffee in the morning.
For years, McArthur's Bakery in Mehlville, Missouri, followed that same model. Originally, the bakery specialized in cakes, but by the 80s, it had transitioned into what owner Scott Rinaberger calls a "supermarket bakery," offering the whole gamut of baked goods for customers to peruse at their leisure.
While McArthur's remains a local favorite, foot traffic and in-store sales drastically decreased when COVID-19 hit the area, meaning all of those unbought ready-made goodies – plus the time and resources to make them – were going to waste. Rinaberger decided it was time to get back to their roots.
Today, McArthur's offers baked-to-order cakes for every occasion with your choice of dough and filling flavors, in addition to classic recipes such as gooey butter cake, German chocolate cake and pineapple upside-down cake.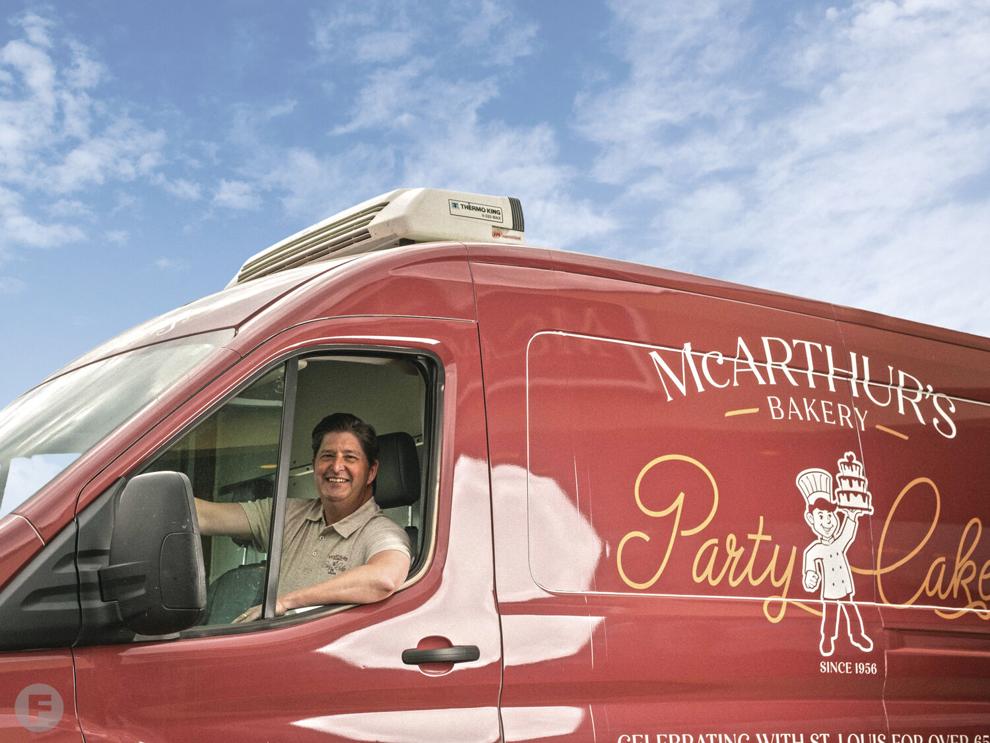 How did you and your team make the decision to change the McArthur's business model? The losses just really started accruing, especially last fall. The [second round of] government restrictions hit us hard: Weddings were working pretty well in August and September, but by October, they completely went away [again]. We had a significant business behind the scenes with corporations and food service companies, but without anybody going to work, they didn't have a need. All of these [pieces] were profitable and subsidizing our retail side, and it was all gone. We had to do something different, because it was either shut down or change.
McArthur's has come full circle, transitioning back to a cake bakery. Why was that the best solution to the situation? We sat back and did a lot of looking, trying to think, 'If we did this, what would the business look like?' And the numbers and modeling came back saying that we really needed to scale back and focus on being a cake bakery again. It's what we're known for, it's what we excel at, and that's the part of us that we need to become again. It made a ton of sense for us to stop baking everything every day and really focus on cakes.
Obviously, McArthur's is no longer the place to stop for a Danish and a cup of coffee. Now what is the customer experience like at the bakery? We have this new feel. When you come into our store, what you're gonna find now are everyday party cakes. You can [buy] a sheet cake that is already there and decorated, or you can grab one of our carrot cakes or blanc et noir cakes – they're ready-made. But mostly, it's a two-day process: Preorder your cake, and you can pick it up or have it delivered in two days. What's really unique about us is our website. Back in 2019, I started pushing really hard for online ordering and delivery. We designed a website [where] you can choose from about 900 predesigned party cakes. You can go online, 24 hours a day, pick the cake you want and the design, but you also get to pick your dough, pick your filling and pick your inscription. [Then] we'll have it to your house in two days – delivery is free within a 40-mile radius. And that part has really taken off for us, which made the decision a lot easier.
McArthur's Bakery, 3055 Lemay Ferry Road, Mehlville, Missouri, 314.894.0900, mcarthurs.com