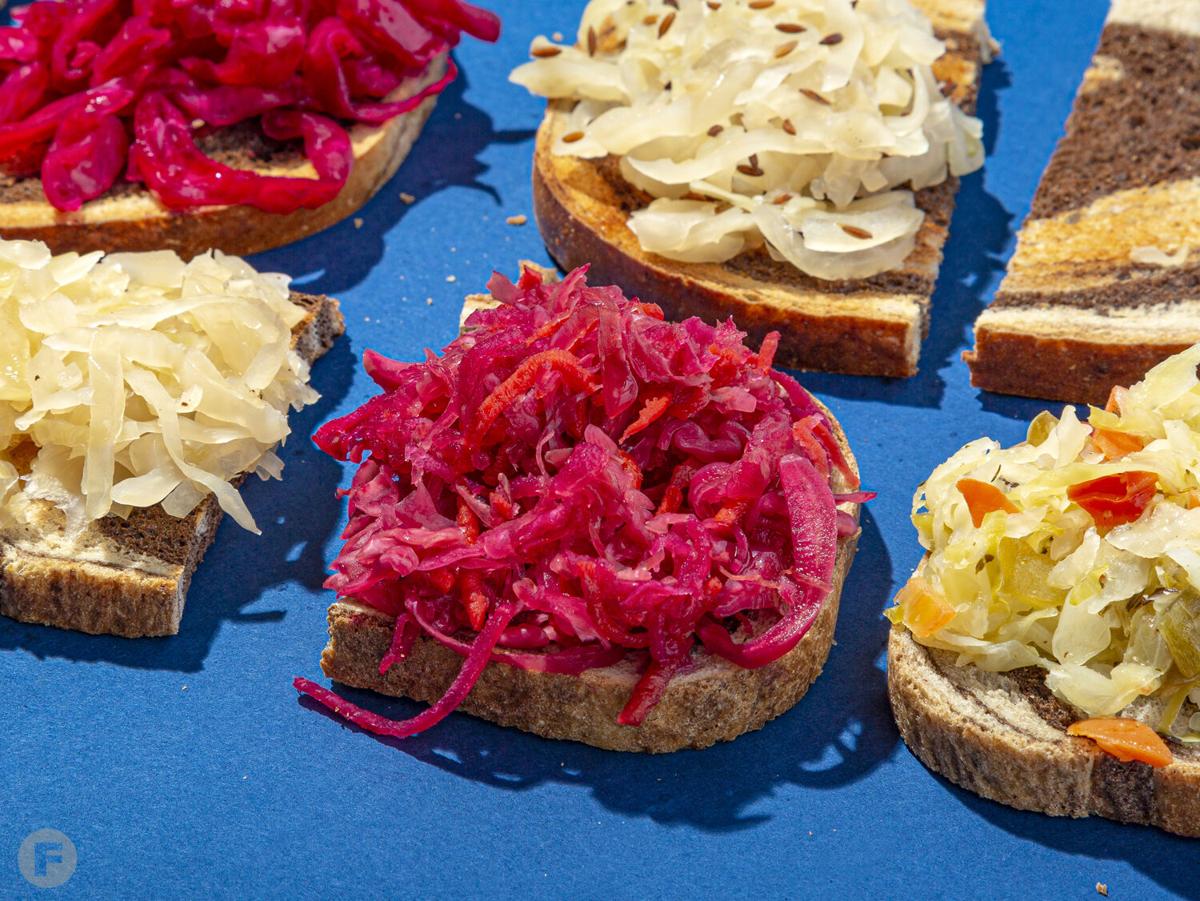 Through lacto-fermentation, cabbage and salt miraculously transform into crunchy, earthy yet zippy sauerkraut, perfect for adding to sandwiches and other dishes or simply eating by the spoonful.
These local fermentation fanatics offer fresh takes on the traditional German condiment and share some of their favorite ways to eat it.
Katie's Cultured Kitchen
Katie Belakhoua, probiotics food specialist, educator and owner of Katie's Cultured Kitchen in St. Louis, proves that eating for a healthy gut can be delicious. She offers several versatile sauerkraut varieties, made to order, including the Liver Detox Kraut specially formulated with superfood broccoli sprouts, prebiotic apples and garlic, carrots, turmeric and black peppercorn as well as the Ruby Red Kraut featuring liver-nourishing beets along with carrots, apples and onions. Belakhoua uses only fresh, organic ingredients in her sauerkraut, which you can order by the pint at katiesculturedkitchen.com.
Fair Share Farm
Tom Ruggieri, farmer and co-owner of Fair Share Farm in Kearney, Missouri, credits the farmland's soil health with the fresh taste of Fair Share's sauerkraut. The mild kraut features cabbage grown on Osage Nation land that's been in farmer and co-owner Rebecca Graff's family for four generations. Do what the farmers do: Stuff a grilled cheese with it for a meatless Reuben or brine pork in its juices. Discover which Kansas City retailers stock the pure and simple sauerkraut, along with Fair Share's other ferments such as jalapeños en escabeche, green kimchi, curtido and daikon pickles, at fairsharefarm.com.
Upper Crust Bread
A warm, crusty piece of bread is tasty on its own, but sauerkraut helps any loaf live up to its true potential. Jeffrey Moll, owner of Upper Crust Bread in St. Louis, calls sauerkraut a "bread accessory" and recommends using it to build sandwiches and charcuterie boards. His sauerkraut ages for two months to ensure each jar is fresh but funky and packed with probiotics that make your gut and your taste buds happy. Snag a jar of sauerkraut and other fermented goodies such as giardiniera at uppercruststl.com.
Hoganville Family Farms
Using a family recipe of cabbage, salt and water, Ray Rome, patriarch of Hoganville Family Farms in Olathe, Kansas, has been canning and selling sauerkraut since 1984. Over the years, his family has found many ways to enjoy it, but their favorite is to slow-cook pork ribs in a Crock-Pot, add the classic kraut for the last hour and top homemade mashed potatoes with the tangy mixture. Four-pack sauerkraut packages are available for porch pickup at the farm, or hungry customers can find regional retailers that sell it at hoganvillefamilyfarms.com.
Wild Alive Ferments
Dive into the fantastic world of fermentation with a seasonal CSA from Wild Alive Ferments in Lawrence, Kansas. Twice a month, participants receive a share of kombucha and fermented veggies made with ingredients sourced directly from local farmers. Sure, owner Sarah Salzman offers sauerkraut, but Wild Alive takes the fermentation game to the next level with an online shop where customers can buy vegetable fermentation kits, SCOBY, fermented hot sauce, green tomato kimchi, spicy escabeche, fermented herb salt and more. Explore all of Wild Alive's ferments at wildaliveferments.com.