For Jeff Stevens, it all started with a simple question: "Why are there no good nonalcoholic beers?"
Stevens, an advertising exec working closely with big-name beer and spirits brands, spent the majority of his career surrounded by alcohol – but he didn't drink. As he mingled with clients at bars, clubs and private parties around the world, he found himself longing for something more. As a recovering alcoholic – he quit drinking at 24 – he sought an alternative to the sugary sodas and cloyingly sweet nonalcoholic beers available to him. After chatting with some friends he met while working in the creative industry in London, he realized he wasn't the only one who felt that way – and, perhaps most importantly – that he had the tools to do something about it. Soon after, he and his wife, Genevieve Barlow, founded WellBeing Brewing Co., a nonalcoholic craft brewery based in St. Louis.
When the first WellBeing beers – which are brewed by the team at O'Fallon Brewery in O'Fallon, Missouri – hit shelves in St. Louis in January 2018, the company broke new ground, becoming one of the first craft breweries to specialize in nonalcoholic beer in the entire country. Two years later, the brewery has exploded onto the scene both locally and nationally; its beers are now available in stores across the country, from California to Texas to Massachusetts.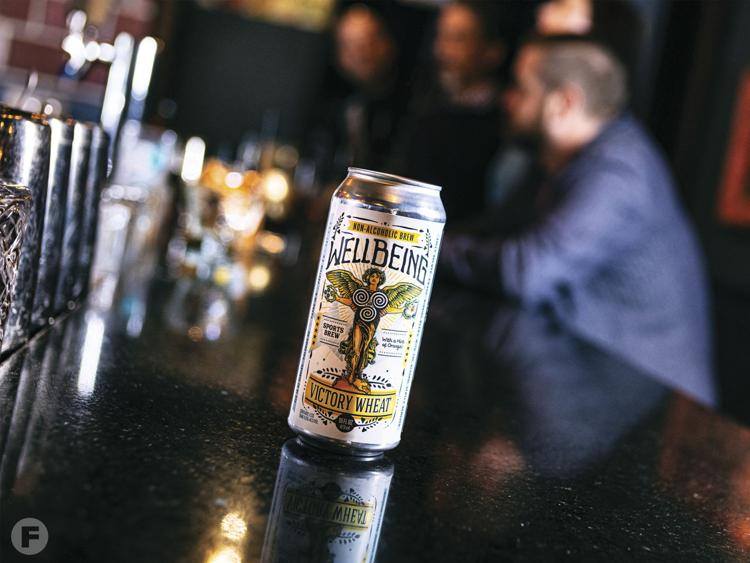 WellBeing arrived on the scene just in time for a major sea change in the beer industry. Nonalcoholic beer has taken the market by storm, as small, NA-focused breweries like WellBeing crop up around the country, and international beer barons like Heineken, Guinness and Budweiser diversify their portfolios by expanding into the nonalcoholic sector. Companies both big and small are keeping a close eye on the market, and for good reason: By 2024, the nonalcoholic beer market is projected to become a $7 billion industry – up from $4.5 billion this year. In 2017, Reuters reported that the nonalcoholic beer industry in Europe saw sustained growth while the overall beer market shrank. And the category is earning respect among beer enthusiasts, too: This past fall, the Great American Beer Festival – generally considered the industry's most prestigious competition in the country – brought back its nonalcoholic beer category after a 15-year hiatus.
So how is WellBeing – a small but mighty team led by just three full-time employees – carving a name for itself in this burgeoning billion-dollar industry?
If you ask Stevens, the answer is simple: better beer.
***
Over the past several decades, Stevens has tasted a lot of bad nonalcoholic beer. For him, many NA beers are too sweet – almost like they have a teaspoon of sugar added. That's because most breweries use either limited fermentation or stop fermentation methods to make nonalcoholic beer: by limiting or stopping fermentation, the sugars don't ferment and, as a result, no alcohol is produced. But that process affects the flavor, and the resulting beer often ends up tasting too much like wort (the sugary liquid used to make beer).
That's where WellBeing's vacuum distillation machine comes in. The brewers use a vacuum to lower the alcohol's boiling point so that the alcohol is boiled off at a lower temperature, right around room temp. This process allows more of the flavors to stay intact, and, in turn, gives WellBeing beers a different taste than other NA beers on the market. They're dry and crisp, with a more rounded mouthfeel and a distinct nose. "When you smell ours – especially the Hellraiser – all those hops really come through, where [they] might have been boiled off in other NA beers," Stevens says.
From the start, Stevens and Barlow aimed to set Wellbeing apart from others in the NA category by focusing on distinctly craft styles, including a wheat, an amber and a coffee stout. The Heavenly Body Golden Wheat, an American-style wheat with a hint of Cascade and German Tradition hops, was WellBeing's first beer on the market. Stevens says the company wanted to prove it could make a really good beer by tackling an approachable, drinkable style – just without the alcohol. Based on a recipe that won a Great American Beer Festival award, the beer has a slight citrus character that balances the beer's lighter malts, and they hope it takes non-alcoholic beer drinkers on the same journey as craft beer drinkers.
Next, they wanted to stretch the WellBeing portfolio with a hoppier, session-style IPA. Enter the Hellraiser, a crisp, dry amber with a floral hop character. The brewery followed with Intrepid Traveler Coffee Cream Stout, made with lactose and coffee from local Mississippi Mud Coffee Roasters, and Victory Wheat, a golden wheat with a hint of orange. Enriched with all-natural electrolytes from St. Louis-based startup Buoy, Victory Wheat was designed with athletes in mind.
"When you work out, your body loses, through sweat, all of these electrolytes: magnesium, calcium chloride, sodium, all the vitamins," Stevens says. "There are just things that in the normal course of hydration you need to replenish, so that's exactly what we put in our beer – a dose of these flavorless electrolytes that your body needs after working out." The ultra-refreshing beer, which WellBeing describes cheekily as the "world's healthiest beer," also marked another first for the company – it's the first-ever nonalcoholic craft beer made with electrolytes.
On Jan. 2, WellBeing plans to release its newest – and perhaps most labored-over – style: Intentional IPA. The company spent years dialing in its recipe for the beer; as Stevens explains, the world of IPAs is a big one, and they wanted to get it right. The IPA gets its signature bitterness from the addition of Mosaic and Citra hops, rounded out with distinct pineapple and peach notes, and its name is meant to inspire drinkers to start the year off with the best intentions.
As Stevens and Barlow began building up the brewery's portfolio, they began seeking out ways to spread the word about WellBeing. On the day of the brewery's launch party, in fact, Tom Halaska – a longtime St. Louis bartender who had recently quit drinking quite publicly, interviewed for a job. As he helped the pair unload beer for the event, they got to talking about their shared experiences giving up alcohol, and it wasn't long before Halaska landed a job as WellBeing's "brand alchemist." Upon leaving the local bar industry after decades, he worried that he wouldn't have any relevance working with a nonalcoholic brand, but those fears vanished quickly. "I realized that my place in the bar and restaurant industry has been reborn in a way to where I'm able to create those spaces for non-drinkers, but also help educate bars and restaurants on why those spaces are necessary," he says.
And as WellBeing continues to build its brand both in St. Louis and across the country, the brewery is starting to figure out just who its customers are. In addition to sober consumers, WellBeing aims to appeal to the "sober-curious," or those who are interested in taking, say, a night or a week off from drinking. "It's about normalizing that," Stevens says. "We want to become your Tuesday night beer or your third beer."
"When we first started, we didn't know what our demographic would be," Halaska adds. "What we found out in the past couple years is that we are selling more beer to people who drink alcohol than people who don't. People are mixing our beer into their session – maybe they'll have two beers with alcohol, one of our beers and then another regular beer."
The shift in perception among beer fans is perhaps nowhere more evident than that hallmark of the beer industry: festivals. WellBeing frequently participates in festivals both in St. Louis and across the country, and Stevens and Halaska agree that, over the past few years, they've seen a huge change in how receptive consumers are to nonalcoholic beer. "At the first beer festivals, people would ask, 'Why would you want to do this?'" Stevens says. "There was definitely a bit of skepticism. But after the most recent one we've been to it feels like night and day – everyone is excited and wants to talk about the product. They're far more accepting."
And acceptance is a core tenet of WellBeing's philosophy. In addition to offering consumers a nonalcoholic beer that's just as well-made as its boozy counterparts, Stevens, Barlow and Halaska want to create spaces where non-drinkers feel not just welcome, but part of the party.
"We're not just building a brand; we're setting the tone for how craft nonalcoholic beer is being taken nationally," Halaska says.
WellBeing Brewing Co., wellbeingbrewing.com
Illustration by Tyler Gross.