Olive + Oak has big plans in store for the new year. After four years in Webster Groves, Missouri, the beloved restaurant is moving to a new space in the neighborhood, as first reported by St. Louis Magazine. The restaurant itself will stay about the same size, but the new location will also include an event venue and a satellite location of Perennial Artisan Ales. 
These can't-miss spots are pushing boundaries and defining local flavor – but most importantly, they're the restaurants we want to return to a…
Olive + Oak co-owner Mark Hinkle says that the idea to move started with the space: the old Auto Beauty Specialists building at 214 W. Lockwood Ave. When the building became available, the ownership team decided to buy it.
"It's such a cool project," he says. "The building's so cool. What we're doing with it, I think, is really exciting." 
Originally, the plan was only to open the event space, which is estimated to seat about 225 guests and hold 400 for cocktail-style receptions, but it made sense to move the restaurant, too. And working with Perennial "just made sense" because of the owners' great friendship and previous partnership.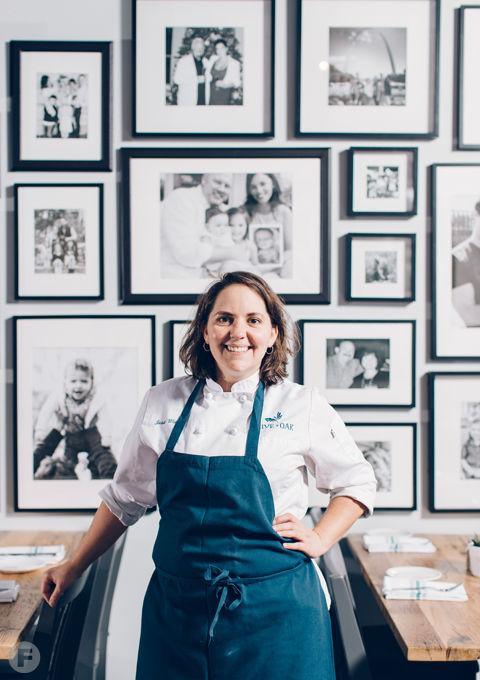 Emily Wymore, Perennial co-owner and the brewery's sales and marketing manager, says that she and co-owner Phil Wymore first became friends with Hinkle while he was the general manager at Annie Gunn's in Chesterfield. They always talked about how fun it would be to work on a project together, specifically in the Auto Beauty building, as they thought it was the perfect spot for a brewery. 
"We're really excited to work with Olive + Oak," she says. 
Chris Kinast, Perennial's current cellar manager, will become head brewer at the satellite location. The brewpub will include its own kitchen with a menu that is yet to be announced. Olive + Oak executive chef Jesse Mendica will head up all three kitchens, including the kitchen of the event space.
The new space will feature high ceilings and floor-to-ceiling windows, as well as some familiar motifs from the original restaurant – namely, the glowing neon heart and black-and-white family photos that Olive + Oak fans have come to expect. As the restaurant approaches its four-year anniversary, Hinkle says that this project is an exciting new step. 
Look for items like a roasted chicken hand-pie with root vegetables and tarragon gravy, or a burrata sandwich with lemon, pine nuts and charred broccoli pesto on a ciabatta roll.
"I think it will be a very cool rebirth of something that's really special to all of us," he says. "As scary as it is to go in that new space, I think it's going to be really incredible and really awesome." 
And that's not all: The current Olive + Oak space will become home to a yet-to-be-named Italian concept that will offer dishes similar to the dinner menu at sister restaurant The Clover & The Bee. Hinkle says to expect to see housemade pastas and pizzas, among other things. 
Olive + Oak is expected to make the move to the new space in late March or early April, with the brewpub following soon after. After the team gets comfortable in the new space, they will start booking events. 
Editor's note: This post has been updated with additional details. 
Olive + Oak, 102 West Lockwood Ave., Webster Groves, Missouri, oliveandoakstl.com