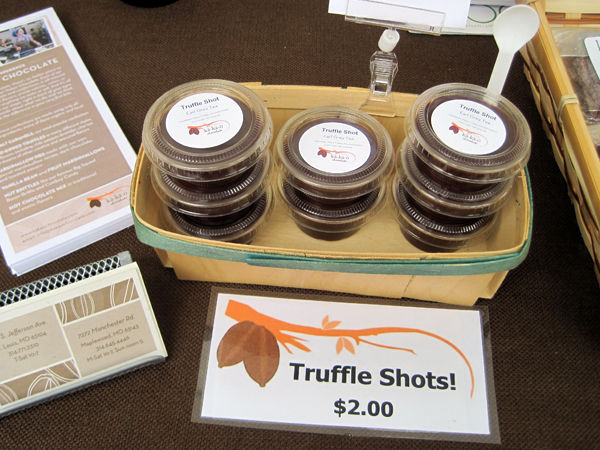 The chocolatiers at Kakao invented yet another way we can love their chocolate. Truffle shots of pure ganache, creamy and decadent, are available now in the truffle flavors we love from Kakao. "You want to eat these with little spoons," says owner Brian Pelletier.
Fortunately, he provides a tiny taste spoon at the booth, so you don't have to wait to dig in. We agree. A minimal spoonful delivers maximum chocolate goodness that melts on the tongue. Not surprisingly, the shots disappeared quickly last week at the Tower Grove Farmers' Market. Truly a two-buck bargain for chocolate fans, the truffle shots are available in the Kakao stores as well.
Kakao Chocolate, 2301 S. Jefferson Ave. (at Shenandoah), 314.771.2310; 7272 Manchester Road, Maplewood, 314.645.4446, kakaochocolate.com
---
Hungry for more St. Louis food-scene news? Follow us on Facebook at facebook.com/feastSTL and Twitter at @feastmag!