Archie and Ashley Harmon share a passion for craft beer and their community in Wentzville. On March 7, the couple combined the two with the opening of Chillax Tap & Co., their taproom and bottle shop located at 714 West Pearce Boulevard.
"We chose Wentzville because this is the place we chose to put down roots," Ashley says. "We're raising our family in Wentzville, and so we wanted to bring Chillax to where we live. We want to build up our community, we want to develop it. It's growing so fast, and we want to be a part of that growth. We live here, we work here, we're growing here."
Building a community around craft beer had long been a dream for Archie, an avid homebrewer who had spent the past decade working in speech pathology as a clinician. Ashley, an elementary school teacher, was similarly energized by the idea of sharing quality craft beer with her neighbors in a sleek and inviting space.
"I decided to turn my passion for craft beer into a business," Archie says. "The last thing you want to do is look up 30 years from now and say, 'I wish I could have done this [years ago].' That haunts people. We are happier now; I spend more time with my family than I ever have in the past 10 years – and that's in the middle of opening a business during COVID-19. That's a win, in my opinion."
Within two weeks of opening Chillax, the COVID-19 virus had forced restaurants and bars to temporarily shift operations to delivery and curbside service. The Harmons persevered, though, adapting operations as needed to continue serving customers throughout the spring and summer. "We just found a way to deal with the challenges," Archie says. "The way we look at it, if [the business] can survive a pandemic, then we'll be fine in the long run, which we are. We just want to provide a good product to the people, and a craft beer-forward experience."
Located inside a remodeled former Pizza Hut, Chillax features a stylish modern aesthetic with industrial touches. Inside, the only nod to the space's original tenant is a framed 1980s photo of the restaurant, while outside, a new paint job has given new life to the exterior. Ashley oversaw the interior design, choosing a marble bartop, warm wooden tables and leather seating. Because Chillax functions as both taproom and bottle shop, shelves and coolers are spread throughout the space, as is comfy seating. During the renovation, Archie installed a garage door facing the spacious outdoor patio, allowing guests to enjoy an open-air feeling inside and out.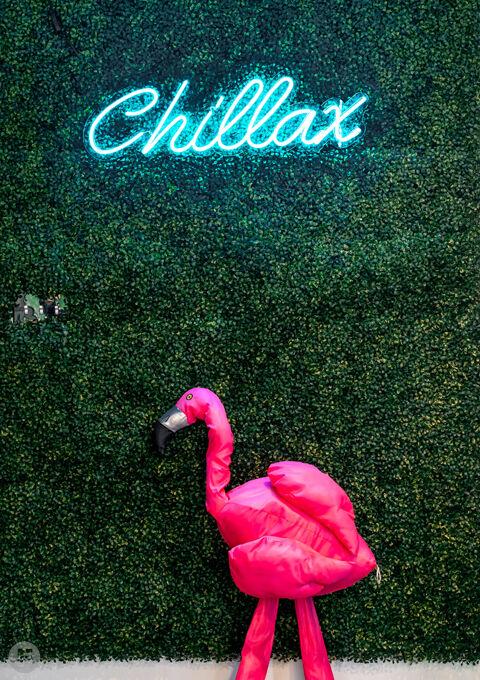 "We wanted to create a space where we would want to spend some time, not just as business owners, but as customers," Archie says. "Our idea was modern, industrial and sleek, that was the look we were going for, and I think we nailed it. My wife is very good at decorating."
Archie, who is personally a big fan of imperial stouts and IPAs, knew that when it came time to develop Chillax's beer selection he had to balance his tastes with a broader range of craft beer styles. Today that same approach is reflected in the beer list, which pulls from craft breweries across the city, country and globe.
On a random day, you might find a fruited Gose from Rockwell Beer Co. in St. Louis alongside a cream ale from Public House Brewing Co. in St. James, Missouri, next to a mead from Red Stone Meadery in Boulder, Colorado. Archie still has plenty of IPAs and imperial stouts on offer, though, including those from Six Mile Bridge in Maryland Heights; Mother's Brewing Co., in Springfield, Missouri; and 2nd Shift Brewing in St. Louis.
"Any given day, I've probably changed maybe three to four taps, and that's based on demand and need," Archie says. "I have to rely on my own palate, and I'm an IPA, imperial stout type of guy, but I have to balance that out with everyone else's palates. So we have a good mix of sours, Pilsners, really a good mix of everything. And on the bottle shop side, people enjoy being able to individualize 4-packs, 6-packs, or just grab one or two beers to go. We want to make sure people are happy."
To complement the beers on tap and encourage customers to linger a little longer, Chillax allows guests to bring in food and regularly hosts area food trucks in its parking lot. Initially the Harmons had to reach out to local food trucks to build connections with owners and encourage them to visit the shop. After months of relationship building, though, they have now proven that there is a market for trucks with Chillax's clientele.
"People see Wentzville as being so far away from the city, and they didn't necessarily view Wentzville as being a moneymaker," Ashley says. "So it was a lot of emailing, a lot of phone calls, a lot of building relationships and just letting them know that people in Wentzville will support food trucks. We love different types of food and we also love supporting local businesses. So that took some time, but then one food truck after another decided to take a chance on us, and then everyone asked to come back. And we're now known for those Saturday family events."
And that's exactly what the Harmons are hoping to provide: a neighborhood hub where families and members of the community can unwind and enjoy great beer.
"The city of Wentzville has been very, very receptive to what we're doing," Archie says. "We're family-friendly and you can also bring your dogs out on the patio. Wentzville is growing, and with that, Ashley and I saw that there was a void here as far as a craft-beer experience that's not necessarily a brewery. We're showcasing local, regional beer, as well as national craft beer, and people appreciate that they don't have to drive 30 miles into [St. Louis] to have that experience."
Part of that experience is excellent customer service, Ashley adds. The staff at Chillax is passionate about craft beer and invites customers to ask questions about the various draft and retail offerings and engage in a conversation about beer. "Customers also love the welcoming environment as well as the customer service we show each individual person," she says. "We want everyone to feel like they are family."
Moving into the fall season, the Harmons are looking forward to adding more seasonal beers to their lineup and hosting autumn events for the community.
"Coming up, you can expect fall and winter beers, bringing out more stouts, bringing out Oktoberfest beers – what I like to call 'fall in a glass,' with all the different breweries coming out with their own versions of Oktoberfest and stouts," Ashley says. "And we'll get into fall events for the community, we will be putting some fire pits out, having more tastings with different fall beers, creating more of a family space when it does become wintertime – so maybe stouts and s'mores over campfires. Just trying to get people out of the house in the safest way possible so they won't have cabin fever, especially during the wintertime."
In addition to on-site events, Archie is hoping to share Chillax with a wider audience at area festivals and events, if possible. He recalls the great conversations he's had with brewers at area beer festivals and looks forward to forming those same bonds through Chillax in the future. "With beer, it's about chatting with people, enjoying people and establishing relationships," Archie says. "You don't just always have to come to us, and so I'm looking forward to establishing that mobile Chillax as we get out into the community as well."
The past seven months have thrown myriad challenges at the Harmons as first-time entrepreneurs, but they're proud of how they've faced them and the community they've built at Chillax. Heading into fall, the couple is excited to continue to grow and evolve the business and provide a space for families and friends to congregate over great beer. "It's almost getting back to regular life, just in a safe environment for the whole family," Ashley says.
Archie adds, "That brings me pride, to know what we put on tap is actually going to help share the craft beer experience, and then they share it with family and friends."
Chillax Tap & Co., 714 W. Pearce Blvd., Wentzville, Missouri, 636.887.0387, chillaxstl.com