Grand Tavern by David Burke is now Grand Tavern.
Celebrity chef David Burke and his hospitality group, ESquared, have ended their partnership with St. Louis' Angad Arts Hotel in Grand Center. Beverage director Meredith Barry has also left her position. 
The celebrity chef is known for dishes like cheesecake lollipops and clothesline candied bacon.
According to a statement from Angad Arts Hotel, the hotel retained ESquared Hospitality and Burke on a one-year consulting basis to launch the hotel's food and drink program, which opened in late 2018. Grand Tavern will continue to operate in the hotel under executive chef Robert Cantu. 
"We are very grateful for all their help in creating a wonderful experience for our guests in the first year," the statement reads.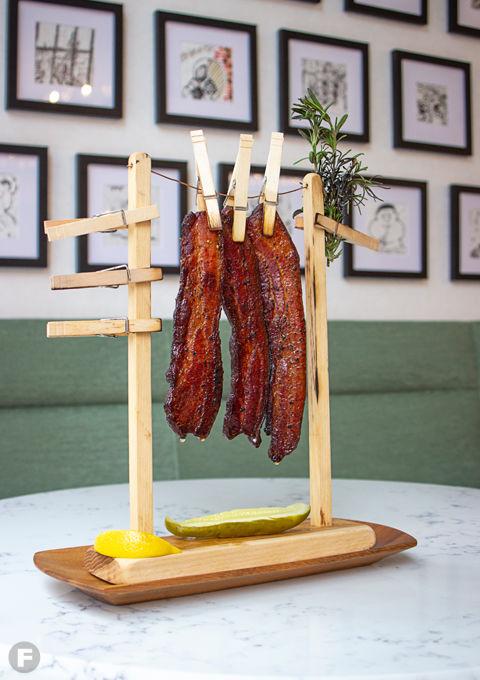 Barry tells Feast that while leaving Grand Tavern was a very hard decision to make, her vision did not align with that of the new management.
"We built something, I thought, really beautiful, and I was really hoping to continue that," she says. 
According to Barry, many of the bartenders on her team remain at Grand Tavern. 
"The knowledge that I've given them is their knowledge, and I hope that they take it and run with it," she says. 
She's the bar manager at the swanky hotel restaurant and bar.
Barry has no immediate plans to announce, but says that she plans to stay in St. Louis and continue her work here for the foreseeable future. 
The hotel's statement included that the team is appreciative of Barry for creating Grand Tavern and A.R.T.'s initial cocktail programs, and that they wish her the best of luck. They also said the cocktail program will be "evolving" in the next several months. 
The statement also announced a forthcoming café and coffee program that is expected to launch this summer. 
Grand Tavern, 626 N. Grand Blvd. (inside the Angad Arts Hotel), Grand Center, St. Louis, Missouri, 314.405.3399, grandtavernstl.com