What began as a homebrew hobby in 2018 has transformed into an Old World mead hall. Four Brothers Mead plans to open its doors on Main Street in Festus, Missouri, on Sat., March 28. 
"We wanted to have a local place for people to try the mead," says co-founder Dan Luck. "At the same time, we wanted to turn it into something really cool. We are all about the Norse mythology, the Vikings, the Old World mead hall look and theme, and we thought this would be awesome to turn it into something really cool."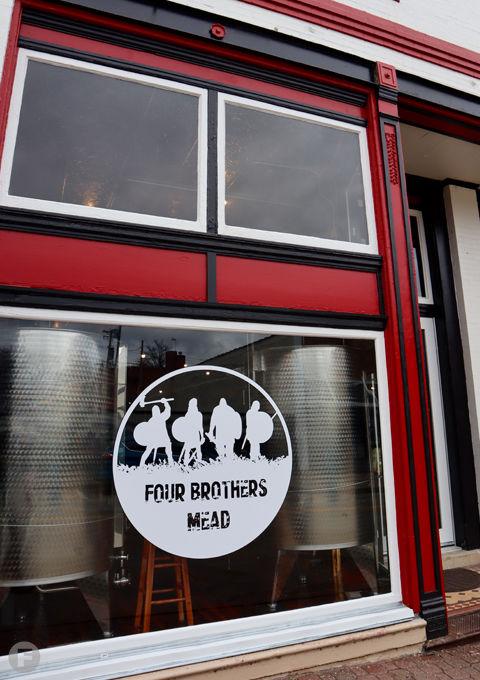 Four Brothers Mead was founded by, you guessed it, four brothers – Dan Luck, Joe Luck, Chris Schulte and Bryan Becker.
"All four of us are brothers in one way or another," Dan says. "I have a brother by birth. I have a brother-in-law. The other brother is a brother in arms who was deployed with the other two brothers, each separately. It's like a triangle of deployment to where we were all deployed to Iraq or Afghanistan.
"We've always enjoyed that part of history and mead is very much part of that history. We'd get bottles of mead here or there, but we never really found one that really tasted like we wanted or had hoped it would taste like. They always tasted more winelike or you could tell there were a bunch of chemicals in there to make it clearer or whatnot. So one day we were all together and we decided we'd just try to make it ourselves."
Making mead requires three ingredients: honey, water and yeast.
"There are a lot of technical factors that go into making mead, but we found a good formula," Dan says. "We started sharing with family and friends and everyone really liked it. The word got out and people really started liking it and wanting it. It got to the point where we realized this wasn't a homebrew thing anymore. That's when Four Brothers Mead was created."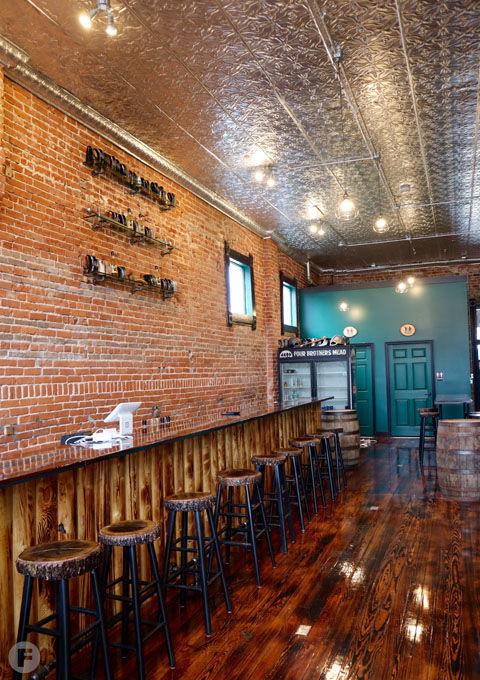 Four Brothers Mead is located at 124 E. Main Street in Festus and, according to Dan, is solely focused on mead.
"When you walk in, it's going to make a statement," he says. "This is solely a mead hall. A place to drink mead. It's not going to be your dollar pitcher, smoky bar."
Offerings will include Odins Hrafn (traditional mead), Yggdrasil Sap (maple mead), Heimdalls Horn (cinnamon fall spice mead), The Aesir (orange peel mead) and Bjarga Kraken (coffee mead).
"Being a veteran-owned business, not only do we want to help be part of our community, but we also support other veteran businesses the best we can," Dan says. "So the coffee we use in our coffee mead is from Got Your Six Coffee Co. out of Springfield. We help each other out."
For a town of 12,000 people, Festus, Missouri, has a surprisingly broad range of dining and drinking options, from long-standing classics to b…
At its grand opening, Four Brothers Mead will also release its newest flavor: blackberry. Mead will be sold by the glass (a 6-ounce pour), by the bottle or by the flight. Five Anheuser-Busch products will also be on-hand in addition to prepackaged snacks.
"Like any winery, you are more than welcome to bring your own food in," Dan says. "We encourage people to walk up and down Main Street, explore the different eateries that have popped up the last couple years in Festus. If you want to take it to-go and bring it to our place, you're more than welcome.
"In the past few years [Festus] has really come a long way. Several buildings have been renovated. Main and Mill came in on the corner. We've had a lot of different places pop up, land and really stay. … We see it as an up-and-coming place that gets a lot of traffic in the last couple years, so we decided to open it up right here."
Four Brothers Mead, 124 E. Main St., Festus, Missouri, fourbrothersmead.com