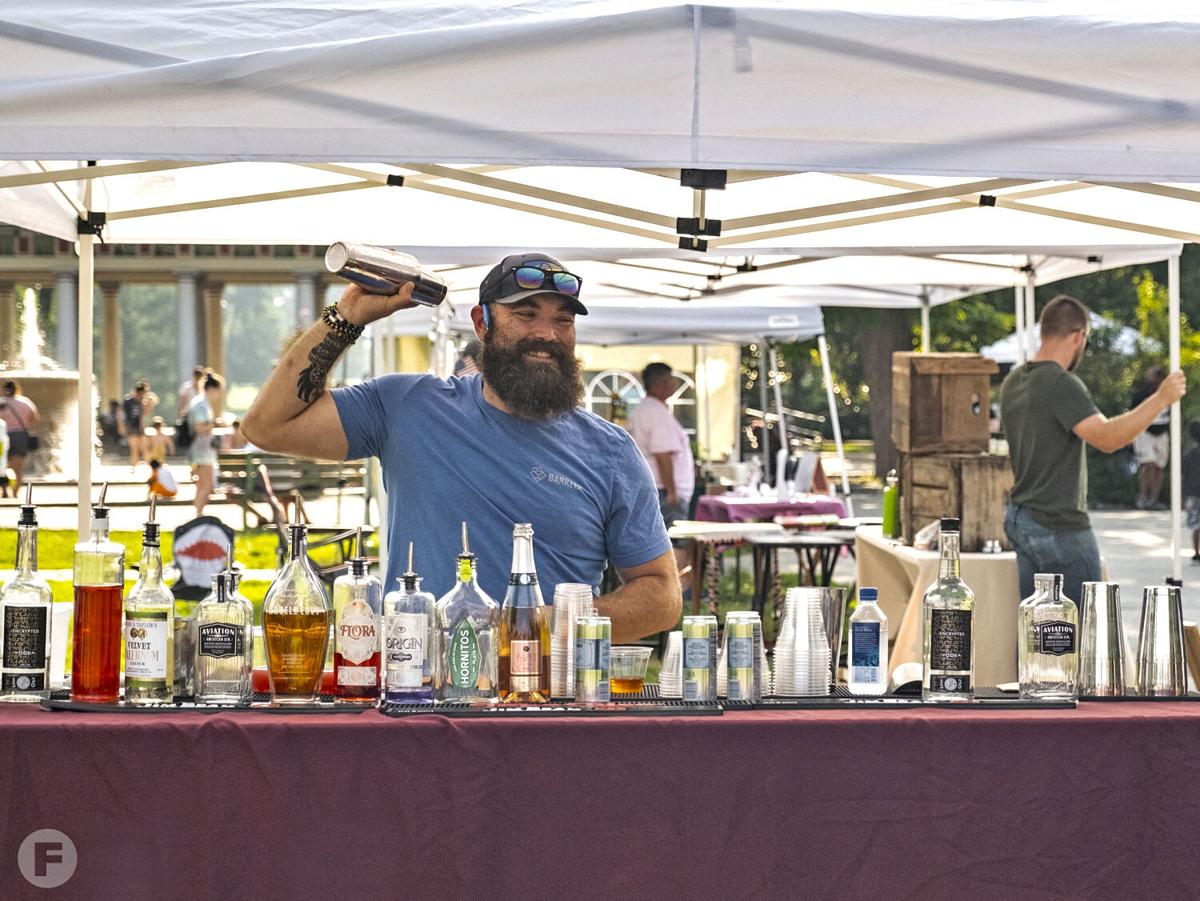 The minds behind STLBarkeep, including beverage director Pat Gioia, focus on "cocktails for the people," offering accessible craft cocktails such as cucumber Gimlets, bell pepper Margaritas and watermelon Palomas at St. Louis-area events.
After working for the company part-time for approximately three years, Gioia accepted a full-time position in March 2020, at which point he became a major player in helping STLBarkeep adapt its operations to COVID-19 shutdowns and restrictions. This summer has seen a decent number of events, though, including Shakespeare in the Park, which have allowed Gioia and his team to reconnect with the community. "We like to be everywhere," says Gioia. "As opposed to just having a brick-and-mortar location, we're in dozens of places at the same time, so we're able to cover a lot of ground and serve a lot of different people. We come to the people; people don't have to come to us."
How do you make your cocktails approachable? We try to source local ingredients – although that's not always possible in the winter months. To make the cocktails themselves more approachable, we try to keep their identities simple, where they don't include too many ingredients or wildly unfamiliar ingredients. When we do want to step into that territory, our staff is able to clearly explain what the ingredients are and why we chose to use them without coming off as pretentious. Our goal is to always make the customer feel at ease with any new ingredient or cocktail.
What does the future hold for STLBarkeep? We've launched a whiskey club, which offers members the option to taste and purchase exclusive whiskeys. As things continue to relax, we might find ourselves in more advantageous situations where we can take on more projects, as well. The more things we're able to do successfully, the more we're gonna get. We hope to eventually open our own location, too, as a home base. We don't have a true timeline, but ideally, it would open this year.
What trends do you see emerging in the world of spirits and cocktails right now? That's an interesting question because everything has changed a lot, even since I entered the industry. From my perspective, especially working for STLBarkeep, the accessibility of craft cocktails has grown exponentially. In the past, it was almost a niche group of people who were into cocktails; now, they have mass appeal. Cocktails are hot – they've been hot for a few years – and I've noticed that people are really appreciative of everything we do to make good cocktails accessible. There are other examples in the beverage industry, too, such as hard seltzer. I think more and more companies are producing products with a broader appeal that are still done really well.
Do you have a go-to ingredient right now? 'Tis the season of gin – it's a lighter and brighter spirit that has a lot of complexity, and it regularly changes from brand to brand. As far as a mixing ingredient, I've been using tropical fruit juices a lot, especially with us being at a number of sweltering outdoor events this summer.
What advice do you have for home bartenders? Try something you haven't tried before, because you're likely going to find a spirit or a bitter or something that you never thought you'd like. Maybe you'll find that you love amari or that a certain variety of vermouth really does it for you. On a professional level, we constantly try new things and experiment, and it should be the same for home bartenders.
STLBarkeep, stlbarkeep.com