The only snow-cone stand in Ballwin, Missouri, recently opened its doors – and crushed-ice confections are just one of the draws.
Opening Ballwin Sno-Cone was a double victory for owners Megan and Bret Hilbert. For years they dreamed of bringing a snow-cone stand and outdoor oasis to their property at 151 Ries Road, where they operate a real-estate business. The spot, which is within walking distance of the Ballwin Athletic Association Complex and just across Manchester Road from Vlasis Park, seemed well-positioned for such a stand. Plus, with about an acre of land surrounding the stand, the couple could offer ample outdoor seating and a fire pit.
There was only one hitch: Ballwin doesn't currently allow food trucks or trailers to operate within the city limits.
"We started working with Ballwin, trying to figure out what would make them happy, to do something like that here," Bret says. "And really the only way to do it with their ordinance was to turn it into a full-scale restaurant and go through St. Louis County. The real-estate office building was set up like a house, and it had a kitchen and three rooms that we didn't use at all for the office, so I decided to move some walls around and put in a full-scale kitchen."
Although the shop was transformed and ready to open just in time for spring break season, the Hilberts had to delay the debut due to COVID-19 causing government offices to temporarily close. Once the St. Louis County Health Department was able to send out an inspector and the Hilberts were given the greenlight to open, they wasted no time. Chef Matt McClure had already started developing a menu for Ballwin Sno-Cone, and with a full-scale kitchen, that meant expanding beyond snow cones.
"The menu is just all the stuff I like," Bret says with a laugh. Megan agrees, adding that many of the dishes are designed to be kid-friendly for busy parents. "It's mostly stuff that we love personally – hot dogs, burgers, chicken wings," she says. "We were thinking, 'We do real estate, and a lot of times we're busy late, or just working odd hours with our kids and looking for something easy that's not from a drive-thru.'"
"And we wanted to be able to eat outside, too," Bret adds. "I can't tell you how many times we have not fed our kids until 9pm and can't find any place open that we want to eat at right around where we live. So I said, 'Let's stay open late, and everybody will come to us.'"
The shop is open daily from 11am to 11pm, serving a full menu of snow cones, adult boozy snow cones and a limited menu of dishes plus the grill menu, which is served until 9pm. Highlights from the grill menu include the house cheeseburger (which Bret says stacks up against any burger in town), chicken wings, corn dogs, a chicken sandwich, a vegetarian-friendly portobello mushroom sandwich and more.
"I think we have the best cheeseburgers anywhere around, and we stole Steak 'n' Shake's french fries," Bret says. "I'll tell you right out, they closed down [a location] on Manchester Road and we were trying to figure out what french fries to have. We were planning on having crinkle-cut fries here, and I was like, 'Well, nobody can get Steak 'n' Shake fries now, so I guess we'll have those. And ours are even better than Steak 'n' Shake's."
Late-night diners can still order items such as funnel cake and a pulled pork plate, plus the shop's full drink menu. Snow cones are currently offered in 18 flavors, although the Hilberts say they're regularly ordering new options. The current lineup features orange-cream, orange, green apple, banana, cream soda, pineapple, peach, Tiger's Blood, cinnamon, cherry, grape, sour grape, blue raspberry, lemon-lime, root beer, strawberry, cotton candy and Blue Hawaii. Ballwin Sno-Cone also serves ice-cream floats and Stuffed Sno-Cones, a combination of flavored crushed ice and ice cream.
"All the snow cone flavors are mixed here," Bret says. "We buy the flavors and concentrate and then we mix it all here with pure cane sugar. We don't use any high-fructose corn syrup. We also have some natural flavors and some sugar-free flavors. We're trying to think of what everybody out there is going to be asking for and make sure it's available."
The couple always planned to offer draft and bottled beer at the stand, but while working with city officials in Ballwin, someone asked if the shop would serve boozy snow cones and Stuffed Sno-Cones. "And I thought, well, that's a great idea," Bret laughs.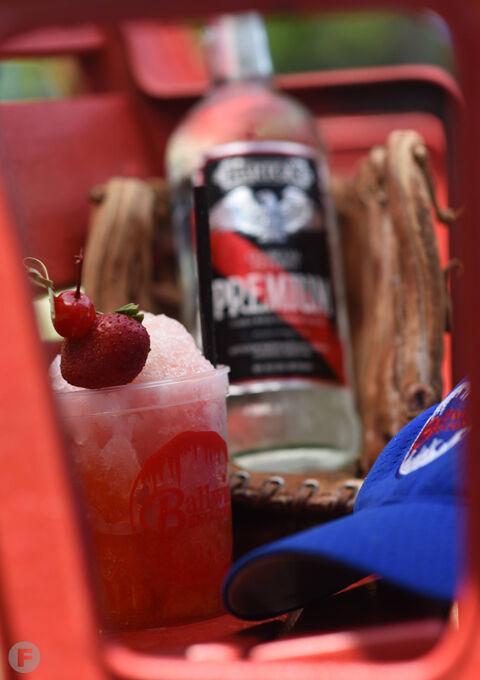 At present Ballwin Sno-Cone offers a range of boozy snow cones, including 24 flavors made with your choice of rum, vodka, tequila, bourbon or gin, such as strawberry Margarita and Piña Colada. The stand also serves premium boozy snow cones made with liquors such as Fireball Cinnamon Whisky with cinnamon flavoring, Grand Marnier with peach flavoring and a Long Island Iced Tea made with Jeremiah Weed sweet tea-flavored vodka and lemon-lime flavoring.
"Some of the boozy snow cones that chef Matt is coming up with, I mean, I would have never guessed," Bret says. "Like the Orange Dreamsicle, where we have ice cream in the bottom and then a snow cone on top of the ice cream with orange-flavored vodka in it."
While adults sip on boozy snow cones and floats, kids can cap off their sugar rush by making s'mores, which are sold in kits at the stand, over the fire pit. All seating is outdoors, and the Hilberts are complying with local social distancing orders, keeping picnic tables spaced at least 6 feet apart. The couple have also opened a small, open-air arcade and game room in a separate facility on-site. Machines are regularly santizited, the couple says, and so far customers have respected social distancing guidelines.
"We have picnic tables spread out all over the lawn and then we have a patio area," Megan says. "There's a lot of different seating, and then some people bring their own chairs or picnic blankets and make their own spot, which is fine, too."
Although many snow-cone stands are only open during the spring and summer, the Hilberts plan to keep Ballwin Sno-Cone operating through at least the fall. Originally they had hoped to offer limited winter hours, as well, with plans to sell Christmas trees on-site, but as of now, they're not unsure how that will shake out. In the meantime, they're just thrilled to finally be open and serving their community some truly tasty treats.
"I'm just happy to see how many happy faces are out there," Bret says. "And when I talk to people, when I'm cleaning tables and stuff, it just blows my mind how much happiness we've created." 
Ballwin Sno-Cone, 151 Ries Road, Ballwin, Missouri, 314.481.7653, ballwinsnocone.com