The first half of 2020 was tough for Cathy Jenkins. On top of navigating daily life during the pandemic, she experienced a sharp drop in business at her Ferguson, Missouri, restaurant, Cathy's Kitchen, due to the COVID-19 virus. She and her husband, Jerome, are resilient, though, and pivoted to offering carryout and delivery orders while the dining room was temporarily closed.
In late May, just days before the couple were planning to reopen the dining room at Cathy's Kitchen, the restaurant's front windows were shattered. The damage was sustained many hours after peaceful demonstrators assembled nearby to protest police brutality, and the couple credited peaceful protesters with protecting their business from further damage.
After enduring a stressful and emotional few months, Jenkins is ready to celebrate some good news. As of last month, two of Cathy's Kitchen's signature sauces – Jenkins' famous sweet and spicy sauce and jerk wing sauce – are now sold in the deli department at five Schnucks locations in North County. Jenkins says the partnership is part of a broader effort from Schnucks to sell more locally produced items produced by Black-owned businesses.
Look for items from Cathy's Kitchen, The Fattened Caf, Patty's Cheesecake and more.
"They reached out to me as well as other local businesses," Jenkins says. "I was already selling my sauces in the restaurant, so it didn't take me very long to get my product into stores. The true excitement about this is that the sauces aren't all [Schnucks wants] – they want whatever I think people love in my restaurant. I'm not limited to just the sauce."
The sauces are currently available at the following Schnucks stores: Buzz Westfall Center, Grandview Plaza, Cross Keys Plaza, Ferguson and Florissant. It was important to pilot the sauces at locations near her own home and restaurant, Jenkins says, but eventually she hopes to expand distribution across the grocery chain.
"They told me I could put them in all of the stores if I wanted, so they left it up to me," Jenkins says "I'm here in Ferguson, so I just started right here in North County, because it was accessible to me. It'd be easy for me to check in on the product. But believe me, we are working very hard to make sure that we can get into all the stores, and hopefully other grocery stores will see it and want us there, too."
Last month, Jenkins also learned that two of her recipes from Cathy's Kitchen will be featured in A Spoonful of History: A Culinary Tour of Missouri and Our Governor's Mansion. The cookbook was developed in collaboration with Missouri First Lady Teresa Parson, staff at the Governor's Mansion and friends of the Missouri Governor's Mansion and features recipes from chefs and restaurants from across the state.
The cookbook features Jenkins' seafood gumbo and shrimp-stuffed chicken breast with asparagus, both served at Cathy's Kitchen. A Spoonful of History will be released in October and costs $40 (plus $8 for shipping), with all proceeds benefiting the preservation of the Governor's Mansion. "It was a nice surprise," Jenkins says. "What a crazy July. There's always that glimmer of gold just right there in the clouds, waiting for you."
Appreciating those silver linings has become more necessary than ever, Jenkins says. Before the pandemic, business at Cathy's Kitchen was strong. The business felt the immediate financial impact of the virus in March, yet as the pandemic drags on and cases continue to spike in Missouri, no restaurant owners have a clear roadmap for how best to move forward.
But above all, Jenkins is determined to offer a welcoming and inclusive space for diners to break bread. As a stay-at-home parent before opening the restaurant, she honed her hospitality skills through years of cooking and entertaining for friends and family. Her restaurant's name is a nod to that fact, as well as the earliest iteration of the business, which she ran from her home kitchen.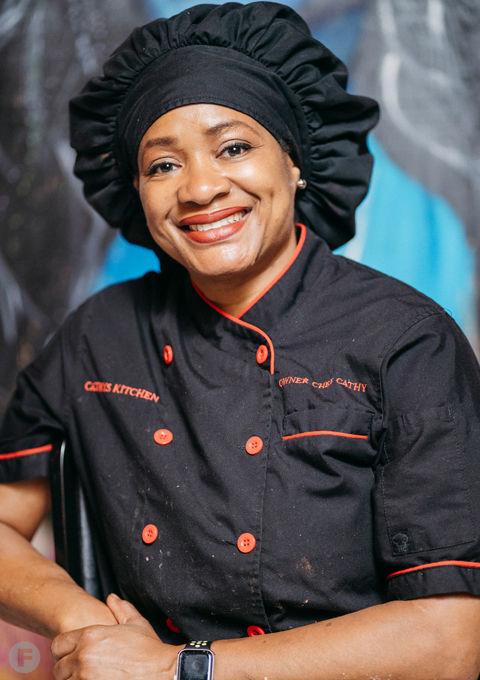 "I was a domestic engineer, a stay-at-home mom," Jenkins says with a laugh. "I got bored with preparing the same meals every day. During the summers, our family would travel a lot, and every place we would go, I would talk to chefs at restaurants and ask them how they made their [dishes]. If we were staying somewhere longer than a week, I would take [cooking classes]. So I'm a self-taught cook, and I'm just really good at tasting something and recreating it. So all of the dishes at Cathy's Kitchen, I was making them at home first."
The menu at Cathy's Kitchen reflects the family's travels, drawing from food traditions in cities such as New Orleans, Memphis and Chicago and states such as Texas, California and New Mexico. Her initial idea – the very same one that guides the menu today – was to take her customers on a culinary road trip from city to city and state to state, sharing her favorite dishes from her travels. Once Jenkins had perfected her recipes, she decided to start a catering business, launching a Facebook page where customers could place orders and pick them up from her home on Monday, Wednesday and Friday.
"And to my shock and surprise, I could not believe people would actually come and pick up my food," Jenkins says. "It just began to grow from there, and it really blossomed within a year. One day I did a customer appreciation [special] on Facebook, and I had so many cars line up down the street that I was like, 'Oh my God, I'm going to have to get a building.'"
By then her youngest child was entering middle school, and Jenkins felt the time was right to expand into a brick-and-mortar restaurant. When she toured the property at 250 South Florissant Road in Ferguson, with its prime location and charming black-and-white checkered floors, Jenkins knew she'd found her restaurant. Jenkins says the building owner rented her the space "on a handshake" and allowed her to fix up the space free of charge before opening.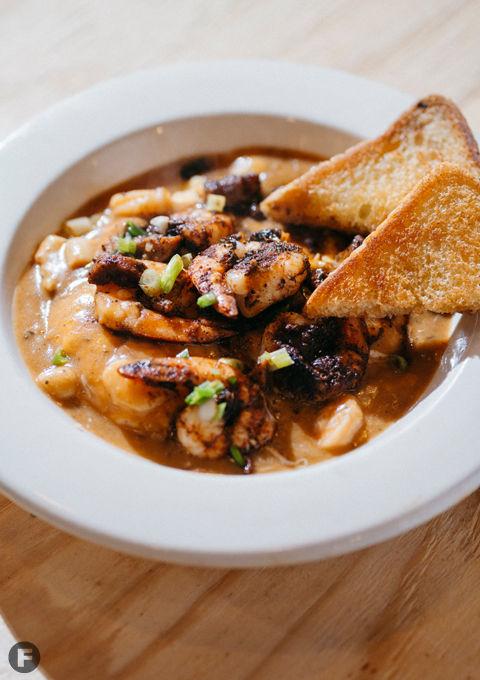 "And when I opened the doors, he told me I did not have to pay my first leasing until 30 days after I opened," Jenkins says. "So he really, really wanted me to succeed, to see the neighborhood succeed."
Jenkins says the transition from catering out of her home to cooking for guests in a restaurant kitchen was an eye-opening experience. "When I was doing Cathy's Kitchen at home, I was only preparing one [type of] meal a day – I didn't have a full menu. So now I have over 30 items, and it was a disaster. We couldn't keep up with orders, I really wasn't familiar with how to use the griddle. Within a week, I grew up, because if I had not, we would have gone out of business."
Jenkins didn't give up, and reflecting back today, she says she learned the business very quickly. One area where Jenkins felt confident from the beginning was her menu. Many of the dishes had been served by her catering business in the past, and although the menu pulled from American food cultures far and wide, she believed customers would appreciate the variety. That doesn't mean she didn't face some skepticism about the menu, but ultimately, she chose to stick with the plan – and it paid off. Today dishes range from Cajun shrimp and grits with gumbo sauce to chicken Alfredo pasta to a barbecued pork sandwich.
"I'll never forget when my first distributor said, 'Cathy, people are not going to welcome a menu that says Chicago, California and New Mexico. They want to see a menu that says entrees, appetizers, sides.' I tried to reformat my menu, but my goal was to take you on a road trip with me, and when I redid it, it just didn't look right. I had no idea if people really were going to love the concept, but they really do – they love the concept of taking a road trip to eat."
Guests today still love Jenkins' unique approach, and Cathy's Kitchen has garnered local and national attention over the past six years. Celebrities including Harry Belafonte, Danny Glover and Kevin Costner have dined at Cathy's Kitchen, and in January 2015, Grammy award-winning singer and songwriter Melissa Etheridge ate at the restaurant. Jenkins wasn't working when Etheridge stopped in, but they connected later and formed a lasting friendship. On Wed., July 29, Jenkins appeared as a guest on "Linda and Me," a live show that Etheridge hosts with her partner, Linda Wallem, on her streaming network, EtheridgeTV.
"She's a good friend of mine," Jenkins says. "I just feel really excited – she called me and said, 'We really want you guys on the show.' This was kind of perfect timing."
Jenkins is hopeful for the future and energized by the success she's achieved over the years and in recent weeks with Cathy's Kitchen. Working with Schnucks has also motivated Jenkins to pursue other retail partnerships and opportunities to expand distribution of her sauces. What started as a way to share foods and flavors from across the country with St. Louis may soon expand into cities and states well beyond local borders.
"I am definitely one of those people who believes in the breadcrumbs – don't do anything that doesn't already seem to be laying out a path for you," Jenkins says. "So what I see now: Schnucks has this excitement for Cathy's Kitchen, and I will not let that train drive off without me. My whole mindset right now is production numbers, getting out food, increasing the productivity that we already have. Even if that means buying a building, getting equipment, getting a factory – this right here is long term. You can supply everyone across the world with it."
Cathy's Kitchen, 250 S. Florissant Road, Ferguson, 314.524.9200, facebook.com/CathysKitchenrestaurant