The Grove's latest nightlife destination features vibrant cocktails and a selection of small plates, all set to the tune of  vinyl record collection numbering more than 12,000. Takashima Records held a series of soft openings last week and will debut its regular hours this evening.
"Takashima Records is a hi-fi listening room and cocktail lounge. We're also a record label and will be pressing classic St. Louis soul and rare groove," says co-owner Sean Baltzell, who also owns other area businesses including Parlor and Tower Classic Tattooing.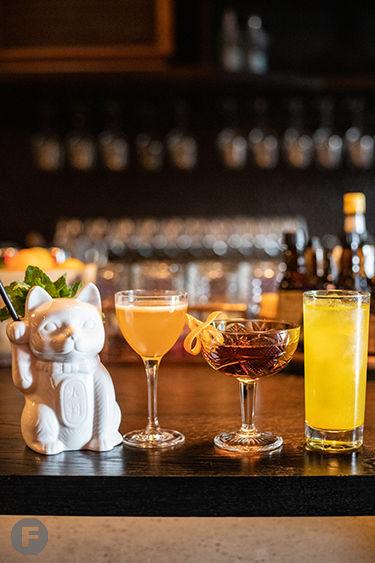 Baltzell partners with Matthew Leach, Paul Fullerton and Mike Palermo for his latest venture. The team worked with V Three Studios to design the 2,900-square-foot, 120-seat space, which takes inspiration from high-ball whiskey culture in Tokyo. Kadean Construction executed the buildout. Highlights include handcrafted woodwork, minimal steel accents, shipping container booths and a bright neon sign emblazoned with the concept's namesake.
"Takashima literally means tall island. We're paying homage to Japan and the phrase stuck with us," says Baltzell, who discovered and fell in love with vinyl record bars in Tokyo where he has traveled frequently to study Japanese-style tattooing. 
"There's such a great cultural creative conversation happening between Japan and America – especially in Tokyo, where they love American music and fashion. Certain aspects of the record bars are also Americana," he says. "We feel there's a conversation of culture going back and forth and want to pay respects to partners and friends there."
As reported by Feast earlier this month, chef Chris Krzysik – formerly of restaurants including Louie and Blood and Sand – serves as chef de cuisine, putting together a menu of casual Japanese bar cuisine, or izakaya. Choose from options including a caprese salad with O'Vesuvio tomatoes, mozzarella, basil, extra virgin olive oil and aged balsamic; eggplant agebitashi with tsuyu sauce, bonito, daikon, ginger and shishito; and onigiri, or stuffed Japanese rice wrapped with nori, available with tuna mayo or umeboshi.
Beverage and service manager Tai Nalewajkó, formerly of Blue Ocean Sushi, created the drink list, which includes cocktails such as the Two Piece Flower with Rihaku Dreamy Clouds nigori, Alvear Fino sherry, Rare Wine Co. Sercial Madeira, lime, passion fruit and bitter melon.
"We're curating the music with the same thought and care as the food and drink," Baltzell says. "We really just want people to feel welcome in our environment and come and enjoy something a little bit different in St. Louis."
Takashima Records's hours of operations will be Tuesday through Saturday from 5pm to 1:30am and Sunday from 5pm to midnight.
Takashima Records, 4095 Chouteau Ave., The Grove, St. Louis, Missouri, 314.571.9133, takashimarecords.com