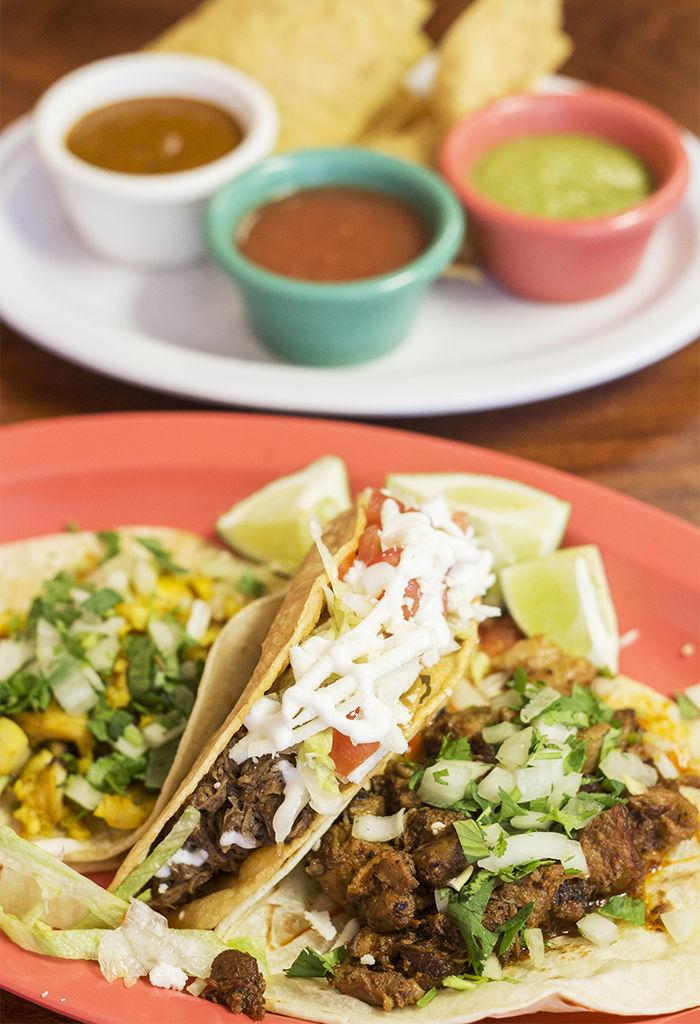 After a fire destroyed popular Mexican restaurant Taqueria Durango on Thursday afternoon, the St. Louis community is rallying around the Overland, Missouri, restaurant with donations on GoFundMe. 
As reported by the St. Louis Post-Dispatch, dispatchers received a call at 3:38pm about the fire at Taqueria Durango. The second alarm fire was put out at 4:13pm, but not before the fire destroyed the restaurant. Restaurant owner Miguel Lopez said the fire started with frying oil, and although they tried to use fire extinguishers, the smoke and flames spread too quickly. Luckily, though, there were no injuries.
On Thursday night, Brian Hardesty, owner of location Filipino-American street food restaurant Guerrilla Street Food, started a GoFundMe page for the owners of the restaurant. As of 10am on Friday, just over $1,000 had been raised; the goal for the fundraiser is $25,000. 
Oof. How bout my friends with restaurants let Taqueria Durango do some pop ups till they get open again. I'll host a few. I can eat more tacos than anyone I've ever met. Bet me if you want. I'll donate the money I take from you. https://t.co/fCi7Fy1gJa

— Strange Donuts (@strangedonuts) March 6, 2020
Sending our love and support to the Taqueria Durango family tonight 🙏

— Mai Lee Restaurant (@MaiLeeSTL) March 6, 2020
Hardesty says that he has never met the owners of Taqueria Durango – his first interaction was with one of their family members via email shortly after starting the fundraiser – but that he knew he had to help because they are part of the St. Louis restaurant community. 
Hardesty, along with Strange Donuts owner Jason Bockman and Angela Ortmann, also known as STLwinegirl, are also organizing a Taco Tuesday fundraiser on March 24 at Guerrilla Street Food's Delmar Boulevard location to raise money for the Lopez family. The event, which will include both a lunch and dinner service, still has details to come, but guests can expect lots of good food, drinks and a taco-eating contest. Participants will include Guerrilla Street Food and Strange Donuts as well as Byrd & Barrel, Mission Taco Joint, Pastaria, Taco Circus, Annie Gunn's, The Tamale Man, 2nd Shift Brewing, Choirgirl, Banhez Mezcal, Una Vida Tequila and Ice's Plain & Fancy. 
"That's their livelihood," Hardesty says. "That burned down to the ground. I mean, we gotta help."
Bob Brazell, owner of Byrd & Barrel, Tamm Avenue Bar and the Tenderloin Room, says that after hearing the news about the fire, he immediately announced that a portion of sales from all of his restaurants from this past weekend would go to the Lopez family. After Hardesty organized the fundraiser, he signed on. 
"All these people immediately wanted to help this family. We are all small business owners and we all work so hard for what we have. To lose it like that is horrible," Brazell says. "I've always spoke very openly and loud about how much I love this city and this industry. This is exactly why. We stick together and will always help each other. I really hope a ton of people come to this event so we can help them out."
Editor's Note: This post has been updated to include details on the Taqueria Durango fundraiser on March 24. 
Taqueria Durango, 10238 Page Ave., St. Louis, Missouri, 314.429.1113, loc8nearme.com/missouri/st.-louis/taqueria-durango/4851772/