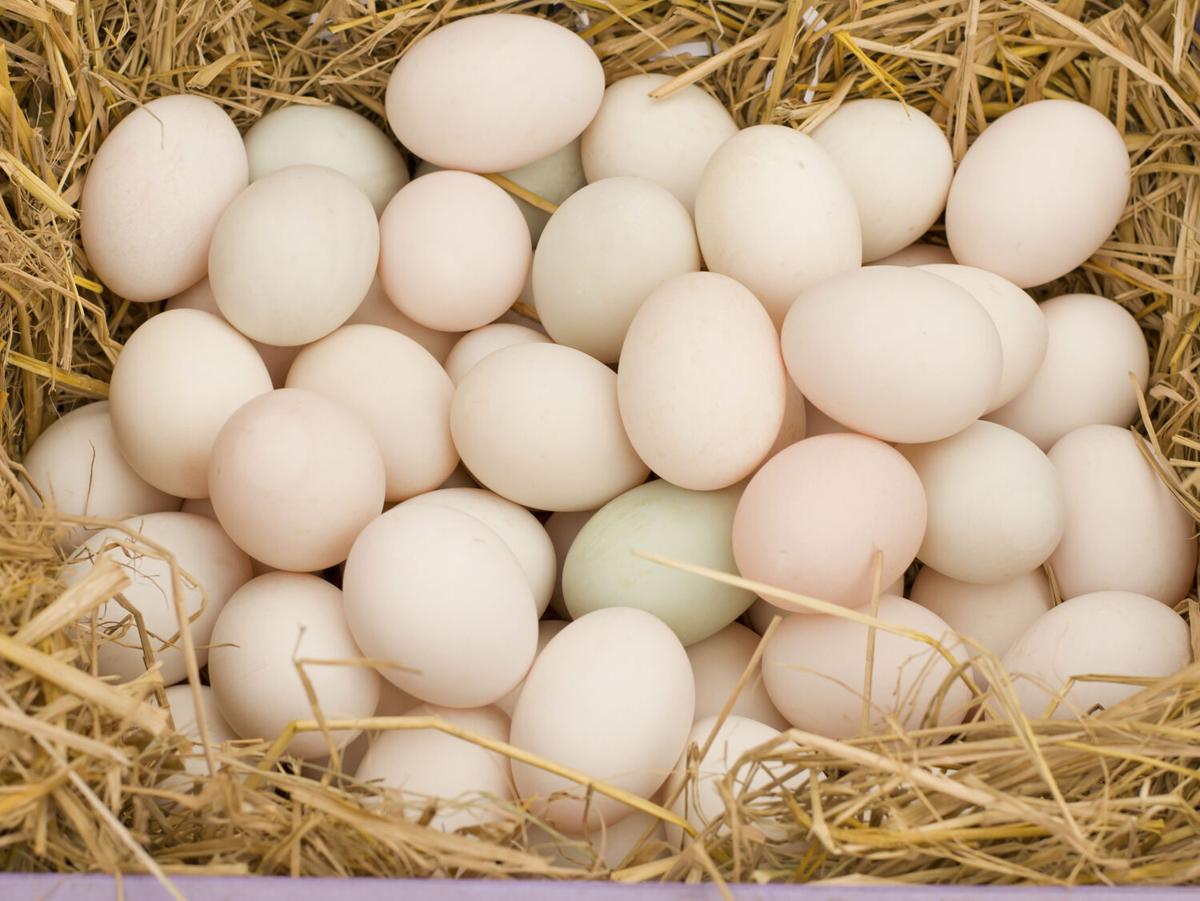 Whether you're cooking an omelet or frittata, eggs Benedict, custard or quiche, breakfast is just better with duck eggs. Lucky for us, Missouri farmers across the state offer the delicious nuggets. Here are a few of our favorites.
Alspaw Farms in Harrisburg, Missouri
In the face of the COVID-19 pandemic, many mid-Missouri residents dabbled in homesteading; however, many also came to realize that they didn't actually have time to take care of their animals – in this case, their ducks. And so, Jordan Barreto and Katherine Schneller found themselves adopting duck after duck. A year in the making, the paddling of ducks on Alspaw Farms in Harrisburg now includes 23 laying ducks, which lay approximately a dozen eggs a day, and 18 ducklings, plus a goose who protects them all.
At one point in this unexpected journey, the couple decided they had too many duck eggs for their own good. "They were piling up, and we didn't want them to go to waste," says Schneller. They started talking to local restaurants and artisan producers to see if anyone was in the market for duck eggs, and they quickly discovered that the demand in Columbia is incredibly high. Currently, Beet Box uses a soft-boiled duck egg from Alspaw Farms in each of its hummus bowls alongside crispy chickpeas, local Sungold tomatoes, radishes, fresh herbs and marinated Feta, and Shelly La Fata of Pasta La Fata uses them in her meatballs and all of her pasta fillings. Barred Owl Butcher & Table also gets creative with the eggs in dishes such as its special soppressata sandwich with a fried duck egg on top. "We're maxed out with those three places," says Schneller. "They buy us out every week."
Although she and Barreto have less duck eggs on hand now, they're still the only eggs they use in their cooking. Schneller loves soft-boiled duck eggs with hot sauce as well as pickled duck eggs, and Barreto likes when she bakes with them. "They make everything fluffier," he says. "Baked goods just seem more moist and dense with duck eggs." If you're interested in trying duck eggs in your own recipes, Alspaw Farms does local porch drop-offs – just message its new Instagram page with your request. "It's really exciting when we share our duck eggs with someone and they love them," says Schneller. "We're kind of addicted to that."
Baked in individual servings and topped with a fresh summer herb pesto, these eggs are an ideal choice for brunch.
Blue Heron Farm in Marshfield, Missouri
Exciting things are happening for Blue Heron Farm. This summer, Blue Heron Farm Shop will open on the south side of Springfield, Missouri. Until then, fans of the farm and bakery can still snag everything from microgreens to sourdough bread to free-range chicken and duck eggs at its stall at the Farmers Market of the Ozarks on Saturdays from 8am to 1pm. The duck eggs – sold for $10 a dozen – are filled with yolk-heavy richness that will elevate any meal.
Charleston Power Family Garden in St. Louis
In 2009, Charleston Power Family Garden began as a tiny family orchard; today, it's a full-fledged business that grows hard-to-buy fruits sustainably in St. Louis. The garden in the Benton Park West neighborhood is also home to a raft of ducks – from Indian Runner to Golden Layer – which produces delicious eggs. "I don't think duck eggs taste that different from hens' eggs – I think they're just creamier," says owner Kelsey Power, "but my husband thinks they have a stronger flavor, so I guess it just depends whom you ask." At home, Power loves using duck eggs in quiche, pancakes and cinnamon rolls in particular, but she says, really, they use them for everything because they're what they have on hand.
The free-range ducks are fed a homemade and fermented 100-percent organic mixture of seeds, grains and peas along with kitchen scraps and whatever they find in the backyard. The eggs are sold by the half dozen or dozen and are available for local delivery or pickup at 4041 Utah Street. Charleston Power Family Garden also sells all the herbs you need for savory duck egg dishes – think chives, dill, green garlic and rosemary. Power and her family started a CSA with a few shares this year, and when that ends in August, they plan on participating in area farmers' markets, including the new One Africa! One Nation! Farmers Market at 4031 West Florissant Avenue, for the first time.
cpfamilygarden.wixsite.com/saintlouis
Fresh Pasture Farms in Millstadt, Illinois
Did you know that ducks lay their eggs at approximately 4am? Then they do their best to cover them up in order to hide them, meaning every morning is an Easter egg hunt at Fresh Pasture Farms in Millstadt, Illinois. Husband-and-wife team Norm and Sandy Sutter have been farming for decades, and they pride themselves on their pasture-raised eggs, which are available year-round. You can pick them up by the dozen at the farm store located at 1931 Kropp Road; the store is open every Tuesday and Thursday from 1 to 5.30pm and every Saturday from 9am to 3pm. Once you get the goods, try them boiled, fried, poached or scrambled alongside other farm-fresh finds such as nitrate-free bacon, pork sausage and turkey legs.
Green Gate Family Farm in Wheatland, Missouri
Green Gate Family Farm sits on 67 certified-organic acres in Wheatland, Missouri, where more than 400 happy birds roam, run – and sometimes attempt to fly. Of those, approximately 50 are ducks, primarily Indian Runner as well as some Welsh Harlequin, Peking, Magpie and Rouen ducks. Owners Ken Barber and Katie Nixon feed the ducks certified-organic feed from Ozark Organics in Buffalo, Missouri, and sell duck eggs by the dozen. "The duck eggs have a thicker shell and membrane around the egg, plus a higher yolk to white ratio with less water content than a chicken egg, so they're packed full of flavor," says Nixon.
The flavor, though similar to chicken eggs, is more intense, and Nixon says that when she eats hard-boiled duck eggs, she gets notes of rich cheese. She also suggests eating them over-easy with a hearty piece of bread. "A runny yoke on good bread is comparable to the flavor of mac 'n' cheese." The local farm sells chicken, goose and turkey eggs, as well, if you want to explore all of your protein-packed options.