On a hot summer day almost two decades ago, Freddie L. James, Jr. and his wife, Deborah, were hard at work making batches of sauce in their kitchen. At the time, the couple made the all-purpose sauce just for themselves, family and friends. Today, they cite that afternoon as the beginning of ­their business, Freddie Lee's Gourmet Sauces, which is best-known for its Ghetto Sauce, a gluten-free, vegan-friendly sauce available in spicy and mild flavors.
The company has been a labor of love for Freddie, a retired construction worker, and Deborah, who now operate their own co-packing company in downtown St. Louis. Freddie Lee's Ghetto Sauce (labeled Freddie Lee's American Gourmet Sauce in some stores) is now sold in 18 states and more than 1,200 retailers, including Schnucks, Dierbergs Markets and Straub's Markets.
How did you come up with the name Freddie Lee's Ghetto Sauce? The kitchen was extremely hot, so we went out on the front porch to cool off. We saw a police chase, and I looked at my wife and I said, "Baby, one day, God's going to bless us [with the ability] to get out of the ghetto." She looked at me and said, "Why don't you name your sauce ghetto sauce?" We had a good laugh about it and we prayed on it. Some time passed, and one day I was coming home from work, going up the steps, and somebody blew their horn and said, "Hey man, are you still making that sauce?" And I said, "Yeah, I have some ghetto sauce inside." I didn't think about it, it just came out. –Freddie L. James, Jr.
In addition to retail sales, you still vend at events around town. Are those a big source of revenue as well? Yes. October of last year, for example, was a really good month because we had the Best of Missouri [Market]. I want to say we did 20,000 to 30,000 units. The month before, we were in St. Charles for a home show and we sold like 54 cases – it was three days, and we sold out. –Deborah James
How has business been impacted by the pandemic? Some smaller stores didn't order right away; they backed off. But our online sales went up after that, which was a good thing. It didn't balance everything out, but it didn't take us to the poor house. It was a blessing because at first we were hardly getting any online sales, and then [the pandemic] came about, so we started promoting the online business, and voilà. –D.J.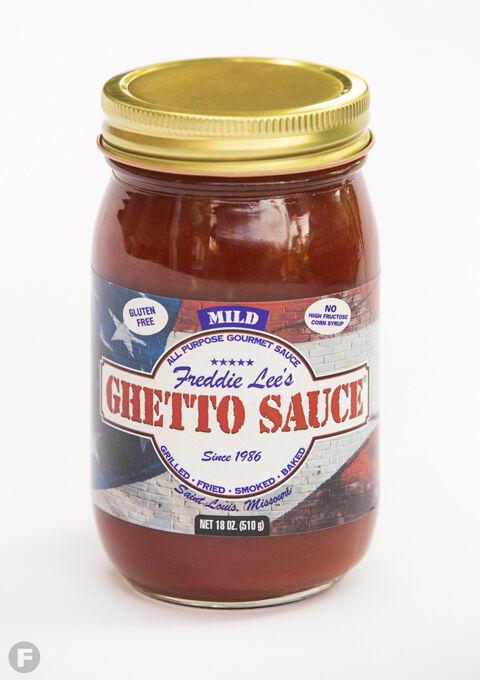 What is your favorite way to eat the sauce at home? I marinate my briskets in it. When I bake my chicken or pork, if I get lazy and don't want to barbecue, I'll put just a little water in the pan – just enough to kind of have it halfway on the meat – then I'll put foil over it, put it in the oven and let it cook the grease out. Once the grease cooks out, I pour the grease out and then I put my sauce on it, put it back in the oven and let it caramelize. It's just some amazing sauce. –F.J.
Can you share any meaningful customer feedback you've received over the years? I had one person who was in Columbia, [Missouri], call me up at about eight o'clock at night and say, "I'm addicted to your sauce, man." We've had a lot of compliments on our product. And I just thank God for blessing me [with the opportunity] to do what I love to do – that's the key. I give God all the credit and the praise. My daddy told me a long time ago, when I was about 14 years of age, maybe younger, "You gotta love what you do. You put your heart into it." –F.J.
Freddie Lee's Gourmet Sauces, freddieleesgourmetsauces.com