Tasha Mueller has watched the vista around her family's century farm in Wentzville, Missouri, turn from rolling fields to subdivided neighborhoods, altering the landscape and lifestyle surrounding the memories of her youth. Mueller's grandfather Raymond and his brother Ralph tended this land, now known as R&R Farms, for all of their lives – something their ancestors have done since 1904. Today, the farm continues a pared-down version of its row crop legacy, and in recent years has welcomed a new specialty crop: hemp.
Centuries before its prohibition in the 1930s and well before the whisper of "marijuana" furrowed the brows of concerned parents across the nation, the cultivation of agricultural cannabis was often a family affair. Now, with the rise of CBD use, legalization of recreational marijuana in 18 states and medical marijuana in 37 states (including Missouri), hemp is rejuvenating the soil and diversifying the livelihoods of family farms large and small.
Like many farm kids do, Mueller ventured away from agrarian living after high school, but following the birth of her first daughter, she felt called to care for the earth again. Serendipitously, a friend had recently planted a seed of an idea: introducing hemp on her family's farm. At the time, the crop promised a hefty profit. "Two years ago, you were going to be a millionaire if you grew hemp," she says. "So originally, it was, 'Let's do this to save the farm.'" Though it has not garnished the millions in profit they hoped for – a reality for hemp growers nationwide – it's saved the farm in another way. "I think in the process, what we got that we didn't really plan on is the super deep connection with our family," she says. "My cousin does all the other farming, and I saw him a couple times a year. Now we're in weekly conversations, sitting in the field together drinking beer and trying to problem-solve." Seeking diversification, not an overhaul, R&R Farms has just six acres of hemp, a small parcel on more than 100 acres of land. But the thumbprint has already had a large impact. "With corn and soybeans, my cousin's working very hard, but there's nobody else who's gonna step up," she says. Now, you'll often find Mueller's whole extended family walking rows or helping during hemp harvest.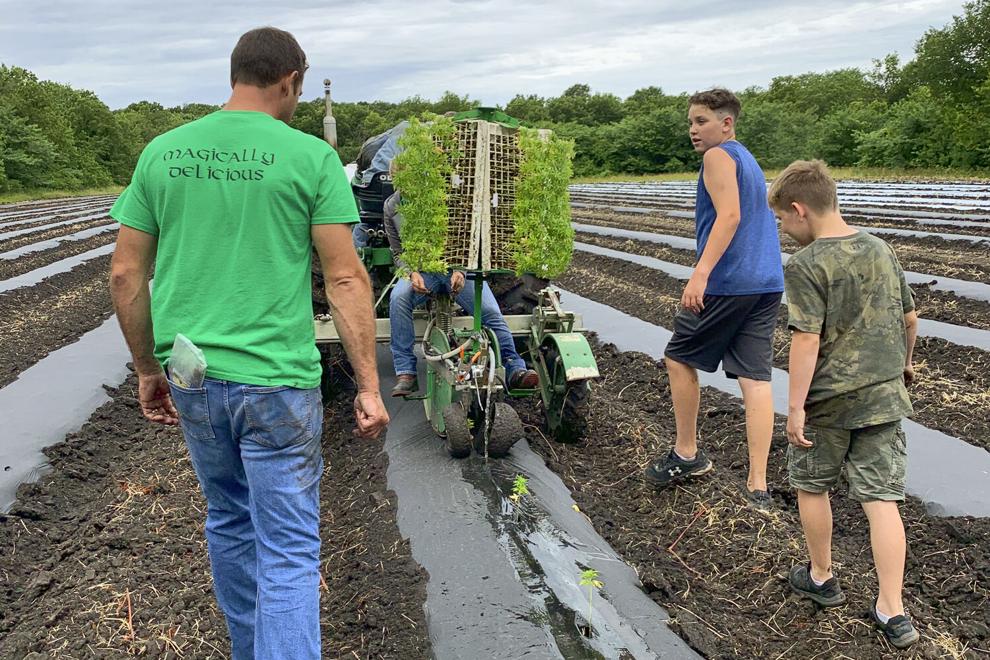 In 2021, the Missouri Department of Agriculture reported 386 active industrial hemp licenses within the state. Many began with dreams of big profits and, after three years in business, have instead found themselves sitting on big piles of inventory. The market is saturated, and prices have dipped to all-time lows, forcing producers to sell at a loss, or not sell at all. "We're sitting here staring at our warehouse full of biomass," says Luke Poindexter, who co-owns Rural Route Hemp Co. near Kansas City. "We just slowly push through, and hopefully we'll have plenty of product whenever it takes off." As the statewide and national industries mature and consumers become more educated about the benefits of hemp, Tyler Morgan, chairman of the producer-led Missouri Hemp Trade Association, is realistically hopeful that day will come. Even in this rough patch, though, he says it's often the generational farms, armed with that same patience and realism, that are finding success. "They're starting to integrate it knowing that it's gonna take some time to build a market … I've seen a lot of people who have gone out and tried to put in huge amounts of stuff, and then completely failed. I've literally watched people lose tens of millions of dollars – washed down rivers, flooded, rotted in the field. It's heartbreaking. But I've also seen people who've made really good, conservative choices, like, let's grow a couple acres because we know we can manage that and still be able to manage the rest of the farm. [They see that] we have to invest before we start seeing payoff because everybody knows we're all standing on the bleeding edge of the industry."
With a background in landscaping and a personal passion for gardening, Morgan looks at this budding industry with a similarly global focus. "I come at it from the perspective of how to grow anything," he says. "I've grown just about every damn thing you can grow." It was that knowledge that catalyzed his own business, Sky Trace, which currently works with other hemp farmers to cultivate successful hemp plants and products. "With Sky Trace, we've really endeavored to build a brand that people can trust," he says. "We actually made the decision not to grow this last season because we're already working with six other farms, helping them really be able to integrate regenerative agriculture into their production." Sky Trace is also one of just a handful of Missouri processors that distill and extract the necessary oils and byproducts from hemp to make infused cannabinoid products such as cookies, cheeses or fruit juices.
2022 is the third season for modern industrial hemp growers in Missouri – after more than 70 years, industrial hemp was legalized at the same time as medical marijuana through a different piece of legislation – but it's not the first time Missouri has seen hemp.
The eastern United States was largely hemp ground in the nation's early years, lauded for its strong fibers fit to make clothes, rope, paper and more. In the early 1600s in Pennsylvania and Virginia, it was even considered a form of currency; around the same time, a Virginia law mandated that hemp must be grown on every farm in the colony. But the crop didn't boom in the Midwest until the mid-1800s. Missouri's production rose quickly, and the state was second only to Kentucky in hemp production by 1860; however, challenges spanning from environmental to mechanical caused production to hurriedly decline, bottoming out by the beginning of the 20th century.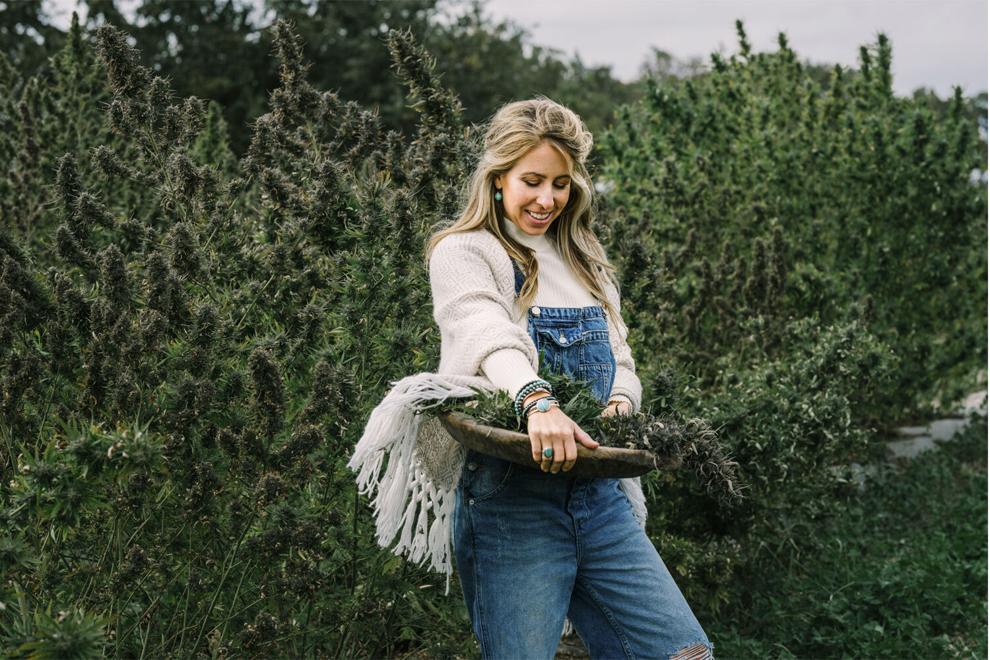 But hemp didn't totally disappear – according to MU Extension, wild hemp persists across the state. The plant roots in the rich, fertile ground of waterways, floodplains and river bottoms, but it can also grow in open ground. Though it's not the precise climate from which hemp is native, Morgan says Missouri can be exceptional hemp ground. "We have every soil type; we're an ancient mountain range and we're so heavily mineralized that you can get things out of Missouri soils that you can't get anywhere else," he says. "There's a terroir to Missouri for cannabis that is absolutely mind-blowing. You just have to be able to find ways to deal with the fact that we live in the middle of one of the largest temperate hardwood forests on the planet, which means we have every type of mold, fungus and mushroom you can imagine. So you've got to be able to understand how to work in this environment."
Though generations have farmed in the same setting, there's a steep learning curve when moving from traditional agriculture to specialty crops. For example, when you harvest smokable hemp flower, each bud has to be hand-picked. "With row cropping, you're using large equipment and planting seeds directly in the ground, covering hundreds of acres," Luke Poindexter says. "Whereas, we're starting our seeds off in a greenhouse for hemp, and we're planting 1,500 to 2,000 seeds per acre instead of millions, like with soybeans." The family hadn't previously used greenhouses, so there was an adjustment there, too. Another game-changer? Most Missouri hemp farmers abide by organic principles, but many row croppers, including the Poindexters, did not. "Our traditional row crops are not getting used for human consumption, but hemp is," Michelle Poindexter, co-owner of Rural Route, says. The company is also diversifying beyond merely growing; they process and extract all their own product as well through their secondary business, MOcann Extracts, which sells gummies, lotions, CBD-infused coffee, tinctures (for both humans and dogs) and more.
As with other crops, maintaining control is a common worry; fears that bigger pests in the form of large conglomerates will take over easily perpetuate. But Morgan says most of those big players have already tapped out, and it's the small farmers who control high-end products. "In terms of creating quality, boutique brands, that's always gonna belong to the small farmer, and that's that customer base that's going to be able to stabilize and create pricing support across the market," he says. Most Missouri hemp farmers focus on growing cannabis for CBD products, but for those few that focus on fiber (to produce building materials, paper and more), recent Missouri reimbursement grants have helped their piloting operations.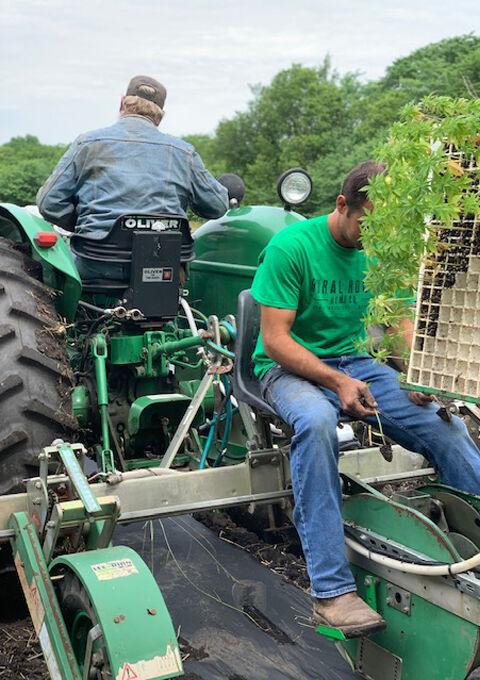 The cannabis family of plants encompasses both hemp and marijuana, the former grown from varieties that produce lower concentrations of tetrahydrocannabinol (THC), which generates marijuana's characteristic psychoactive effects. The farms mentioned here all grow hemp, not marijuana. They've chosen this path for varied reasons, but there's one they all share: The regulations on medical marijuana are many, and its uses are limited, but with hemp, the opposite is true. Just ask Sean Hackmann and Scott Mertz of Grandpas Family Farms in Chamois, Missouri. The duo had an interest in growing cannabis and already had the equipment, irrigation and agricultural knowledge to begin the new venture. After researching both hemp and marijuana, they found the former to be the wisest route. "It's more like a farm commodity instead of restricted medicine," Hackmann says. To become a licensed hemp producer, one must complete a written application, create parcel maps and complete a background check for fingerprints and criminal history. A license "authorizes a person to grow, produce or cultivate industrial hemp on their registered site," according to the Missouri Department of Agriculture, and once approved, producers can grow and sell cannabis that has a THC concentration below 0.3 percent. Though it comes with potential for greater profit, growing cannabis for medical marijuana also begets higher input. "We were looking into the medical side and decided that was super risky. The financials were overbearing," Hackmann says.
Money aside, it's the benefits of cannabis – from soil to body – that draw interest from growers. CBD has been heralded for years, but hemp's environmental benefits are not as publicly well known. "Hemp is a great bio accumulator in terms of cleaning soil," Morgan says. "So it can easily be used on the fiber side as a cash crop that could help you prepare the ground for future food crops or other things." For Sky Trace, Morgan is looking to integrate a sustainable power plant that will help serve energy needs for his own manufacturing and produce a waste product of biochar that can reintegrate into the fields.
For smaller farms, hemp is a wonderful garden ally. "We're set up this year to begin a lot of companion planting with chestnuts and pawpaws," says Dan Kuebler, who owns MOearth and The Salad Garden farms in Ashland, Missouri, which recently diversified with a small plot of hemp. "This crop could fit into a permaculture model that I've always wanted my farm to move toward." It's that growth in a variety of areas that keeps farmers keen on continuing in the world of hemp despite its challenges. "Just like everybody else, you get down and start kind of focusing on the wrong things," Michelle Poindexter of Rural Route says. "Then you have a customer come in and they tell you 'I'm off my pain meds or anxiety meds,' or 'my dog can jump up on the couch again.' Those types of things are what really just kicks us back into gear and keeps us moving forward."
From diversification to permaculture and regenerative farming, the future of cannabis appears fruitful for producers who are rooted in agriculture. This camp doesn't often shy away from a challenge, and that seems to be the case for many who have embraced hemp on their farms – with any luck, and a glut of determination, hemp production will again become a Missouri family affair. "We're all figuring it out as we go along," Morgan says. "But I think what everybody figures out is that none of us can do it on our own, and we've got to have really good relationships with the other players that are in our own market. It's good to see that there's a good core group of people across the state who have stuck with it and have put enough into it that they want to take the next step. I'm really proud of what Missouri is doing."