A new American restaurant on historic Main Street in St. Charles, Missouri, Novellus has an inviting, lounge-like atmosphere that makes you want to stay for a while, savoring, sipping and conversing.
The name Novellus comes from the Latin word for "novel," and the dining destination – which opened in September 2020 – certainly lives up to its name. Within the vibrant, spacious dining room, the team serves lunch, dinner and weekend brunch alongside craft cocktails and rare bourbons.
Playing off the literary theme of the restaurant's name, modern metal bookshelves separate the dark cherry wood tables, where guests can enjoy everything from shrimp and black bean bruschetta to chicken pot pie to truffle-Parmesan chips. Inspired by the Choose Your Own Adventure book series, the lunch service allows diners to pick two items from an assortment of sandwiches, flatbreads, lunch entrées, salads and sides, while highlights on the dinner menu include the flash-fried Brussels sprouts, mahi-mahi tacos and pan-seared scallops.
Brunch at Novellus boasts classic chicken and waffles, plus health-forward avocado toast and a sweet yogurt parfait. Want to surprise your palate? Try the chorizo biscuits and gravy or the mini quiches that come in four flavors: three cheese, bacon-tomato, chorizo-jalapeño and spinach-mushroom. The kitchen is also working on sous vide egg bites, which will be an irresistible addition to the meal.
"We use familiar ingredients, but we try to get people out of their comfort zones without making them feel uncomfortable," says Jo Otey, executive chef and co-owner of Novellus. "We want to serve dishes that are a little out-of-the-box, especially for the area."
Otey, a data and artificial intelligence specialist for Microsoft, also moonlights as a restaurant consultant, who preaches the benefits of owning customer data in order to meet their needs and explore different revenue streams.
"Our loyalty programs and the way we take reservations allow me to collect customer data," he says. "I don't use third-party services that don't give me back that data; it's mine, which also means other people aren't mining my customers' data. Then, if I want to run a special on a new whiskey that just came in, for example, I can send a text blast to people who have purchased more than $200 worth of whiskey in the last 15 days – that's something that, unfortunately, most restaurateurs aren't thinking about."
For Otey, Novellus is his chance to pursue his ideas for the restaurant industry from the inside.
Otey lived in Chicago before moving to St. Louis, and Novellus reflects the best details of his favorite restaurants there, as well as some of his local go-tos, including Eleven Eleven Mississippi and Polite Society. "Crafted cocktails, small plates, most of what we offer, there just wasn't much of that in the heart of St. Charles before we opened," Otey says.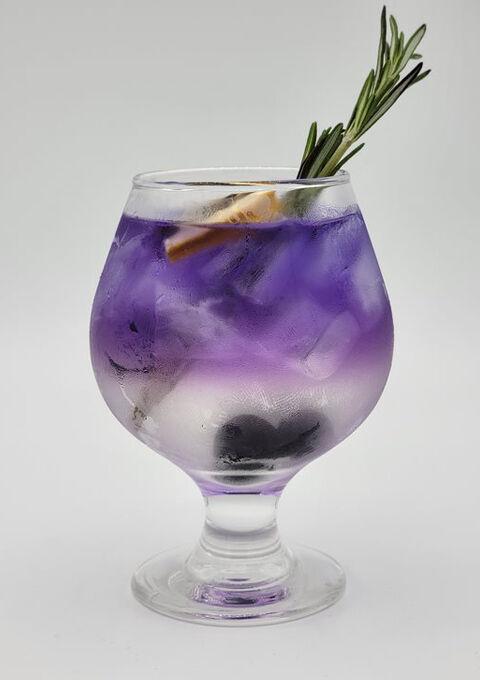 The bar program at Novellus focuses on cocktails, with 10 to 12 signature mixes on the menu at a time. As beloved as the book, The Notebook cocktail blends silver rum, housemade strawberry syrup and lime, while The Queen's Gambit, a refreshing special, features Empress 1908 Gin (which gets its violet hue from the addition of butterfly pea blossoms late in the distilling process) and housemade elderflower tonic.
"I use data to create each menu, and Google and Facebook analytics help the restaurant evolve," Otey says. "I have a good understanding of my customer base, and I curate the menu to delight them. If something on the menu doesn't work, it's gone. I don't have any ties to the recipes themselves; I have ties to the people I'm serving."
Otey does something else that's not always common in the service industry, as well: He pays his staff above minimum wage, plus tips, and has less turnover than a lot of businesses in the industry. This is just one part of his business model and his fresh approach to running a restaurant.
"I treat Novellus as any other start-up – my commodity just happens to be food," he says. "Working with different restaurateurs, I've noticed that a lot of them have just one supplier, and they'll order all of their food through them. I have an account with pretty much every supplier in the St. Louis area, and I aggregate all of that data to determine from which supplier I purchase certain ingredients. Simply working with more than one supplier and comparing costs, my food costs are much lower than the average restaurant."
Lower food costs don't mean lower quality, though. Novellus is a scratch kitchen, so every dish starts with raw ingredients – think chicken breast, flour, cream, spinach, tomatoes and rosemary, which go into the chicken Florentine flatbread. The inevitable surplus of such raw ingredients inspired Otey to start a number of ghost kitchens at Novellus. Currently, Burger Underground offers burgers, wings and fries – no frills. And the team is getting ready to launch Missouri's first cereal bar as another ghost kitchen concept.
The ghost kitchens, along with digital sales and catering, have all helped Novellus' business grow exponentially since it debuted. "I'm running a digital economy that just happens to have a brick-and-mortar location where you can pull up a chair and taste the fare," Otey says.
Novellus, 201 N. Main St., St. Charles, Missouri, 636.486.7022, thenovellus.com