When Cathy Jenkins left work at around 6pm on Fri., May 29, the protesters gathering outside her restaurant, Cathy's Kitchen, on South Florissant Road in Ferguson, Missouri, were peaceful. They had assembled earlier that afternoon to protest following the death of George Floyd, a Black man who was killed by police on May 25 in Minneapolis.
On her way out the door, Jenkins waved to protesters and honked in solidarity as she drove home. Several hours later, she started receiving texts alerting her that the windows at Cathy's Kitchen had been broken and businesses in the neighborhood were being damaged. Jenkins didn't have time to let the news sink in, though, because she was now worried for her eldest daughter, who lives in an apartment directly above the restaurant.
"I realized that things are getting crazy, so I called her, and I said, 'Hey, you need to come over here. You need to get out of there. And she said, 'Mom, it's so bad that I can't leave right now," Jenkins recalls. "She's in her bathroom in the bathtub because she could hear bullets outside. Of course my husband and I are terrified; we're trying to figure out how we can get her and what is going on. Then she can smell tear gas in her apartment, and so she's taking towels to line her windows to keep the tear gas out."
Cathy and her husband, Jerome, made a plan to meet their daughter halfway from their respective homes, as there were now blockades restricting cars from driving down the stretch of South Florissant Road where their daughter was trapped.
"She goes to the back door and they're not letting anyone leave the building," Jenkins says. "The National Guard has told them everybody needs to get back in their apartments. So she was stuck in there. And you want to talk about a scary night as a parent... Yeah. It is something you can't fathom, to be worried about a stray bullet hitting your child."
After one of the scariest nights of their lives, Cathy and Jerome learned that although the front windows had been broken at the restaurant, there was not more extreme damage. They credit peaceful protestors and Ferguson Police Department officers with protecting their business and alerting the crowd that Cathy's is a local Black-owned business.
"Someone sent me a video; social media gives you everything," Jenkins says. "At one moment, the Ferguson Police Department created a human chain around Cathy's Kitchen and wouldn't let anyone get to it, and protesters walked up to them and told them, 'Hey, we've got this. You guys can go and help someone else.' Now for me, that, that was a magical moment, for the two to come together and try to protect this little bitty old restaurant and for the protesters to say, 'Hey, you go help someone else. And they did: They stood there on the front line and protected my restaurant."
The next morning, once the windows at Cathy's were boarded up, Cathy and Jerome focused their energy on their son, who graduated from McCluer High School that day. A returning state champion in the high jump at McCluer, their son finished his high school education online after on-site classes were cancelled due to the COVID-19 virus. He wasn't able to attend prom or compete in his final track season due to the closure, so his parents were determined to make sure his graduation was a positive memory for their son.
"You've got everybody trying to call you and interview you [the day after the restaurant was damaged] and I just didn't think it was fair to him that I would give my time away," Jenkins says. "I said, 'This is his day and we're going to celebrate. I'm going to make it as special as I possibly could make it.' And the ceremony was beautiful. I think when I was there watching it, of course in tears, I felt like I needed a release."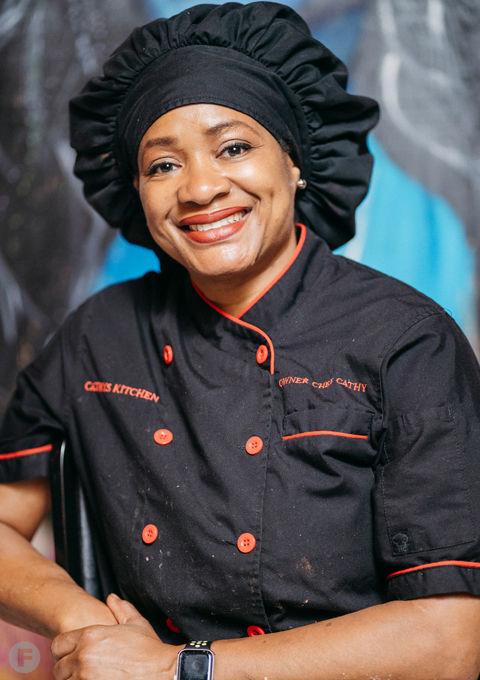 In the days that followed, the Jenkins family saw an outpouring of support in the community, which has rallied to raise funds to fix the broken windows. After the cost of the windows is covered, Jenkins says she's giving all of the extra donations to her 17 employees, as the restaurant temporarily closed for a week after sustaining damage. For Jenkins, Cathy's is not just a restaurant, but a community hub – a place supported by the community that the restaurant supports in turn.
"My biggest concern is my employees – to keep food on their tables," Jenkins says. "To take care of them. Before all of this happened, I was doing free soup and hot dogs, with the pandemic happening, because schools had closed, and people don't realize that a free meal at school, if you're in poverty... I grew up that way. I was on the free lunch program. So I know how important it is to be able to eat and the importance of having food available." 
Like so many small business owners, Jenkins says her restaurant was already feeling the financial impact of the pandemic before protests arose over the police killing of George Floyd. This isn't the first time that Cathy's Kitchen has been touched by protests, but the pandemic has made the situation more stressful, Jenkins says.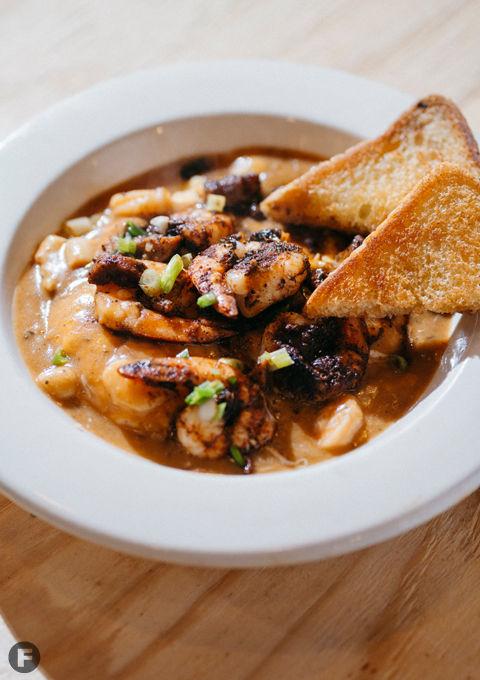 The restaurant had been open barely a year on August 9, 2014, when former Ferguson police officer Darren Wilson fatally shot teenager Michael Brown. The community responded swiftly with protests across the St. Louis area, and the protests in Ferguson in particular gained national attention. Already a community hub, Cathy's Kitchen was protected from damage in 2014 and stayed open to feed protesters. 
Now, during the pandemic, Jenkins is concerned about the health and safety of her community and her employees after coming off a rough few months of business. "It's just the stress of it, and dealing with seeing that in my employees faces as well," Jenkins says. Despite the stress and uncertainty and damage to her restaurant, Jenkins says she and Cathy's Kitchen stand with the protesters. 
"We understand your anger, your frustration, and we also understand that rioting and looting is the voice and the language of the unheard," Jenkins says. "We know that you want to be heard, you want changes, and all of us do. We've been marching for years and there is still police brutality. And so the anger, I understand that; it's a pot that is just boiling over. You no longer want to be treated like you're worthless, but we need to find a way – we just need to find a better way."
On Saturday night, the day after windows were broken at Cathy's Kitchen, Mike Lonero's family restaurant, Vincenzo's Italian Ristorante, on South Florissant Road, was damaged by violent rioters. Lonero's father opened Vincenzo's in Ferguson in 2002.
"We came down that night and kind of got in the crossfires a little bit," Lonero says. "And then we woke up the next morning, got down to the restaurant at about 6am and there were already four people cleaning up, three of which I didn't know. The guy I did know was Red, who owns a restaurant right next door." 
Within an hour, Lonero says he and Redmond "Red" Harris, the owner of Red's The One and Only BBQ were joined by nearly a hundred people who helped clean up the neighborhood and area businesses. Like Jenkins, Lonero says the pandemic had already negatively impacted his restaurant, which he planned to reopen on June 2 after making interior design changes in the dining room. As a small business owner, he is worried for the future of his restaurant, but he is also worried for the future of his community.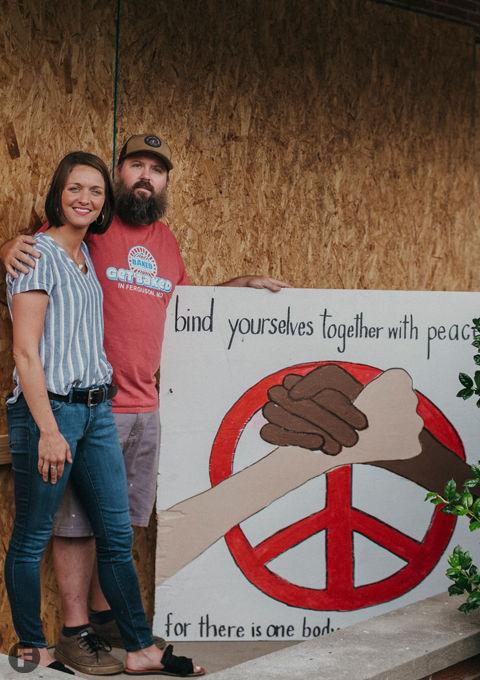 "We've been seeing it for many years, the hate," Lonero says. "And we understand it. We're here to listen and do what we can." 
During the first night of protests after George Floyd was killed, Lonero's children rode their bikes down to join their neighbors in marching for justice. "They were loving it, feeling it, understanding it for the first time, because when the protests happened [in 2014], they were too young." The next morning, when Lonero's kids learned that Vincenzo's had sustained damage late into the night, Lonero says he had to have a tough conversation with them about a pain and anger they would never know.
"As a white guy, how am I supposed to explain that anger to my white kids?" Lonero says. "You do the best you can and hope you're raising them right. You're not born a racist – you're raised racist. I was raised not to treat people differently. My dad taught me to stay where you are, support what's around you and help the people around you."
Within 24 hours of Vincenzo's sustaining damage, late Sunday evening, Ferguson Brewing Co. on South Florissant Road saw similar destruction – and similar community support, including from Lonero.
"It'll bring you to tears, some of the shit people say to you," Lonero says. "This young African American kid shows up, he's 17 years old – he's a kid – and he says, 'What do you want me to do? I'll do whatever. Give me that shovel.' And he just starts cleaning stuff up."
That same Sunday night, just south of the brewery, about a three-minute walk down South Florissant Road, Bridgett Lewis was sitting inside her family restaurant, Drake's Place, with the lights on. She and her husband, Deundrake, (who goes by Sonny), the chef at Drake's Place, had seen reports of restaurants and businesses damaged in protests turned violent in recent days, and they wanted to be there in person in hopes that it would deter property damage.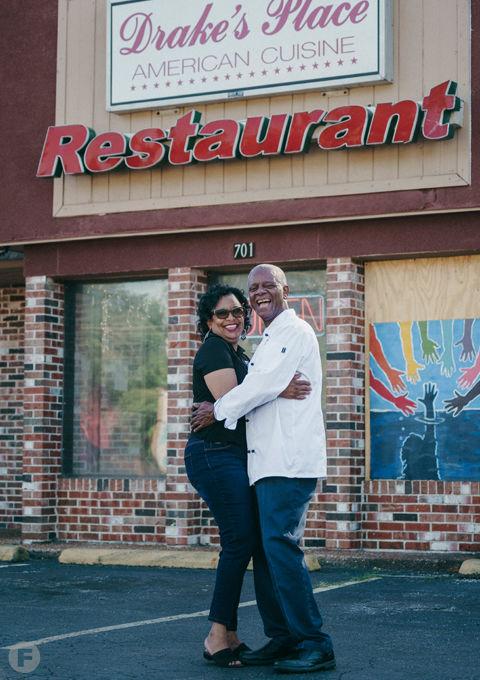 "I was really scared," she says. "I was praying to God, asking him to please let this remain peaceful and no one gets hurt. It was very frightening, to the point where, afterwards, we decided we're going to have to board these windows up, because I believe in my heart, the intent was to do some type of damage. We strongly believed that if we weren't here that night, then we probably would have sustained some damage. My husband was outside [of the restaurant] with the business owner next door, and they were standing shoulder to shoulder together."
As dawn broke, Drake's Place still had not sustained any damage, although some customers were worried when they saw the boarded up windows later that weekend.
"We had some plexiglass, which is clear, from the first unrest in Ferguson back in 2014, stored away," Lewis says. "And so we drug that out, but somehow we didn't have enough to cover all of our windows. So I put up a post on Facebook saying, 'Hey guys, we have decided to board up the windows, and we need some help.' People just started showing up with drills, saws, everything we needed. One guy, it was he and his wife's 46th wedding anniversary, and he gets off work and comes right here to start boarding up stuff." 
A few days after boarding up the windows, Lewis was busy making sandwiches at the restaurant to donate to local health-care workers when a customer called to check on the business. Lewis says she and her husband have seen incredible support from their customers as well as the community since opening their restaurant in 2014. The past week has been hard, Lewis says, after months of financial strain caused by the pandemic.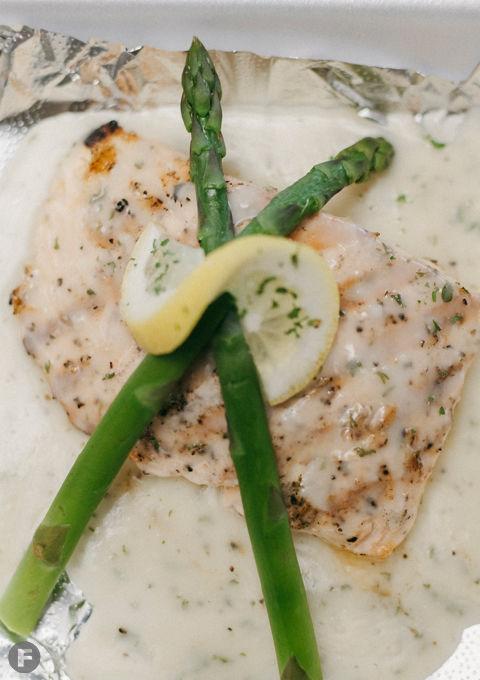 Last November, the business saw its busiest months ever after Drake's Place was featured on Food Network's Restaurant: Impossible, a television show that remodels and refreshes restaurants similar to Bar Rescue or Kitchen Nightmares. Unlike those shows, though, Restaurant: Impossible invites the community to be a part of the refresh, asking for local volunteers to help with the redesign as well as to dine during the grand reveal and reopening. When the episode finally aired in February, Lewis says people from as far away as Imperial, Missouri, visited Drake's Place.
"They transformed our restaurant," Lewis says. They renovated it really from the ceiling to the floor. We got new tables and our booths reupholstered and they refreshed our bar. They built a nice bench and some wonderful woodwork up high on the walls. It was really nice. They introduced some new items to our menu that we decided to incorporate. In the end it was very rewarding because after the show aired – and even after they left [in November], people started coming in just to check out and see what they had done – but when the show aired on Feb. 13, after that business nearly doubled." 
A month later, as the COVID-19 virus slowly spread across the metro area, business nosedived. The past few weeks have made that stress and anxiety worse, Lewis says, and she is worried for the restaurant she and her husband have built together in the past six years. 
The couple first decided to open Drake's Place after careers spent in corporate America, she says, where they often experienced firsthand how racism and white privilege permeate the culture. In 2006, while working in the quality assurance department for a pharmaceutical company, she learned that a new co-worker who had just graduated from college was hired on to do the same job as her with the same title, yet made $23,000 more a year.
"I almost fainted," Lewis remembers. "My heart started beating so fast. That happened in 2006 and here we are in 2020. And you cannot tell me that's still not going on; that's part of the frustration. That same anger that motivated me and my husband to open this business, because we were tired of that in corporate America. My husband has always had a passion to cook, so we said we'd just open our own business."
After temporarily closing for a week, the couple was ready to take the boards off the window and reopen the dining room at Drake's Place. Lewis wants her restaurant to be a place where people in the community can gather even while maintaining social distancing.
"We're still standing and we're here to serve our community," Lewis says. "I hope that people will not be afraid to come back and support us and enjoy all of their favorite meals." 
Back at Vincenzo's, Lonero anticipates that it will be weeks before the restaurant reopens, while Jenkins reopened Cathy's Kitchen on June 10 for delivery and carryout orders only (all carryout orders must be placed and paid for by card over the phone).
Jenkins says she needed to rest and recharge after the highs and lows of recent weeks, but like in 2014, she feels a call to be there to feed her community.
"I'm gonna keep doing this as long as I can," Jenkins says. People have been gracious and I appreciate it a whole lot more than I could ever imagine. And I just want people out there to realize that African Americans just want to be treated equally. That's all we want. You want to talk about civil rights – we just want to be treated civilly." 
Cathy's Kitchen, 250 S. Florissant Road, Ferguson, 314.524.9200, facebook.com/CathysKitchenrestaurant
Drake's Place, 701 S. Florissant Road, Ferguson, Missouri, 314.736.1140, drakesplacestl.com
Vincenzo's Ristorante, 242 S. Florissant Road, Ferguson, Missouri, 314.524.7888, vincenzosstl.com