If you've had a taste of pho, tagine or doner kebab in the Midwest, you can thank an immigrant. American food culture has long been enriched and broadened in delicious ways by immigrants who have made this country their home. In this series, A Taste of Home, you'll meet the chefs and entrepreneurs who are bringing a taste of their cultures and backgrounds to our communities – and making them all the better for it.
Starting out in a small food stall located inside Soulard Market, Lona's Lil Eats quickly gained attention by rolling spicy Asian flavors into giant rice paper wraps filled with fresh vegetables, spicy tofu and meats. The concept proved so popular that evolved into a brick-and-mortar spot in St. Louis' Fox Park neighborhood, giving diners a taste of authentic Chinese-Thai cuisine throughout the week.
Lona Luo Powers grew up in a small town in the Yunnan province of China, lying on the border of China near Laos and Burma. Luo began honing her culinary skills at a young age, using homegrown ingredients to feed her family. Her mother is Thai while her father is from small tribe called the Luo Luo; today, she prepares what she calls "hill tribe" food, a combination of influences from her family and hometown.
While finishing school in a nearby city, she met her future husband, Pierce Powers, a St. Louis native who had been working in China as an English tutor in 2001. A year later, they decided to get married and would eventually make their way to the United States in 2006 after the birth of their daughter.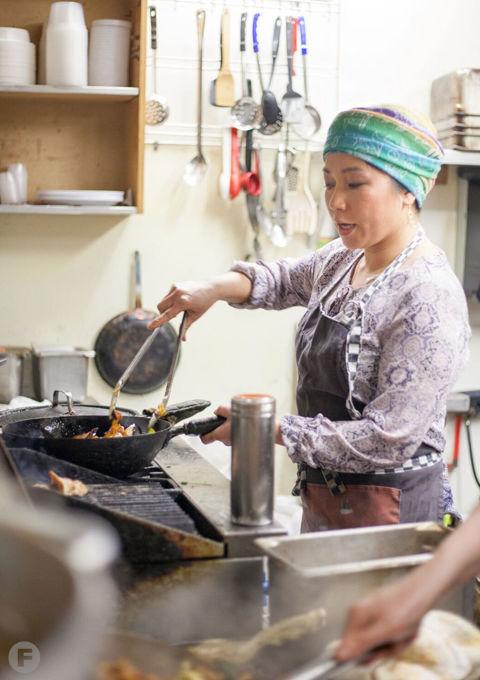 What first brought you to St. Louis? My husband grew up here. I was born in a village, and we had our daughter and I thought if I stayed there, it would be hard for my kids. I moved here so it would be a good opportunity for my kids and for school and everything.
Did you know you wanted to become a chef as a child? When I was a kid, I really wanted to be a doctor because I saw my grandpa helping people. I thought I wanted to be a doctor and since we were poor, doctors made lots of money. When I cooked for the village, I didn't really pay attention to cooking. I just felt like I could eat this and I could eat that. I was cooking different food and I love to eat. I'm an eater.
How did you decide to start a restaurant business here in St. Louis? When I first got married, I asked Pierce if we were going to open a restaurant. I wanted to open my own restaurant because after I moved here and worked as a server in a restaurant, the owner took away part of my tip percentage. I felt that it was not right, but I didn't know how to say it and one day I was asking him why he was taking my tips? At that time I felt really strong and wanted to open my own restaurant. I wasn't going to beg them to give me the tips and I wanted to treat my workers better than how I was being treated. In my village, the women make $60 a day and they would feel satisfied, but I wasn't happy because the tips were missing. So I said I was going to open my own restaurant and treat my workers better and make them equal. Pierce supported me, too, and led me through this kind of process.
What is the inspiration behind your cooking? I try to balance the flavor, but it's definitely like [my hometown]. I don't use a lot of sugar. In Thai or Chinese food, the noodles are stir-fried or we can make into a salad. We were poor people. We didn't have meat. When I cooked at home, I made my family eat more because I felt they needed more food and there were not enough nutrients. I wanted to give them something different. I would make a papaya salad or a peanut salad or tofu, cucumber or eggplant. We usually don't eat that much salad because we don't have much lettuce in the village. We always grew our food. We were a self-supporting farm. If there was extra, we would exchange and trade for other things – sometimes even medicine or salt. My parents didn't have any stuff. Ever since I was a young age, I would go and trade in the market.
Tell us about the food you serve. I cook a lot of different food. I don't cook typical Chinese food. In China, there's so many different food cultures. I don't know all of the spices. We cook natural, with less sugar and a more healthy way. There's at least 70 different types of Chinese food. If you asked me for Mandarin or Cantonese, I will tell you I don't know about it. The minority food is more interesting because I am from a minority area.
My brother sends spices to me that I can't purchase here. The flavors come from my village. The trees that produce the spices are different and are only in my area. I have them send it to me and it costs me a lot, but it is really important to have that flavor. It's so different from other parts of China. I am particular to my hometown flavor.
What does it mean to you to cook and share your food with diners? When I came here, there was a lot of MSG and oils in the foods served at restaurants. I'm doing this to be affordable and healthy. We didn't charge a lot of money because I wanted everyone to be able to eat decent food. Also, I'm happy to have different food that people can compare. I'm a pretty competitive person, so I think if I make food that is healthy, that can make other people want to eat better and make better food. I want people to pay attention that their food can be better than microwave food. Sometimes restaurants use microwaves for food and it kills all the nutrients. If you wouldn't eat it, then don't think about sending that food to customers. As a chef, you must have a good heart and the first step is putting that food in your own mouth. If it's something you wouldn't put in your mouth, then it's not servable.
How did you decide to make vegan food a big part of your menu? In this country, people eat lots of meat. In my village, to eat meat you had to be wealthy, and the poor people ate a lot of vegetables. Here, it's the opposite. The people here that really care about being healthy are eating vegetables. I don't like eating a huge amount of meat. When I do [eat meat], I'll eat a lot, but then I won't eat it for a while. In the village, all I cooked was veggies. Growing up, it would be four or five months without meat or oil. We would use peanuts to grind up and give us some of the oil flavor. It was a hard life.
What does it mean to you to live here? People are extremely friendly. When I ask questions, they are patient and explain things to me. When I first came here, I didn't know English well. I would have to use a paper to write or dictionary to talk and people didn't get frustrated. I came from a background without electricity, phones or news. We were just disconnected from the world. It made me stressed and nervous. I'm glad people weren't getting frustrated with me. I still have learning anxiety. Like, I hate driving. In my country, women don't drive. So, even though I'm married to a Western guy, I still feel like driving should be his job.
Lona's Lil' Eats, 2199 California Ave., Fox Park, St. Louis, Missouri, 314.925.8938, lonaslileats.com