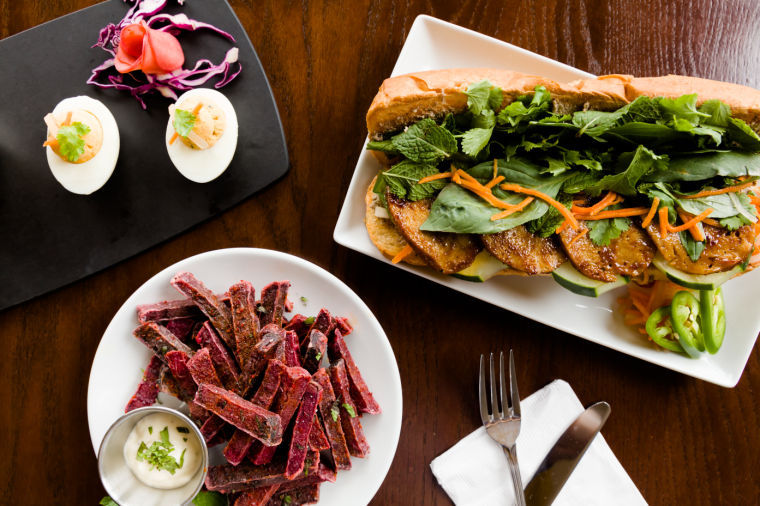 As someone who is not a vegetarian, it might upset some for me to say that Tree House Vegetarian Restaurant on South Grand has the potential to be our first great Vegetarian Restaurant, capital letters intended.
Yes, we have great/delicious/unique vegetarian options in St. Louis – covering every style of cuisine from bakeries to pop-up restaurants – and we have some really appealing fast-casual vegetarian choices as well. However, as someone who wants to eat great vegetarian cuisine – not because it is a lifestyle or dietary choice, but in the same way I want to eat great Sichuan or Vietnamese – I've always felt that we were missing out on a trend that has long been commonplace in other cities: the grown-up, chef-driven vegetarian eatery that stands on its own compared to its contemporaries. Vegetarian that you want to have in the same way as you want pizza or a burger. For me, Tree House resembles what I've been missing.
Red curry deviled eggs are a perfect start, and pack a ton of flavor into a small package. Even better are their pairing with Asian pickles, dressed in pleasing acid, exuding ginger and clove for a combo that is as much apple pie as it is garnish. A mushroom pate is smeared on toasted halves of French baguette as the base of a Vietnamese banh mi sandwich, savory and funky by way of wild edibles, instead of what is traditionally pork liver forcemeat. The dish succeeds because it stays true to the original, nodding to it, without being a mere stand in. While the bahn mi may be a bit more overstuffed than I would expect, it does make for one gloriously messy sandwich. A final favorite are the beets, which are sectioned and roasted to soften the root vegetable before being fried to crisp up the exterior and aggressively seasoned with salt. The result is beet fry that should arguably be on all future lists of "best French fries" in St. Louis.
For delicious and well-executed vegetarian fare in St. Louis, Tree House is a most welcome new hangout.
Tree House Vegetarian Restaurant, 3177 South Grand Blvd., 314.696.2100, treehousestl.com 
Tired of reheating last night's dinner for lunch? Every Monday, food writer Andrew Mark Veety guides you to some of the best midday meals in the St. Louis region, with great places to bring clients or enjoy an outing with your co-workers. Missed one of his columns? Check them out here.
Catch Andrew on the air every Tuesday at 1:25pm on the Big 550 KTRS' Martin Kilcoyne Show, where he continues the conversation on his weekly lunch picks. 
---
MORE FEAST!
Hungry for more St. Louis food-scene news? Follow us on:
Subscribe to our weekly ENEWSLETTER here!