Mark and Melissa Hollander launched La Belle Vie this past September, but the restaurant has been in the works for much longer. In fact, the Hollanders considered 13 different locations for the restaurant before they found the perfect building nestled in historic Frenchtown.
"Good food and coffee are a great way to bring people together," Mark says. When the Hollanders began renovating the building last winter, creating the right ambiance was key. Hollander grew up in St. Charles and wanted the café to be connected to the neighborhood.
"It's warm and inviting," he says. "We like being tucked back in the neighborhood. A lot of people will run in and grab a cup of coffee before work or grab breakfast before they head to the bus stop."
The atmosphere is "a little bit elegant, a little bit industrial. It's good eclectic blend and an inviting space," he adds. "Over and over we've heard that the place is just a great vibe."
In a cheeky nod to the café's location in Frenchtown, the menu offers favorites like a French dip and French onion soup. Soups, sandwiches and salads dominate the menu, and the café also offers breakfast served all day. "You can have a crêpe for dinner or a roast beef sandwich for breakfast if you want," Mark says. Recently, the café developed a decadent blueberry sauce to drizzle over French toast or crêpes.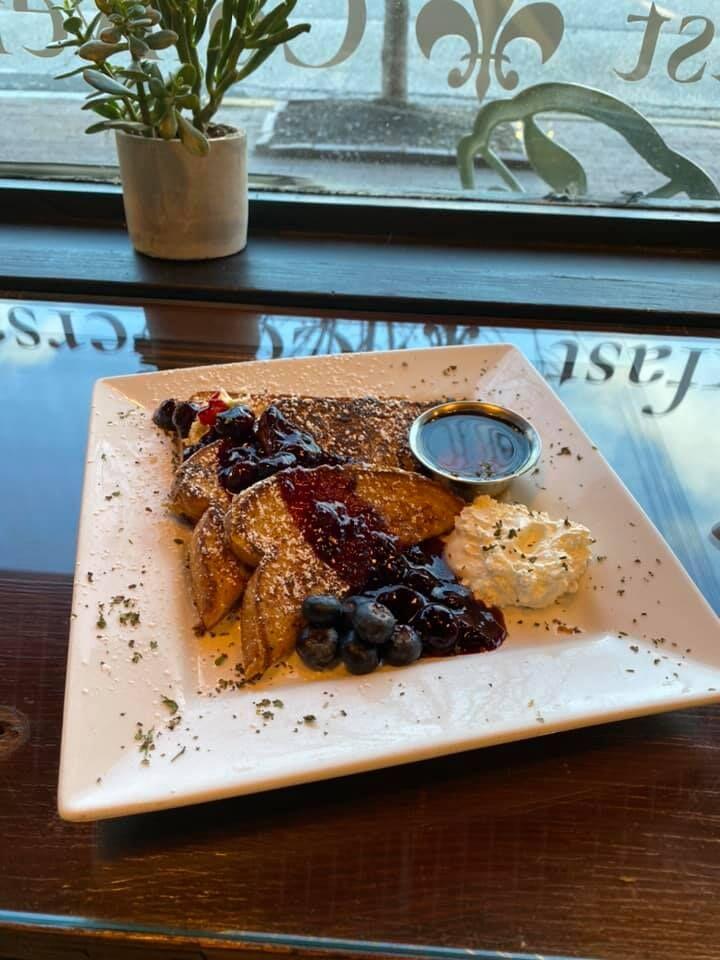 Hollander says the French dip sandwich, a modified recipe that has been featured at his family gatherings throughout the years, is a crowd favorite. Other favorites are the old-fashioned omelet with white country gravy and the jalapeño popper panini, filled with cream cheese, jalapeños and bacon.
The café offers a simple coffee menu and specialty drinks, including Irish coffee, sangrias and a Bloody Mary. Each week, a different hot and cold drink are on special. The wine menu is composed of wines sourced from all over the world, and the café serves local beers from Missouri Brewing Co.
In the future, the Hollanders hope to expand into an event space and add a gas fireplace. The café backs up to the Katy Trail and they hope to launch their patio space in the spring of 2021.
Mark says that one of his favorite moments from running the La Belle Vie was when his high school choir teacher found the café on social media and visited. "He came in with his wife and son to get breakfast and we sat around and reminisced and laughed and cried together," he says.
La Belle Vie means "the good life," and the Hollanders have created a warm, inviting atmosphere to grab a cup of coffee, glass of wine or beer to enjoy over a crêpe or a warm bowl of soup.
La Belle Vie is open Monday through Thursday from 7am to 7pm, Friday and Saturday from 7am to 8pm and Sunday from 7am to 6pm.
La Belle Vie, 1200 N. Second St., St. Charles, Missouri, 636.395.7265,  labelleviefrenchtown.com