Don't let the concept fool you: Although The Royal is a music hall, the food and beverage offerings were not an afterthought.
This past Friday, The Royal opened its glass garage door to business sans a musical act, due to the COVID-19 pandemic. However, many patrons still visited the venue to safely distance in the fresh air and enjoy snacks and cocktails.
"I had a few things in mind when I came up with the food menu, including my space constraint, no flatware and taking really simple and usual dishes and elevating them," says owner BJ Lowrance. "My kitchen is a two-door work-top cooler, a countertop convection oven and an induction burner."
According to Lowrance, putting in a hood vent wasn't an option, so he focused the menu on refreshing, shareable small plates. He anticipates the charcuterie board, cleverly named "Adult Lunchables" will be a popular item. This dish exemplifies how no detail was too small for Lowrance, as even the jam spoons were handpicked himself from area flea markets.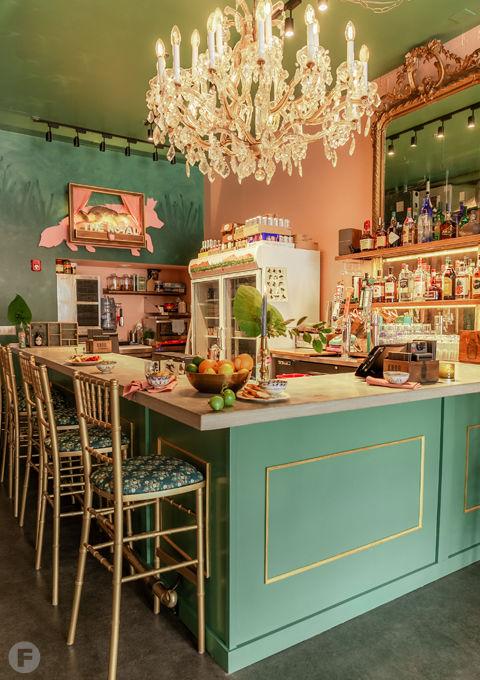 Lowrance is also excited about The Royal's warm olives. He designed this offering based on a dish he had with friends while visiting Napa. "I was never a huge olive fan, but my girlfriend can eat olives every meal of the day," he says. "We were at Scribe Winery and they brought out warm olives as an appetizer with our wine tasting. I just had to try them, and it totally changed my mind about olives." 
The menu doesn't leave out vegans either, thanks to the Jake's Vegan meatballs dish. Joe Still, who owns the neighboring business, Skully's Ramen, helped Lowrance land on the perfect sauce, which is an unexpected coconut curry with fresh mint and nutmeg.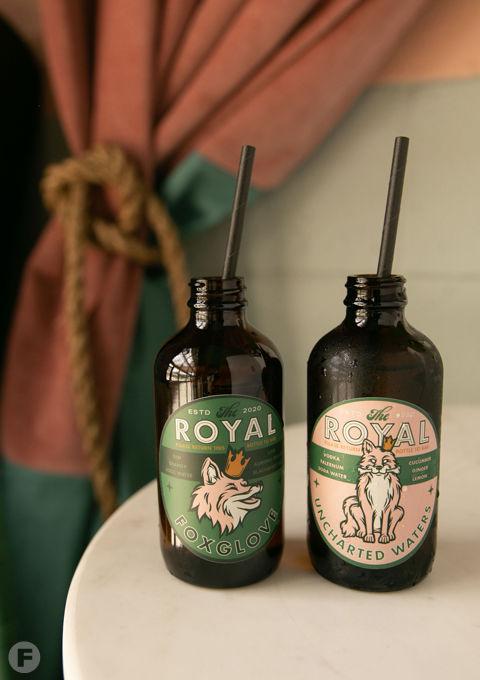 Rogan Howitt, beverage director at Good Spirits & Co. and Feast cocktail columnist, lent his knowledge to design the bar program. The upscale dive menu features canned wine, domestic beer, craft beer and batch-bottled cocktails.
Lowrance suggests pairing the Uncharted Waters cocktail with the hummus or the olives. "The Uncharted Waters is so fresh with the cucumber and ginger and the citrus notes from those two dishes work really well," he says.
The Royal's petite yet impressively aesthetic interior was a collaboration project between Sharon Taylor of Pickwick House and Genesis Estes of Design Genesis. Taylor, who also designed the interior of Team Taco, scoured flea markets with Lowrance to curate a gallery wall and to find perfectly-aged and ornate gold mirrors.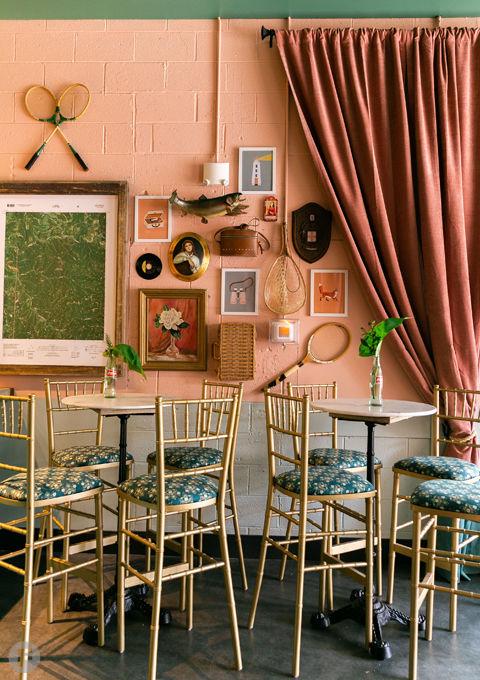 "The mirror that Sharon Taylor found for the back bar is just incredible," Lowrance says. "She was out shopping one day and found the mirror. She called me and said I had to get there right away to see it because it was going to sell fast. She convinced the shop owner not to take offers on it until I got there. It came out of Riverside Inn, so it's about 100 years old, super fragile, and incredibly gorgeous. It's weathered in the most perfect way, and I love to stare at it and wonder how many people have looked in it for the past 100 years – first dates, weddings, bootleggers, politicians or ghosts. Just so much history."
The Royal is currently open Tuesday through Thursday from 4 to 11pm and Friday through Saturday from 4pm to close. Lowrance is cautiously holding off on hosting musical acts until further notice in light of the recent spike in southwest Missouri COVID-19 cases.
The Royal, 1427 E. Cherry, Suite B, Springfield, 417.351.3029, theroyalmusichall.com