Rise and shine! There's a new brunch spot in downtown Springfield, Missouri, that makes getting out of bed a whole lot easier.
Located on Park Central Square, Rise offers an expansive menu of elevated brunch classics made with local ingredients and served with presentation in mind. Although it's the new kid on the block, owners Uliana Komodi and Christina Sava are familiar faces in the local food-and-drink industry.
In 2013, the Ukrainian sisters opened European Café, serving everything from perfectly executed cakes and croissants to European-inspired macarons and truffles. Now, with the help of head chef Branden Dinger, they're excitedly expanding their culinary repertoire in the neighboring space that previously housed Queen City Wine Dive.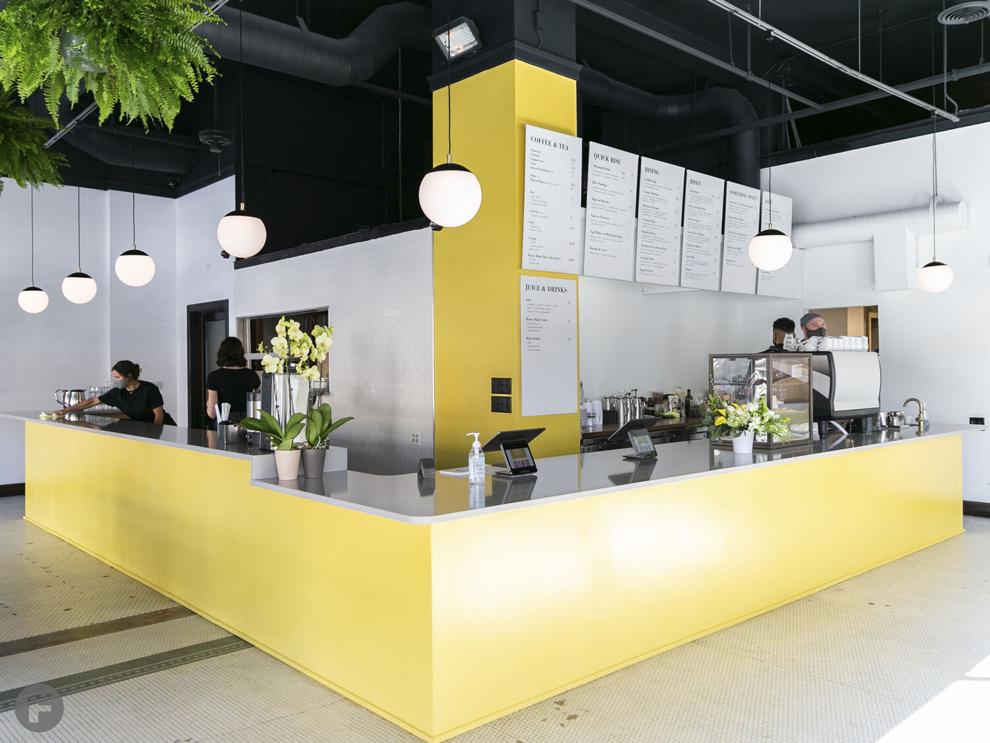 "We make everything in-house – everything," says Dinger. That includes time-intensive ingredients such as chicken stock, ricotta, yogurt, mayonnaise and sauces.
Dinger repurposes a limited number of ingredients to offer a creative, robust selection across the four sections of the menu. "It seems like a larger menu, but when you actually break it down, it's very manageable," he says. "There's cross-utilization of products throughout the menu. The idea is to give everyone a little something that they like. Whether you want sweet or savory, we have what you need."
The Quick Rise menu offers lighter fare such as a vegan parfait with housemade coconut-lavender yogurt, roasted pineapple, nut granola and bee pollen, alongside more decadent options in perfect portions such as biscuits and gravy with Circle B Ranch sausage.
If you've passed peckish and you're on the way to ravenous, check out the entrées on the Rising menu, including a breakfast bowl with roasted potatoes, housemade sausage, Edgewood Creamery Cheddar and red pepper crème fraîche. The creamed egg and house-cured salmon toast is also a great option.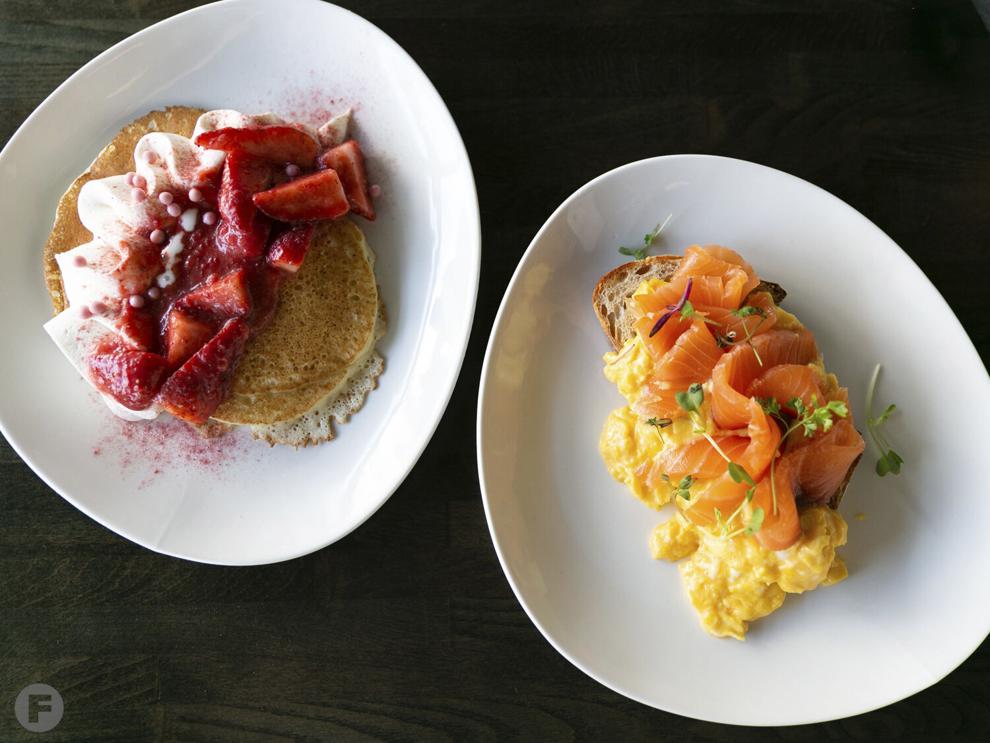 The Risen section of the menu provides hearty lunch options – think slow-braised short ribs with fingerling potatoes and chicken schnitzel with challah French toast. For a taste of Dinger's signature chicken thighs, which are inspired by his wife's late grandmother, order a helping of the savory rice pudding.
Given their background in pastry, you wouldn't expect Komodi and Sava to skimp on the Something Sweet menu – and you'd be right. They spent months perfecting different varieties of pancakes, waffles and French toast. "We bake all the bread in-house from scratch," says Sava, "so we're getting to showcase our skills as pastry chefs and bakers."
"They've been practicing their bread and pastry recipes for years now, so they are extremely talented at that," adds Dinger.
Rise also has a kid's menu, which the trio stress wasn't an afterthought. Your little ones can enjoy bright and healthy dishes such as handmade filled pasta dyed orange and pink with carrot and beet juice, mini pancakes with housemade ricotta or a chicken sandwich, to name a few highlights.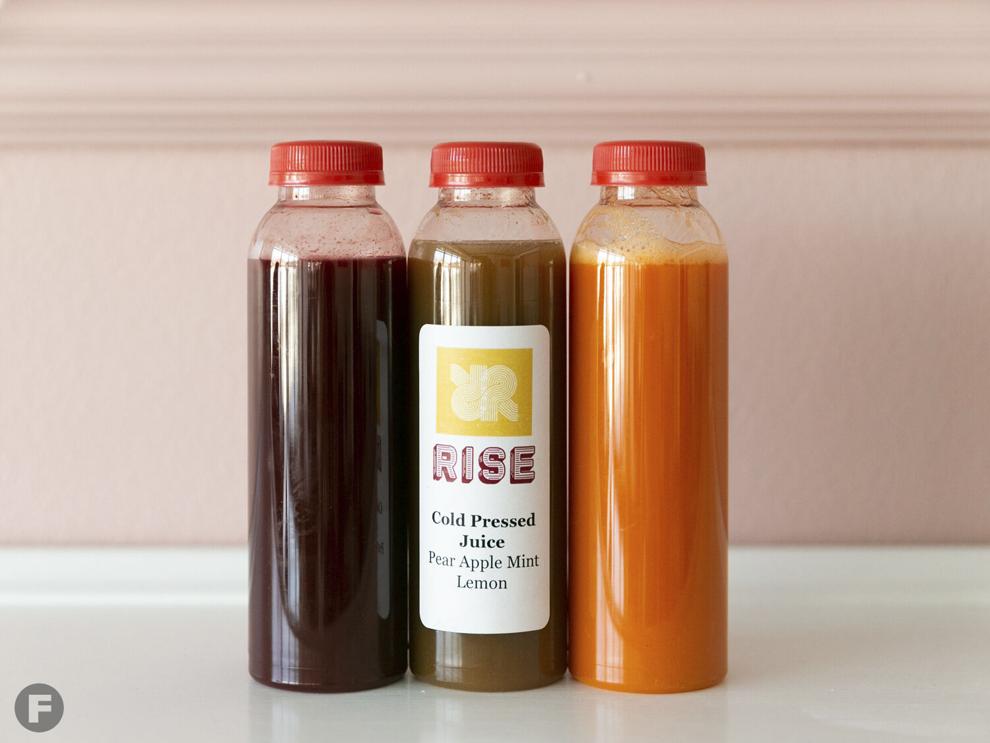 Tip: Don't sleep on the drinks. The spiced cold brew with notes of citrus and cardamom is very refreshing, and front-of-house manager Christopher Pereira spent weeks perfecting the cold-pressed juices. Rise even makes its own sodas in tempting flavors such as strawberry-mint, hibiscus syrup and ginger-black pepper.
Rise also has an alcohol menu in the works, and be on the lookout for the sun-soaked patio to open in the warmer weeks to come.
Rise is open Monday through Friday from 7am to 3pm and Saturday through Sunday from 8am to 4pm.
Rise, 105 Park Central Square, Springfield, Missouri, 417.691.6088, 417rise.com