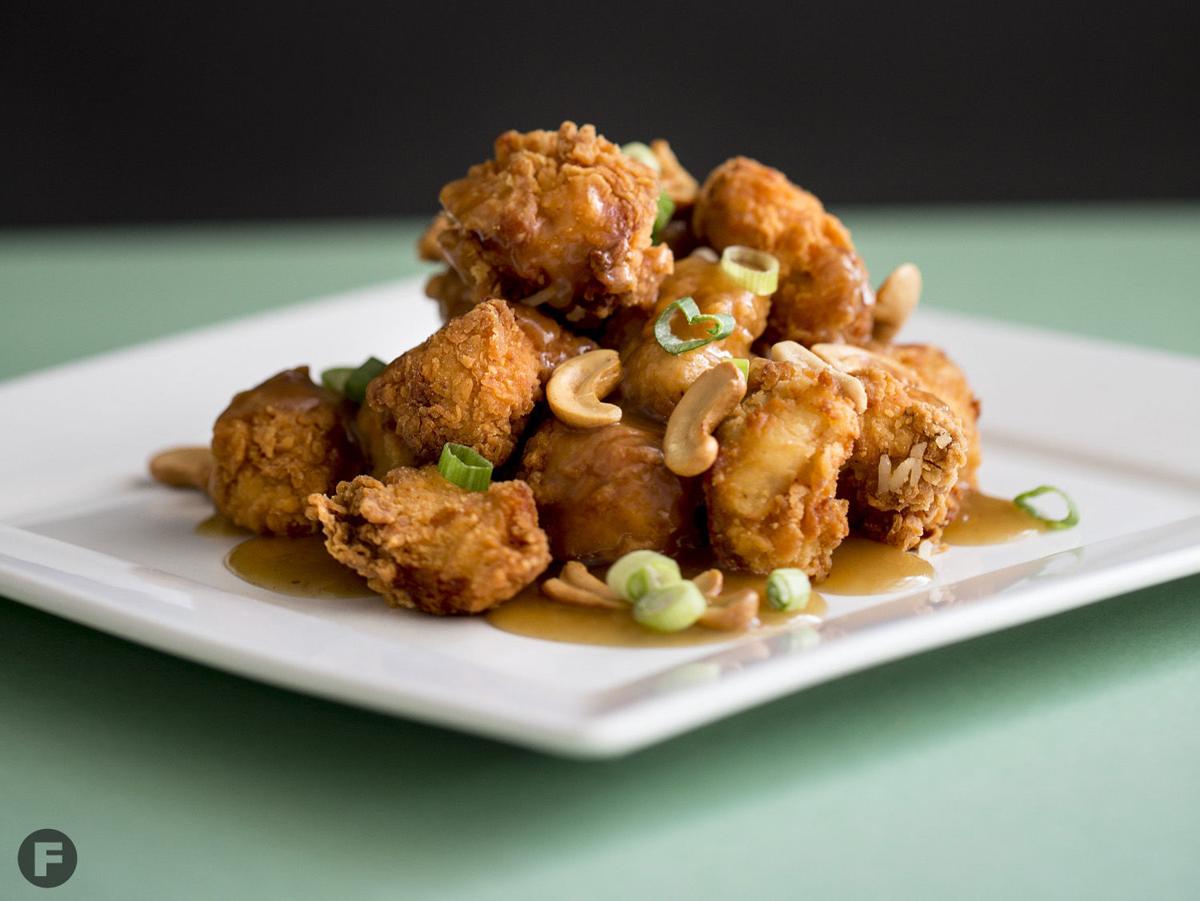 Nutty, saucy and unbelievably satisfying, Springfield-style cashew chicken is the most well-known dish to come out of Springfield, Missouri. David Leong, founder of Leong's Asian Diner, created the recipe to draw more customers into the restaurant – which was called Leong's Tea House at the time. Blending flavors and traditions of the Ozarks with those of his Cantonese heritage, he whipped up the first batch in 1963.
Now found on menus across the country and spotted in restaurants as far away as Hong Kong, the recipe features bite-size morsels of chicken, which are fried to perfection, smothered in a rich sauce and garnished with chopped green onion and roasted cashews. The breading of the chicken is crispy and the meat inside is tender, but the sauce has all the star power. You won't be able to get enough of the salty, savory brown gravy that generously coats each forkful.
"I think this recipe represents comfort, prosperity and legacy. Comfort, as in providing a comfort food to all my wonderful loyal customers. Prosperity, as in making [the] restaurant prosperous so I can feed my family. And [my dad's] legacy that began in 1963." – Wing Leong, son of David Leong and executive chef and owner of Leong's Asian Diner
NOTE: You will need a fryer for this recipe.
Springfield-Style Cashew Chicken
Recipe courtesy of Wing Leong, executive chef and owner, Leong's Asian Diner
Serves | 4 to 6 |
Sauce (Yields 4 cups)
¼ cup cornstarch
¼ cup water
3½ cups chicken broth
¼ cup soy sauce
2 Tbsp oyster sauce
½ tsp salt
½ tsp sugar
¼ tsp ground white pepper
1 pinch ground ginger
⅛ tsp sesame oil
Springfield-Style Cashew Chicken
4 cups all-purpose flour
2 Tbsp seasoned salt, divided
1½ tsp ground white pepper, divided
2 Tbsp garlic powder
½ tsp ground cayenne pepper (optional)
3 eggs
3 cups milk
2 lbs chicken breast, cut into 1-inch pieces
sauce (recipe follows)
½ cup roasted cashews, for garnish
½ cup chopped green onion, for garnish
| Preparation – Sauce | In a small bowl, add cornstarch and then water; whisk together until completely combined. (This is your slurry.) In a saucepan over high heat, add remaining ingredients and bring to a boil. Once boiling, add slurry and stir until sauce develops a gravy-like consistency. Remove from heat and set aside until ready to use.
| Preparation – Springfield-Style Cashew Chicken | Set fryer to 350°F. In a bowl, combine flour, 1 tablespoon salt, 1 teaspoon white pepper, garlic powder and cayenne pepper. In a separate bowl, whisk together eggs, milk and remaining salt and white pepper. With each piece of chicken, completely coat with flour mixture, dunk in egg-milk mixture and then coat again with flour mixture; place on a baking sheet. Transfer coated chicken pieces to fryer and fry, 2 to 3 minutes. Remove from fryer and set on a paper towel-lined plate or wire rack. When ready to serve, refry chicken, 2 to 3 minutes; remove chicken from fryer and plate it with sauce. Garnish with cashews and green onion and serve hot.
Leong's Asian Diner, 1540 W. Republic Road, Springfield, Missouri, 417.887.7500, leongsasiandiner.com