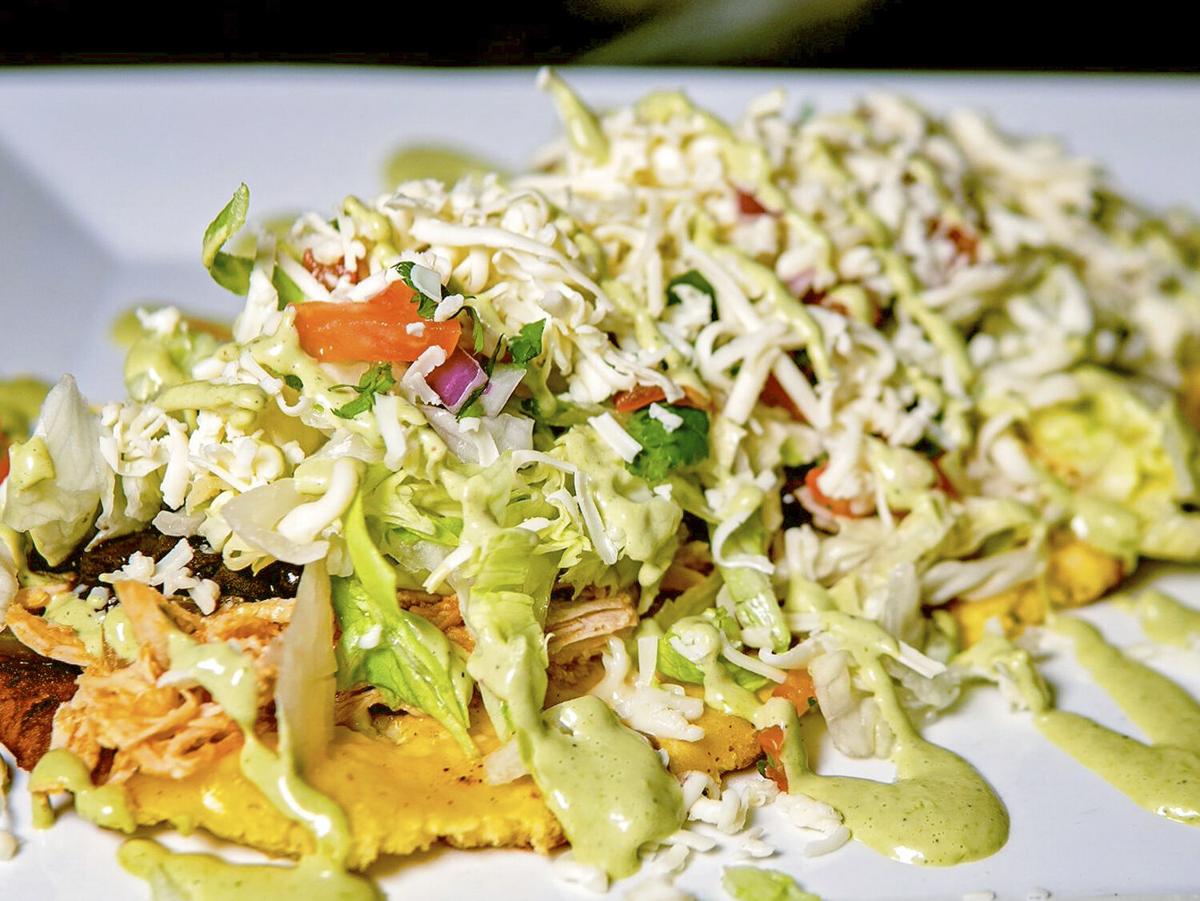 In honor of National Hispanic Heritage Month from Sept. 15 to Oct. 15, we're digging into the diverse cuisine at Mundos Latin Kitchen & Bar in Ozark, Missouri. The restaurant, which opened in December 2020, brings flavors from 10 Latin American countries to southwest Missouri.
Owner Victor Briceno suggests the patacón, in particular. Typically, the Venezuelan dish is made with green plantains, which are fried, flatten and then fried again like tostones; at Mundos, Briceno uses ripe plantains, which give the dish a softer texture and sweeter flavor. A whole ripe plantain is flattened and then fried on the grill and topped with your choice of protein, the most popular of which is the pork. "The sweetness of the plantain and the saltiness of the pork go hand in hand," Briceno says.
From pork to chicken to steak, you can't go wrong, as all of the meats are seasoned in-house with special spice blends.
The plantain and meat are then layered with black beans. "We have a special way of cooking our beans, as well," Briceno says. "We use a lot of herbs, including basil, oregano, cumin, garlic and salt, to give them a really earthy flavor."
Finishing touches include shredded cheese, lettuce, pico de gallo and Mundos' signature cilantro sauce.
"In the last few months, the patacón has become one of our most popular dishes," Briceno says. "We're excited because people are starting to try different things, and they're really liking them."
Food is just one vehicle for expressing and exploring culture. National Hispanic Heritage Month recognizes and celebrates the achievements and contributions of all Hispanic American champions, including chefs, bartenders, bakers, farmers, business owners and more.
"It's a good time for people to express their heritage and show pride in their background," Briceno says. "It's nice that there's a month when everyone can really immerse themselves in the different cultures of Latin America – the food, the art, the music, everything that these cultures have to offer."
The patacón as well as Cuban ropa vieja, Puerto Rican mofongo, Mexican carnitas and more are available for dine-in or carryout.
5493 N. 17th St., Ozark, Missouri, 417.485.2160, mundoslatinkitchen.com