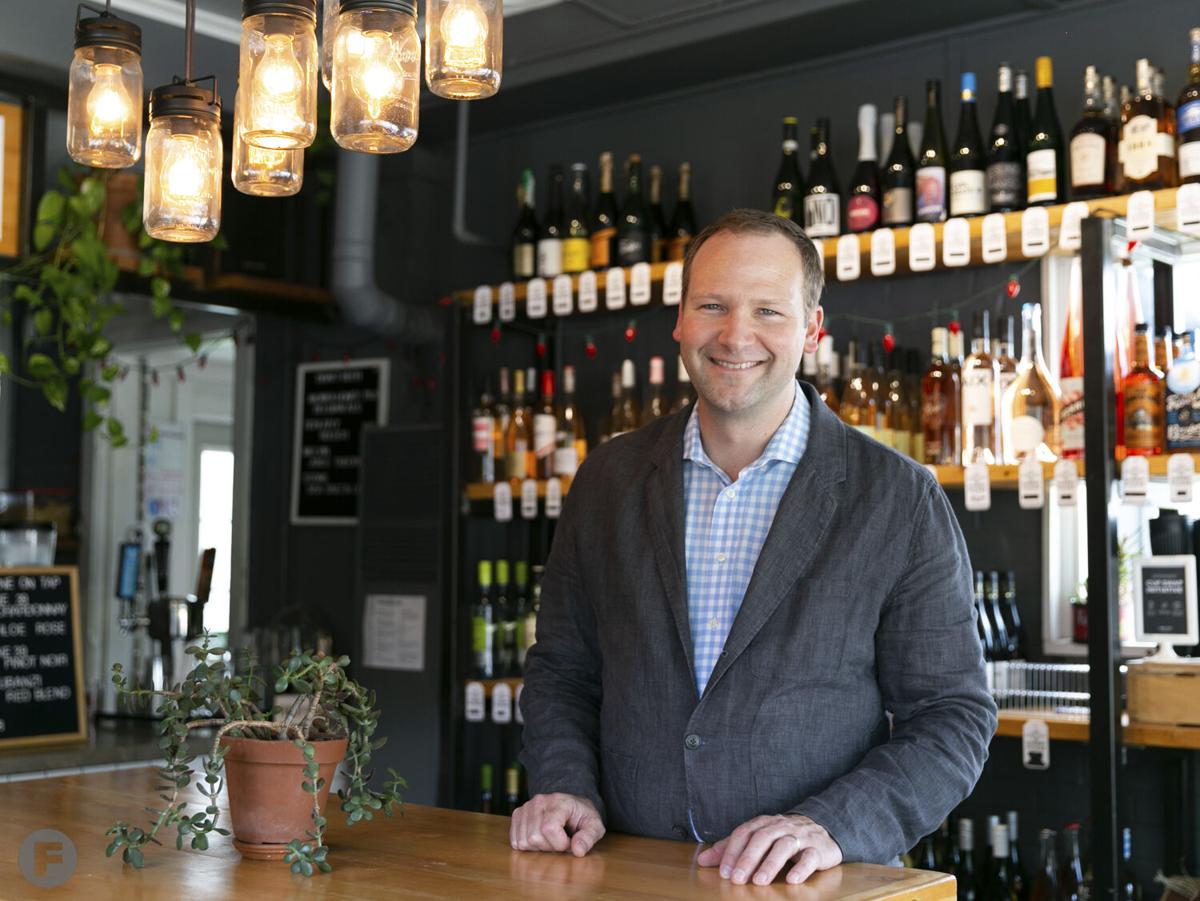 There's a good chance that Aaron Rozeboom has had a hand in getting your favorite wine or spirit on the shelf of your go-to bar or retail store in Springfield, Missouri. As the regional sales manager of Vintegrity Wine & Spirits based in Lenexa, Kansas, he's on a first-name basis with countless industry professionals. Some of the clients he works with include Cherry Picker Package x Fare, The Order at Hotel Vandivort, Mama Jean's Natural Market, Brown Derby International Wine Center, Macadoodles and Price Cutter.
Rozeboom's first foray into the beverage industry was at the now-shuttered Palate Fine Wine & Provisions in Branson, Missouri, and in 2012, he transitioned into a position at Brown Derby International Wine Center.
"I can't overemphasize what a privilege it was to come up in the industry at Brown Derby," Rozeboom says. "I got the opportunity to taste, in many ways, things I had no business tasting. Now, the fact that I have those in my palate memory is huge."
Today, Rozeboom educates purchasing managers, buyers and bartenders on the latest wines and spirits, conducts staff trainings and even collaborates with industry professionals, including Private Chef Anna and Jim Blansit of Fire & Ice Restaurant and Bar, to create personalized pairing experiences at private dinners.
Here, Rozeboom elaborates on everything from picking out a bottle of wine to curating the perfect pairing. Plus, he shares the recipe for his favorite late-summer amaro cocktail.
You're like a walking encyclopedia on wine and spirits. How have you accumulated so much knowledge? From the inside, it doesn't look as daunting as it does from the outside. What I do and what I know doesn't seem extraordinary on this side of the table, but education has always been a passion of mine. I love to teach, and that changes the way I think about information, too. What I like to do is take the abstract and make it very practical for people when doing presentations, trainings and wine dinners. Practically speaking, there are some industry bulletins that I subscribe to, including Marvin Shanken's industry insider [publication]. I get a lot of industry news that way, which helps me stay up-to-date.
What are some of your favorite cocktails to make and enjoy? I tend toward minimalism when it comes to cocktails. I love when I go out to places in large markets where they have these sort of destination cocktail bars; there, I gravitate toward some of the more esoteric things. I'm also passionate about the classics done especially well; we drink a lot of Negronis at my house, and I still think that one of the most elusive and difficult cocktails to make is the gin Martini. I love going back to those often as a way to stay sharp on the fundamentals. We don't do a lot of innovative cocktails at home; in fact, I'm probably more creative with mocktails for my four-year-old.
Say I need to pick a bottle of wine for a gathering. What tips do you have for choosing the perfect one? I used to tell people that the best way to learn about wine is with a glass in one hand and a map in the other because every bottle is tied to place and culture. Now, if you have a bottle in one hand and Google in the other, you can search any given word on a wine bottle and there's probably an entire Wikipedia page dedicated to it. However, when you get Google involved at a wine shop, it's a black hole. It's great for learning more about wine, but it's not great for picking out a bottle. You need someone with whom you have a personal connection to point you in the right direction. I think it's incredibly valuable for consumers to develop a relationship with a retailer whom they like, and then if you tell them what you're having for dinner and your price point, you can save yourself a lot of time and maybe even money.
What is the key to a perfect pairing? There are a couple of things at play – a lot of them have to do with complementary flavor profiles and alcohol levels; I also put a lot of stock in proximity. So, if it's a French-style dish, my natural inclination is to go with a French-style wine. Progressive components of the meal also play a role. Generally speaking, I like the stereotype of drinking sparkling wine early in the meal, as it's low in alcohol, high in acid and gets your mouth watering. A well-crafted cocktail can do the same thing. In terms of individual dishes, it really does kind of boil down to the classics. I'm not an innovator when it comes to pairings; I'm not the guy who's going to take a dry wine and put it with a chocolate chip cookie. A sweet wine with a sweet dish just makes sense to me.
What would be your ideal day of drinking and eating in Springfield? We would start at Progress. The patio is a great place to eat with the kids, and the quality's always good. Anything that Daniel [Ernce] does with chicken is phenomenal, so we'd order a combination of the chicken biscuit, eggs and bacon and all share. Oh, and you can't forget the donut holes with chocolate hazelnut spread! Then, we'd do Team Taco for lunch. Since it's usually in the context of the family, we'd share a trio of tacos, one of the rice bowls and cheese dip. For dinner, it would be Harvest. Craig [von Foerster] is arguably the best chef in town – and you could probably widen that net beyond Springfield. His sourcing is impeccable, the ambiance of the restaurant is nice, and the wine list is very good. As somebody in the industry, that all matters.
Summer Aperitivo Cocktail
Recipe courtesy of Aaron Rozeboom
Start your end of summer meals with this refreshing amaro cocktail, which combines Suze (a pleasingly bitter French apéritif made from the gentian root) and Cynar (a low-ABV bitters made by steeping 13 herbs and plants – predominantly artichoke – in a neutral spirit).
Serves | 1 |
1½ oz Suze
1½ oz Cynar
3 oz soda water
juice of 1 Meyer lemon wedge
| Preparation | Add all ingredients to a highball glass; top with ice. Gently stir to mix and enjoy.
NOTE: As the weather cools, fortify this cocktail with a splash of blended Scotch.