MOchicken, a new locally owned contender, is positioned to rise through the ranks of the fried chicken game in Springfield, Missouri.
MOchicken doles out craveable breaded and fried chicken sandwiches from an eye-catching red and yellow food truck. Clint McCann, executive chef of the Springfield location of Sugarfire Smoke House, is a partner of the new venture, alongside David Burke and David and Erin Whitman, who own this location of Sugarfire.
"I'm captivated by the fried chicken sandwich wars in the fast-food space," says McCann. "We want to get in there on a very small scale and really try to make the best cooked-to-order fast-casual chicken sandwich we can. Also, I think we've seen a big swing toward more casual dining in recent years, and that only became more evident over the last year. The trailer gives us an opportunity to try some fun, casual ideas at a very approachable price point."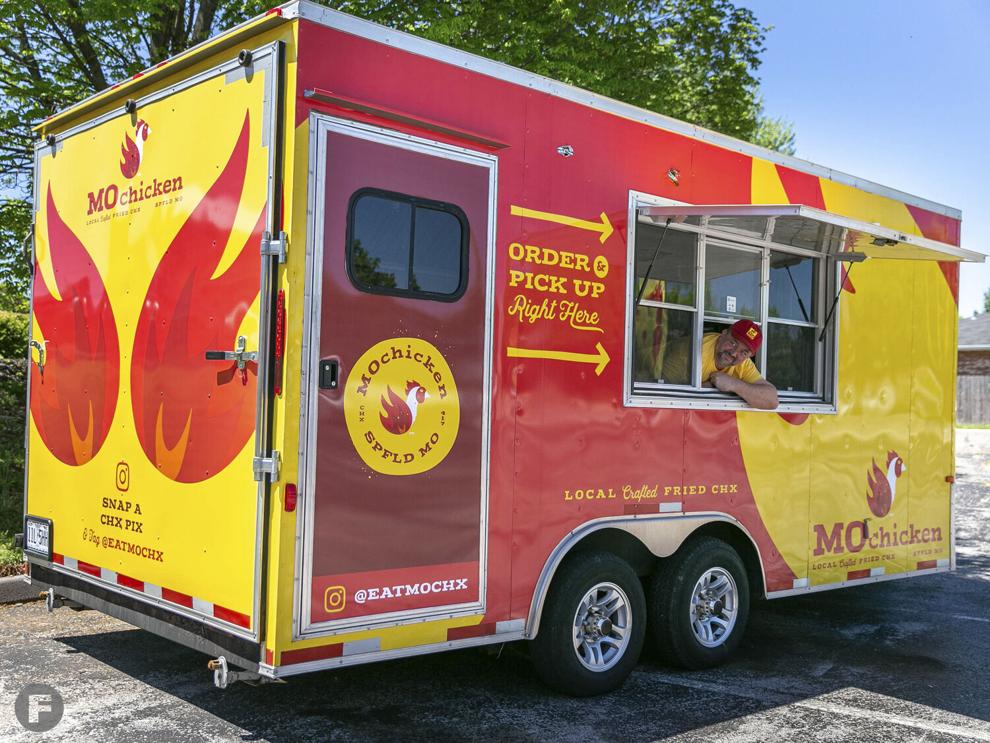 The food truck's preliminary menu features six sandwiches, including its namesake buttermilk-brined chicken sandwich; breaded with flour and MOchicken's signature spice blend, it comes out juicy and tender. McCann serves it on a potato roll from Martin's Famous Pastry Shoppe with Duke's Mayonnaise and dill pickles.
Taking things up a notch, the No Refunds! adds chile oil. "No Refunds! is our answer to Nashville hot chicken," explains McCann. "We dip the fried chicken for our MOchicken sandwich in a spicy chile oil, which we make in-house with a very hot cayenne and gochugaru [mixture]. While we make a lot of delicious stuff, I prefer to refer to this one as 'an experience.'"
The menu is not all fried, though. The Shredder is basically barbecue chicken pizza in sandwich form, and there are three burgers, including a smash burger, for patrons to enjoy.
The sandwiches attract the most attention, but McCann put just as much thought into the sides. Order a heap of hot crinkle-cut fries, or cool off with the zesty cheese mac salad featuring Cheddar, black olives, pimentos and Duke's Mayonnaise. Also noteworthy, the vinaigrette-style coleslaw gets extra crunch from sunflower seeds and a touch of sweetness from golden raisins.
Right now, MOchicken hosts regular pop ups in Sugarfire's parking lot, but the team plans on joining a slew of other mobile canteens at Metro Eats later this summer. Stay up-to-date on pop-up events on Sugarfire's Facebook page.
MOchicken, 1730 E. Republic Road (Sugarfire Smoke House), Springfield, Missouri, 417.720.4774, facebook.com/sugarfirespringfield