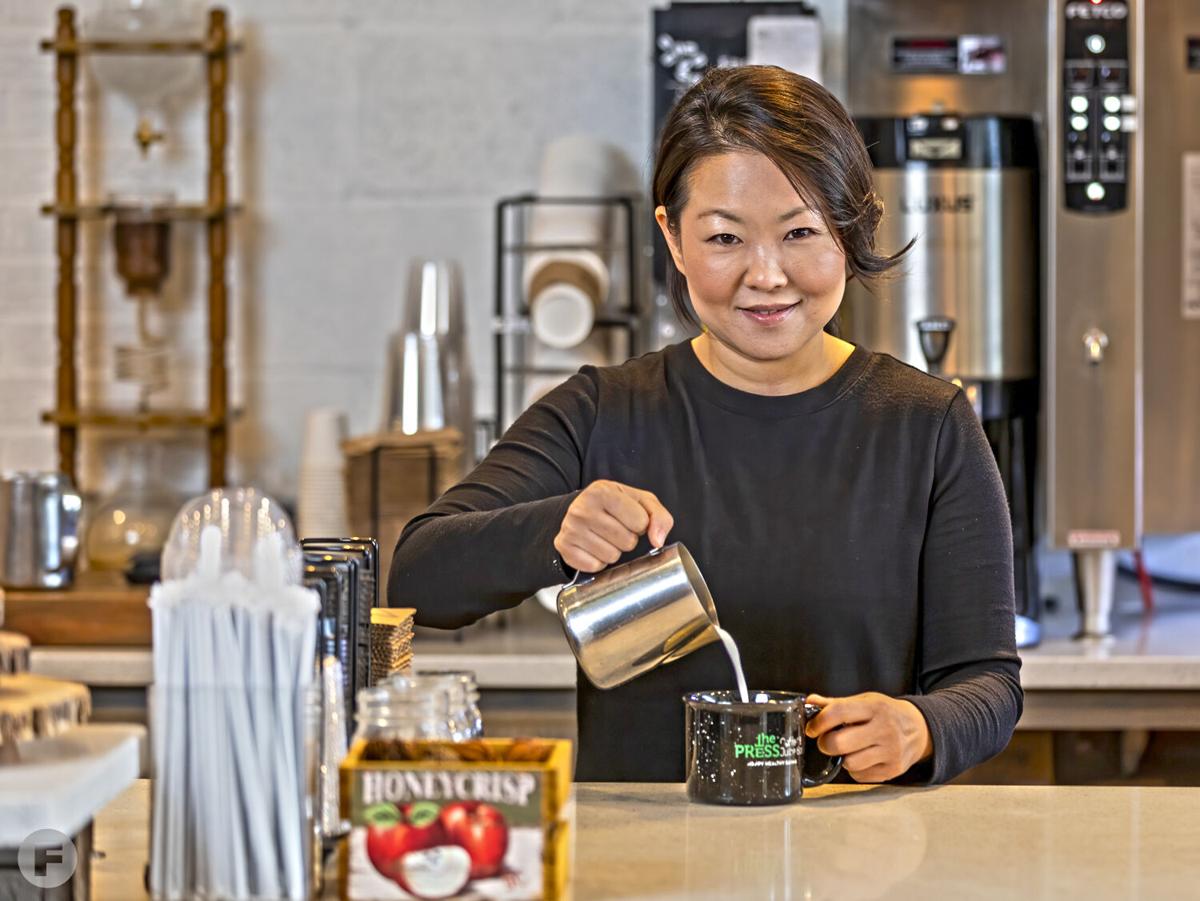 Feast 5 is a new weekly column introducing you to some of the best chefs, bartenders, makers, farmers and more around the region. Have a recommendation for someone who should be featured? Email us at editor@feastmagazine.com.
As the owner of both The Press Coffee & Juice Bar and Sno Bubble Tea, Alice Oh has played a major role in bringing traditional Korean fare to Springfield, Missouri. Before opening her own spots, Oh ran an outpost of Caffe Bene, a coffeehouse chain based in South Korea, in Farmers Park. In 2017, she flipped the script and opened The Press in its place. The new concept gave Oh the freedom to share her favorite Korean flavors while also offering a more health-conscious approach with gluten-free, dairy-free, nut-free, keto, vegetarian and vegan items.
Here, Oh chats about the early days of The Press, Korean pancakes and more.
1. What's the best thing you've ordered at a local bar or restaurant recently? I can't live without Andy's Frozen Custard's James Brown Funky Jackhammer. It never fails me and always puts me in a happy place.
2. What's the best style of pizza? Classic Margherita for the authentic experience combined with prosciutto on a Neapolitan crust. The crust is crispy and airy. I don't like to eat very heavy, but I do like to feel full and this definitely hits the spot. Heavenly!
3. What's your favorite food memory? My favorite food memory will always be my mom's homemade cooking. We always had an organic garden in our backyard, and my mom would harvest and create authentic Korean foods that she was taught by her mother. I remember days when it would rain; she would tell me it's tradition to pan-fry Korean pancakes and eat them together. These savory Korean pancakes are filled with onions, carrots, squash and chives, and you can put kimchi or seafood in, too. Mix it all into a batter with some seasoning and pan-fry them in little circles until the ends turn really crispy, with sweet soy sauce for dipping. It's totally mouthwatering.
4. What ingredient do you think everyone should keep at home, and why? I would have to say garlic. You can never go wrong with garlic and at some point, you will always need it. In general, garlic has so many health benefits and makes everything taste so much better.
5. What's your most controversial food opinion? I created my fusion menu of gluten-free Korean-Mexican food in 2017, and people thought it was very unique – a weird food combo but somewhat enticing. People were skeptical of the word gluten-free and wondered how it could taste good. It was the first in Springfield, Missouri, and I can tell you I've never regretted it one bit. My menu at The Press Coffee & Juice Bar is Korean-Mexican with gluten-free, dairy-free, vegetarian and vegan options, always freshly made. We also offer 10 different sauces, all made in-house. I think winning the fast-casual concept [in the annual Feast 50 Awards] tells you my customers love it!
The Press Coffee & Juice Bar, 2710 S. Glenstone Ave., Springfield, Missouri, 417.771.5950, facebook.com/417thepress