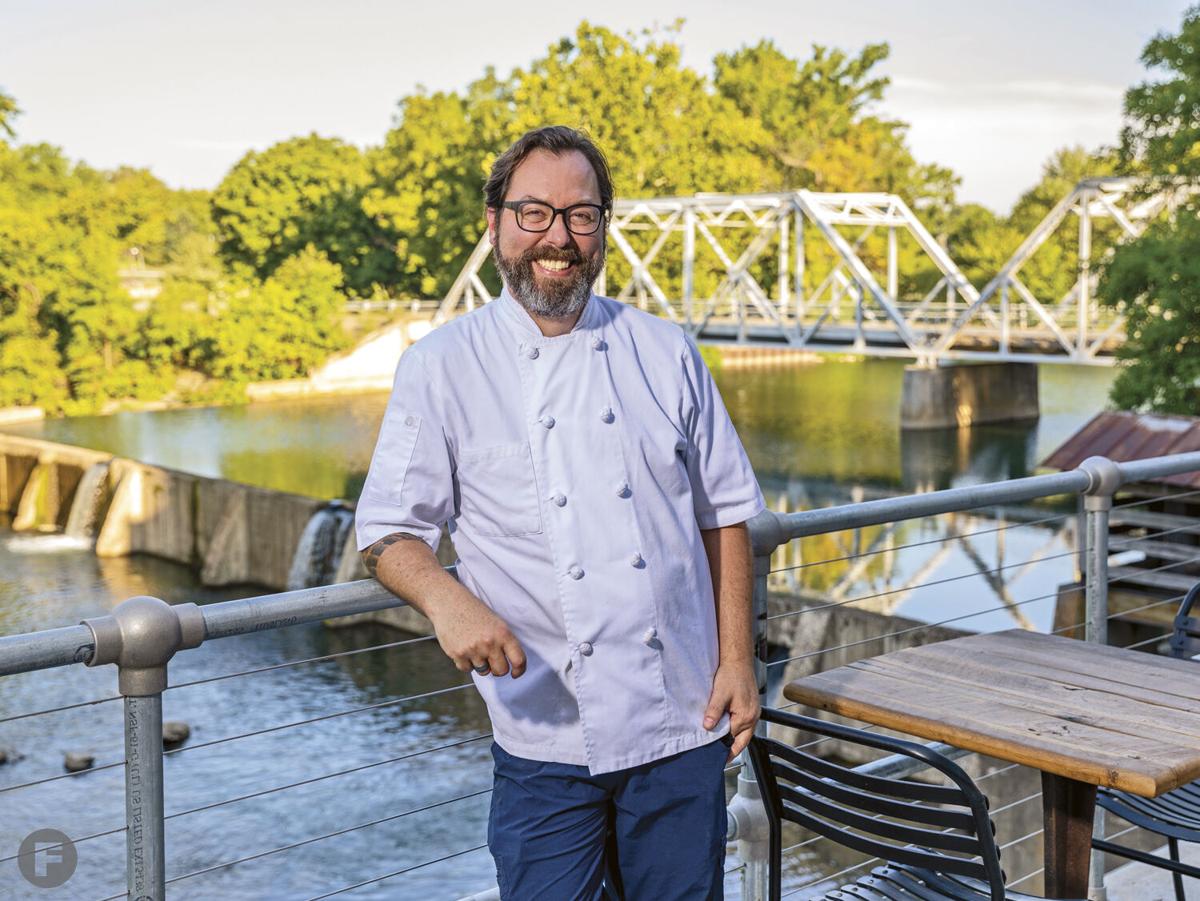 Nestled on the bank of the beautiful Finley River, Finley Farms in Ozark, Missouri, is a setting fit for a folktale. Johnny Morris, founder of Bass Pro Shops, originally purchased the last commercially operating watermill in the state, plus the surrounding land, in the hopes of preserving the 1830s structure and opening it to the public as a riverfront restaurant.
Over time, plans continued to evolve, and Morris' daughter Megan Stack joined the passion project. In 2019, The Workshop, a coffee shop and craft space housed in the restored on-site 1930s industrial garage, debuted and quickly became known for its seasonally inspired toasts.
More recently, Finley Farms opened The Ozark Mill, a restaurant honoring the area's culinary traditions while defining the future of Ozarks cuisine, which will have a speakeasy called The Garrison on the lower level. There is also an urban farm on the property, which provides fresh ingredients for the different ventures, and on Thursdays, Finley Farms invites other producers to set up shop at its farmers' market. Here, executive chef Kevin Korman discusses how he's helped realize the unique vision for this slice of the Ozarks.
What experiences have you had with Ozarks cuisine? At first, I was very nervous about taking this job because I'm not from the area and I really didn't know anything about it. Before I accepted the job, I did my own research, digging into this rabbit hole to see what Ozarks cuisine is, but there's not a lot of information about it out there. What I came to find is that [many settlers of] the Ozarks came from Appalachia, which is perfect because that's where I was living before this. A lot of the food history came from that area, too, and I had already done research [on that].
The Ozark Mill honors the legacy of the Riverside Inn, open between 1923 and 2009. How did you find a balance between respecting Ozarks tradition and bringing your own flair to the cuisine? It's a lot of pressure for someone not from this area because there's so much emotional connection to that restaurant. I'm taking a very delicate approach – I want to be sure that I'm listening to all the people who have spent birthdays, holidays and anniversaries there. I want to listen to their stories and then try to tell them in my own way. I'm going to [draw from] the influence of the area without trying to completely recreate [traditional Ozarks cuisine]. I utilize native ingredients and try to bring a fresh approach to the food.
How did the original watermill inspire the menu at The Ozark Mill? We went through 20-something different concepts, but the piece of the puzzle that kept making sense to me was that it's a mill. How [could] we have a restaurant inside a mill and not serve something that's milled? So that's why pizza made sense to me. We make our pizza dough in-house every day using freshly ground hard red wheat flour, and we take the time to ferment the dough to give it an extra layer of flavor while highlighting the methods of the original bread bakers of the region. We also started to incorporate the farm's ingredients [as toppings] because they're really fantastic. We've got another dish where we're using cornmeal and making a kind of cornbread gnocchi. The watermill was a gristmill, so they were grinding corn, mixing it with molasses and using it for animal feed. So, we incorporate some molasses and some sweet sorghum into the menu, as well.