For Colleen Sundlie, founder of Date Lady and owner of Café Dhibs, it all started in a café in Al Ain, a city in the United Arab Emirates. Her husband's job brought her thousands of miles from home, but she made a new home for herself as a regular at inviting cafés and traditional markets. There, friendly locals exposed her to a Middle Eastern favorite: decadent date syrup.
Back in the states with an entrepreneurial spirit, she created her very own original date syrup brand and sold her products at farmers' markets. Today, you can find her date-centric products in most major U.S. cities.
But now, everything has come full circle for Sundlie, as she has officially opened her own cafe, Café Dhibs, in a former barbershop building next door to her packaging facility on historic Commercial Street.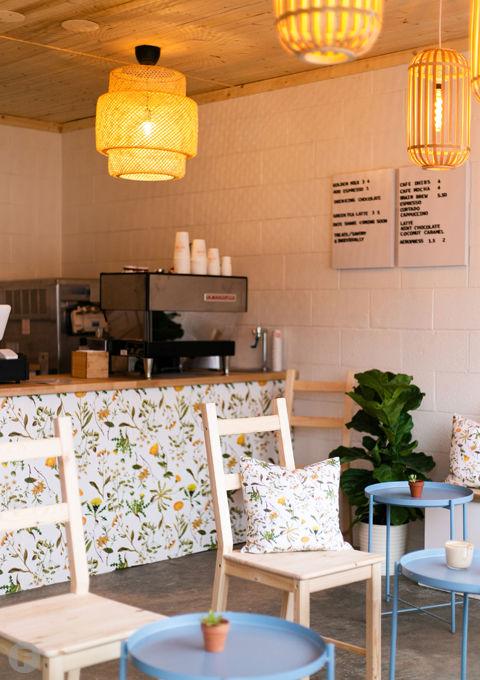 "Our wheels had been turning for quite a while about how fun it would be to have a retail store or café and have contact with the consumer," Sundlie says. "We don't really get that with Date Lady anymore. When we first started, we used to sell at the Farmers Market of the Ozarks, and we really loved that aspect. But since then it's really been just business to business. We thought it would be fun to have that outlet to interact with the consumer directly again."
The drink menu includes traditional offerings, plus three specialty espresso drinks and three specialty non-coffee drinks. The Brain Brew gives a boost without the jitters, thanks to healthy fats from ghee and MCT oil. But for a low-key afternoon, you can opt for the Golden Milk, which mixes spices and date syrup in a creamy froth.
The namesake drink, the Café Dhibs, was Sundlie's go-to order in Al Ain. It includes a bottom layer of date syrup, espresso, steamed milk and ever-so-lightly-sweetened handmade whipping cream. Sundlie serves the drink with a small golden spoon so customers can stir the layers together, although she enjoys savoring the beverage unstirred. "Sipping on it unstirred allows you to experience it in layers as well, which is kind of a fun and unique experience in a coffee drink," she says.
Sundlie's niece, Clarissa Young, was formerly an interior designer, but now works as the project manager at Date Lady. Her talents came into play when tasked with transforming the 400-square-foot former barbershop into a bright and airy café. Inside, bamboo lattice pendant lights hang from the ceiling and botanical patterns appear on the front counter and on throw pillows.
And rather than hiding the baked goods in a glass case, Young chose to display them on an assortment of trays and vintage cake stands as a way to draw your eyes straight to the sweet treats when you walk inside.
Sundlie and her team don't use any gluten or traditional white sugar in her kitchen. Instead, they create delicacies with ingredients like date sugar, cocoa butter, dark chocolate and oats. The pumpkin cakes with chocolate chunks and espresso prove that pumpkin isn't just for fall, and the strawberry pop tarts made with almond, arrowroot and cassava flour are a healthier riff off of the old childhood favorite.
"People expect everything coming from Date Lady to be gluten-free and made with simple ingredients, including nutrient-dense sweeteners," Sundlie says. "We thought it made sense to stick to our theme and serve visitors and our local community in that way."
Café Dhibs, 918 W. Commercial St., Springfield, Missouri, cafedhibs.com