When Mary Guccione and her husband opened Cellar + Plate in Springfield, Missouri, in December 2016, it was an instant hit. The intimate wine bar with white leather sofas nestled in the corner features innovative tapas, luscious wines and the now-famous monthly Drag Queen Brunch that always sells out.
Over the past few years, Guccione has become known for her pairing skills, which are highlighted on Cellar + Plate's new spring menu. The menu features 15 new reds and whites and nearly 10 new rosés, along with six additional dishes. Every wine has a pairing suggestion.
The brunch includes mimosas, Bloody Marys, pastries, bacon and, of course, a show.
Guccione and her chef have been sipping away since January to craft the perfect flavor combinations. "When people are pairing, they often start with the food and then pair the wine with the food, and we took the opposite approach," she says.
Here, she tells us a bit more about the new menu, which features some surprising and delightful white wines.
How did you become so well-known for pairings? It's what I have worked on. In order to pair well, you have to understand and have a love for food as well as wine and some people don't; they will take it from a purely scientific approach, the wine notes. So white wine may have pear, yellow apple and quince so they know it will pair with specific flavors. I have always been a huge lover of food – even when I was little, my grandmother had me stand on a chair, put an apron on me and taught me how to make pies. My husband and I have owned four restaurants, not including Cellar + Plate. So, I have an intimate knowledge of food and how dishes are made and the flavors that make up a dish. Understanding that has made an easy segue into understanding notes in a wine and knowing what should go well together.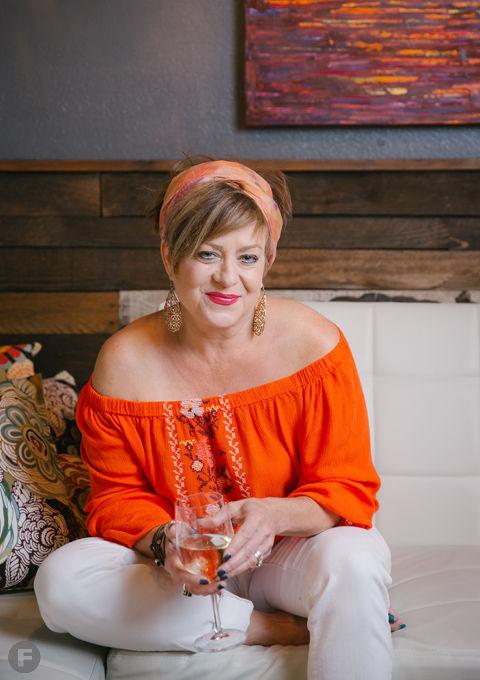 What's your favorite pairing on the menu? My personal favorite is called The Beauty. It's a homemade crostini, brushed with herb butter with Brie cheese. We stick it in the oven to warm so the Brie starts to melt, then put four slices of fresh green apple and finish with homemade Green Goddess dressing and fresh grated orange peel. You combine it with a Borealis white wine blend from Oregon and it's kind of an explosion of flavor because the four different grapes pick up on the different components of the dish, so parts of your mouth will experience different flavors. It's fantastic.
Are there any pairings that might surprise people? The biggest surprise will be the spicy mango shrimp. We make a mango salsa in house, then shrimp are seasoned with garlic and red pepper flakes before being broiled, so you get the sweet and the heat. We pair it with a Fess Parker Riesling. The sweetness from the Riesling tones the heat down just a bit; the sweetness from mango salsa complements the wine and changes everything. It's like a bouquet in the mouth. When people taste that, the look on their face is surprise and joy. When you want to create an experience for your customer, that is the look you are going for.
What pairing would you suggest for a hot day? I would do light and bright and crisp with fresh flavors and colors. I would choose the Cellar Salad, which is medley of chopped vegetables, our spiced nuts, with goat cheese, strawberries and housemade strawberry dressing. It's bright and beautiful. With that, I would choose a crisp, cold white wine; Chardonnay or a Riesling or Sauvignon Blanc.
The wine bar has already rooted itself in the city's growing bar and restaurant scene.
What about a cold day? I would go with the Beast, a new dish. It's pork belly we have prepared; from start to finish it takes 16 hours from brining to cooking. It's thinly sliced, placed on a homemade crostini, brushed with herb butter, and topped with cherry preserves infused with fresh orange juice. We put that on a crostini, then pork belly and finish with housemade garlic aïoli. You have the gorgeous bark on the meat, juiciness of the pork, sweet notes, crusty bread and savory umami with garlic. You combine all that with our Zinfandel and it is just fantastic. It's a Shooting Star Zin from Lake County. It has mocha characteristics and over-ripe cherry. All these pair extremely well with this dish. On a cooler spring day, that would be my go-to.
If you're serving a dish that pairs with white, but someone prefers red, do you have a second option ready? Yes. I will always pour them a red. I had Doug Frost, a master sommelier from Kansas City, tell me people should drink what they like, and I agree. I am constantly experimenting to see how wine changes the food and food changes the wine. But I always try to get them to trust me and I will bring a couple tastes of white out with me to try with the food. About eight out of 10 times, they will order it. If it's a dish that should be paired with white, but they want a red, then I'd say don't choose an overpowering red.
Are there any trends people should keep an eye out for this season? The rosés are still huge. More and more people come in and they want sparkling. We have a Gruet from New Mexico that has become a big favorite. Graham Beck is a South African company and their wines are fantastic. We have a Brut and Brut rosé. Those are absolutely fantastic sparkling wines and affordable, around $30 a bottle. They are bursting with flavor. A lot of wines from New Mexico have been coming on strong on the wine scene, and also South Africa.
Cellar + Plate, 2916 S. Lone Pine Ave., Springfield, Missouri, cellarandplate.com