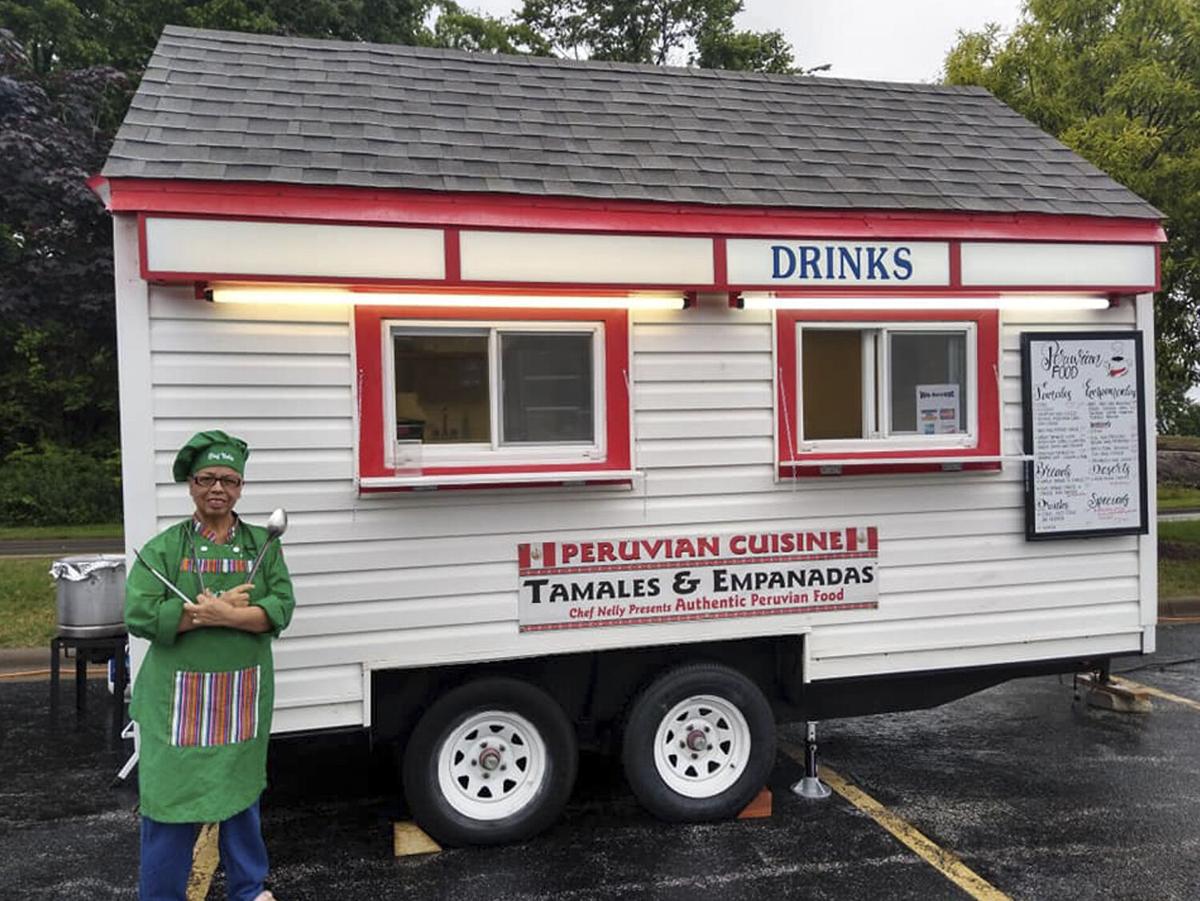 With her new food truck, Peruvian and South American Food, chef Nelly Baxter hopes to share her signature dishes with more Springfield, Missouri, diners.
For years, Baxter has offered her homemade empanadas and tamales at area farmers' markets and events, but now she's a regular at the Farmers Market of the Ozarks, serving irresistible dishes such as ceviche, causa limeña de pollo (a cold salad with layers of potato and chicken) and yucca croquettes filled with cheese and served with chipotle salsa. Inspired by the national dish of El Salvador, she also makes vegetable pupusas (thick griddle cakes with zucchini and cheese).
Baxter, a native of Peru, developed a lifelong love of food as a child. She worked as a lawyer in her home country before moving to Springfield, where she decided to pursue her true passion and start a catering business. "I'm really proud of my Peruvian culture, and I hope to spread awareness of Peruvian food through my cooking," she says.
We chatted with Baxter about popular Peruvian dishes and her favorite places to eat in town.
What is your first food memory? Growing up in the Andes in South America, my mother cooked dishes with potatoes all the time. My first food memory is eating ajiaco de papa, which is a Peruvian side dish with cheesy potatoes and peppers.
What inspires your cooking? It's hard to say. I used to cook with my sisters and my mom, but my cooking is nothing like my mom's – cooking was a necessity for her in order to feed her kids. For me, cooking came naturally – it was innate – so I pursued it as a hobby at first.
How do you approach R&D at your food truck, and what inspires that process? My food is what you would find in Peru, with some adaptations to account for people's preferences here. I always use Peruvian produce, though.
What are your favorite ingredients to cook with? Crema de rocoto (red Peruvian pepper sauce) and crema de ají amarillo (yellow Peruvian pepper sauce) – I use those all the time. And you can't make my recipes without bell pepper, onion, garlic, cilantro, oregano and black pepper.
What is your favorite dish that you've made recently? It has to be Peruvian ceviche, a famous dish in my country and around the world. My recipe features fish, lime, onion, cilantro and ají amarillo.
What do you like to cook at home or on your day off? My husband likes Peruvian food, so even at home, I prepare Peruvian-style dishes. For dinner, I might bake trout with ají amarillo, onion, cilantro, oregano and a little bit of black pepper. I also use a lot of garlic and serve the fish over Peruvian-style rice.
What are some of your favorite places to eat in Springfield? I think Jose Locos has the most authentic Mexican food in Springfield, and for American cuisine, I go to Cheddar's Scratch Kitchen.
What concepts or styles of cooking do you hope to see added or expanded in Springfield? I like food from Puerto Rico, Dominican Republic and Nicaragua, so I'd love to see that cuisine in Springfield. One of my favorite dishes from Puerto Rico is mofongo with plantains and garlic.
What are your plans for the future? A lot of people ask me, "Where is your restaurant?" I don't want to start a restaurant. In three years or so, I'll probably sell my food truck and start another business that isn't as much work. But for now, I have a lot of recipes I want to share with people.
Peruvian and South American Food, facebook.com/Peruvian-and-South-American-Food-215404571819332