Remember Mighty Bagel? The beloved bagel sandwich cart made rounds all over Springfield until late 2013, and now fans are in luck: The cart is set to open back up on March 17 with the same delicious bagels and toppings, but new owners.
Kyle and Bethany Gerecke, former owners of Mighty Bagel, made the decision to store the cart for future use during the startup of their former storefront, Legacy Bagelry. This past January, they donated the cart to Victory Mission, a Springfield nonprofit that aims to provide food assistance, shelter and job training programs to those in need.
"Kyle and I have a passion for micro businesses, and that's how our business started out," Bethany says. "We love teaching people how to create something with their hands and earn money while doing it."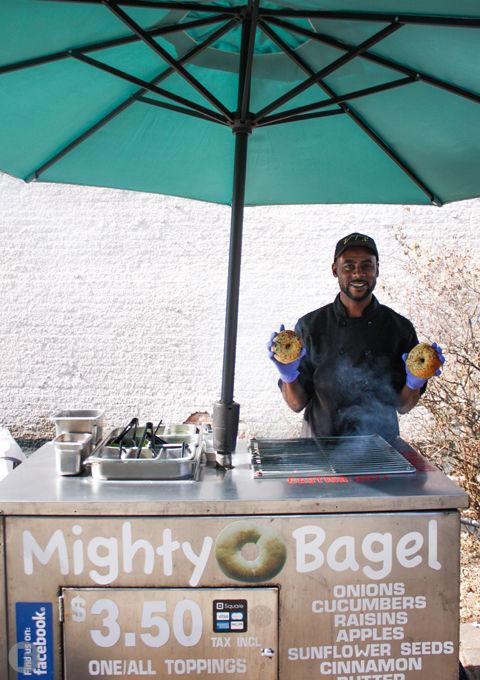 Mighty Bagel will be managed by Ivan Moses, Victory Mission's kitchen manager. The cart will employ two to three people who are residing in the nonprofit's men's shelter. The employees will train under Moses, and the business will serve as a way for them to re-enter the workforce.
According to Moses, they will still be using Legacy Bagels and the traditional Mighty Bagel toppings. These toppings include apples, cinnamon, cucumbers, cream cheese, bacon bits, butter, garlic salt, onions, raisins and sunflower seeds. Moses also plans on offering weekly specials and additional selections such as spinach-artichoke spread, avocado, pineapple and ham.
Each bagel is roasted over a charcoal grill and comes with a limit of four toppings, but additional toppings can be added for 25 cents each. Customers can choose their own combination, or ask Mighty Bagel's employees for help. Moses loves combining all the toppings onto one sandwich, which he calls "The Kitchen Sink."
The cart will kick off its first day in business on March 17 on Commercial Street in celebration of the Springfield St. Patrick's Day Parade. Customers can expect to see the cart each Saturday at the C-Street Market, and occasionally outside of Victory Mission on weekday mornings and afternoons.
Mighty Bagel, 1715 N Boonville Ave., Springfield, Missouri, 417.864.2200