Like most unconventional business ideas, The Traveling Tin Co. was born out of necessity. When Adam and Amanda Stowell were deep in the trenches of wedding planning, they noticed a problem. They weren't able to find a catering bartending service that fit their vision, so they decided to make their own bar on wheels. "We wanted to 'go big or go home,'" Amanda says.
A 1983 camo-covered horse trailer and plenty of white paint later, the two launched their own bartending business on their September wedding day. Now, The Traveling Tin Co. is bringing an unforgettable bar experience to weddings, corporate parties and other celebrations.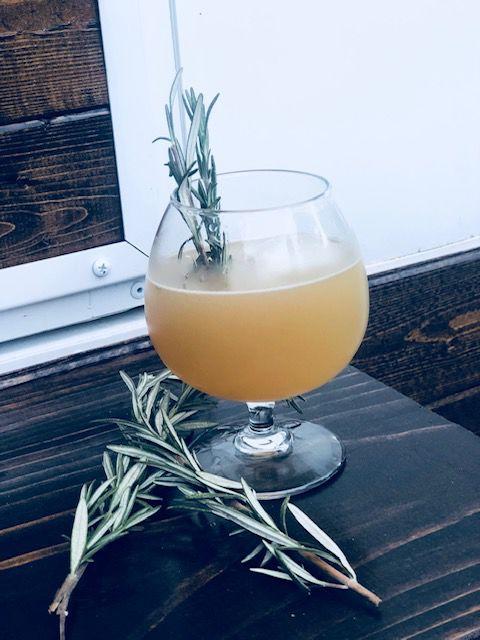 The horse-trailer-turned-bar has a wood accent wall, tavern wall sconces, and is usually decked with fresh greenery and flowers. Adam and Amanda drew out the plans for the trailer design together but relied on help from Springfield Trailer for fabrication. Amanda says the project took about six months from start to finish.
The couple creates a custom menu for each event. They source their alcohol through Macadoodles, so clients can choose from a wide variety of spirit and wine options. The Traveling Tin Co. also offers non-alcoholic drinks, like mocktails and coffee. For indoor events where the horse trailer won't fit, they have an 8-foot portable bar stand made out of repurposed tin and dark wood.
For The Traveling Tin Co., presentation is key. Each drink is thoughtfully served and tailored to the wedding or party theme. "We are crazy about drink presentation," Amanda says. "We are really excited about a drink we are working on for a Christmas party… The drink will be served in a Christmas ornament in a glass with sugared cranberries and fresh rosemary. No idea is too off-the-wall for us."
The Traveling Tin Co., thetravelingtinco.com