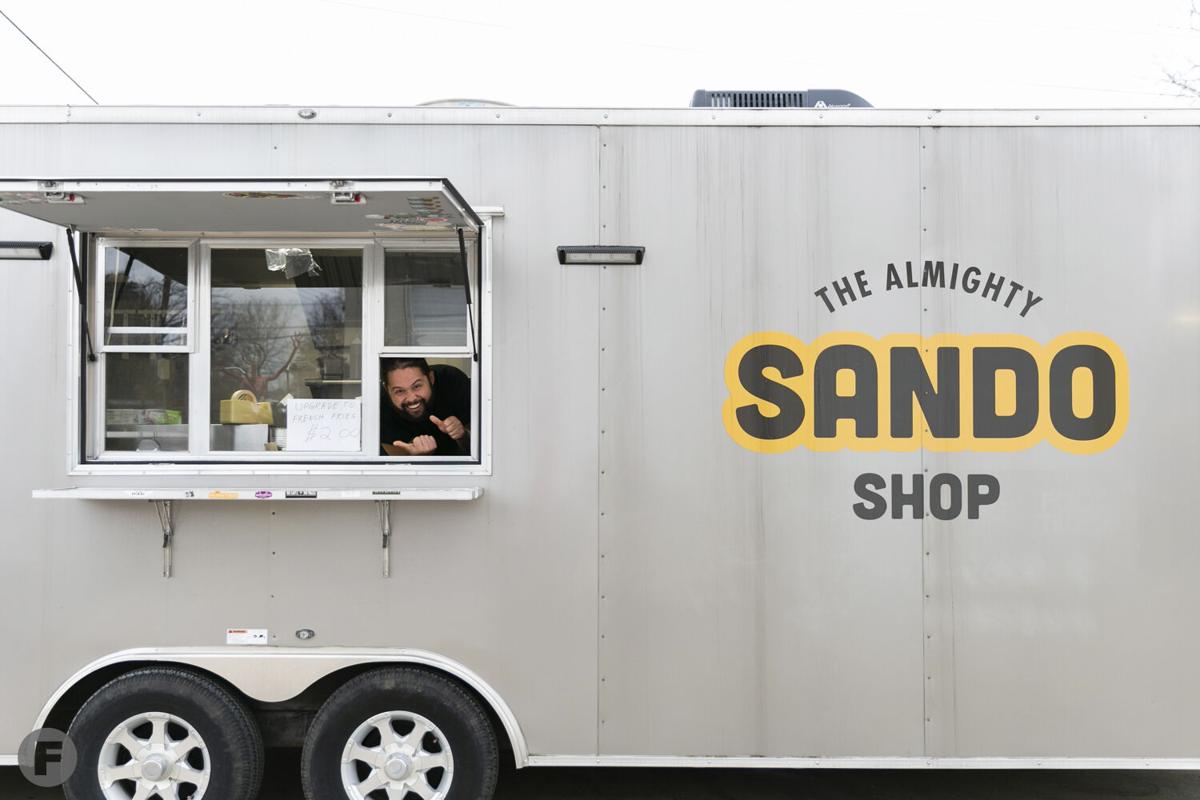 Feast 5 is a new weekly column introducing you to some of the best chefs, bartenders, makers, farmers and more around the region. Have a recommendation for someone who should be featured? Email us at editor@feastmagazine.com.
A self-described "purveyor of delicious sandwiches," Jimmie Milton takes the art of the sammie seriously. Milton co-owns The Almighty Sando Shop with Timothy Labrie, and the food truck has been bringing new-American-style sandwiches to Springfield for the past five months.
Milton grew up in the Philippines and moved to Seymour, Missouri, at age nine. Thanks to regular visits back, he still has a vivid memory of the street food there, and he has also racked up industry experience working at restaurants like Boucherie in New Orleans. "I thought I knew how to cook before, but when I moved to New Orleans, I got taught," Milton says. "Before I even moved there, I was in love with Creole food. Living there just gave me the skill and technique."
His affinity for Asian and Creole food collide in offerings such as the Asian Cajun, which is his riff on a blackened shrimp po'boy. The sandwich stands out with unexpected ingredient combinations like ginger and tomato chutney.
Although Almighty Sando Shop posted up shop at the Route 66 Food Truck Park this past season, Milton has plans to partially hibernate the truck in December. However, you can count on it making appearances at special events. "When you have a mobile kitchen, events are where it's at," he says. "You have to take advantage of being mobile. Instead of waiting for the money here, you can go follow the money."
Here, Milton shares why New York-style is the ultimate pizza, his favorite Filipino street snacks and why he has a complicated relationship with a classic condiment. 
1. What's the best thing you've ordered at a local bar or restaurant recently? My favorite restaurant in town, hands down, is Golden Korea. I feel like if you order anything off the menu at Golden Korea, you're pretty much good. It's just solid. I've been really into the soft tofu kimchi soup lately, and I just like the texture. That tofu is perfect. It's like when you get an egg made just right and the white part is all melty. That's where I'm at right now with the cold weather.
2. What's the best style of pizza? New York-style. You just can't mess with perfection. Go to Big Slice and get one slice of a Margherita. You know good pizza from the Margherita – if they have a good Margherita, everything else should be pretty solid.
3. What's your favorite food memory? Eating street food in the Philippines is something I want to experience forever, or at least periodically in my life. It's all deep-fried. For example, they have these little quail eggs that they batter and deep-fry. You just sit there and you dip the quail eggs [in sauce] and eat as much as you want. You keep track and then you pay afterward. I tend to go back [to the Philippines] once every decade.
4. What ingredient do you think everyone should keep at home, and why? Garlic is really kind of the cheat-all with food. A lot of recipes, even cultural recipes, have garlic in them.
5. What's your most controversial food opinion? I have a love-hate relationship with ketchup. I'll eat ketchup, but I hate that people want it all the time. And then, I do not understand wedge salads. I've worked in fancy restaurants over [in New Orleans], and people are all about them. I just don't get why people eat wedge salads.
The Almighty Sando Shop, 417.422.0912, facebook.com/pg/TheAlmightySandoShop